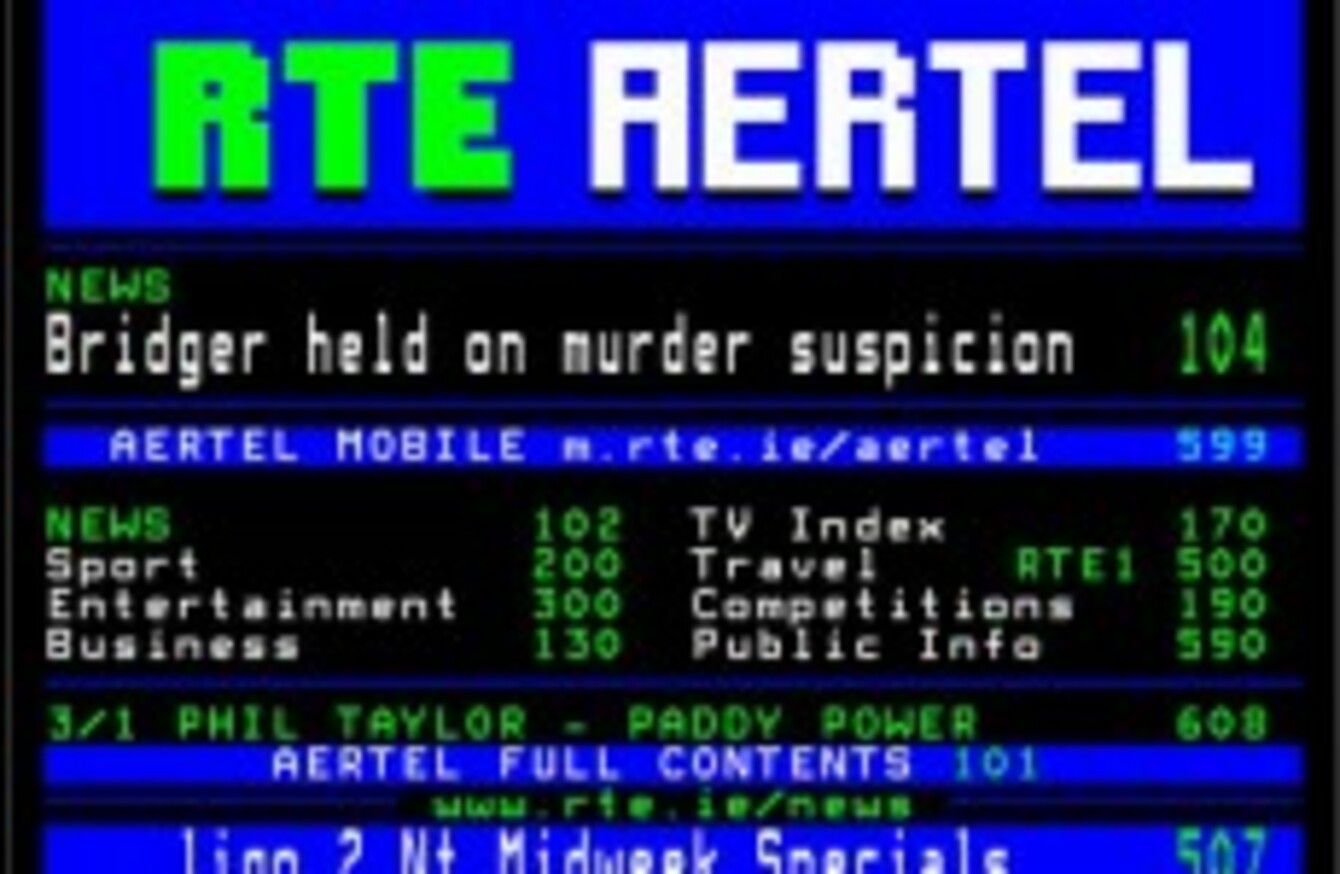 Don't ever leave
Image: Screengrab
Don't ever leave
Image: Screengrab
IT'S NOT QUITE the end of an era but it will be something of a major upgrade.
There's just over two weeks to go before Ireland's digital switchover happens and the analogue signal is switched off for good. Among the many questions users may have about the change to Saorview is the issue about what happens to Aertel.
When the BBC moved to digital earlier this year it turned off Ceefax, its own teletext service which was one of the first of its kind in the world when it launched in 1973. The service was replaced by the 'red button' across the UK.
However, fans of the green and black text can breath a sight of relief: the same will not be happening in Ireland.
Instead, a digital version of Aertel is taking the place of the old teletext service, which will see all the page numbers and services remaining the same but an end to the old school appearance.
A spokesperson for RTE said that Irish people have traditionally been big users of Aertel and had developed habits around using different page numbers, which meant it made little sense to get rid of the service.
An estimated 750,000 users a day check the analogue version of Aertel while – somewhat unexpectedly – there are just under 6 million page impressions on the online version.
The most popular pages on the service are sports results, lottery results, news headlines, flight information, and pages showing what's on television.
The spokesperson said that the digital Aertel will be faster than the old version because it won't rely on the old carousel system, which meant that pages had to rotate through all the other page numbers before reaching the next page for the user.
Pages numbers will remain the same as they were in the digital version.
Here's the differences between the two. This is how the old-school analogue Aertel homepage looks now:
And here's what the shiny new digital Aertel looks like: