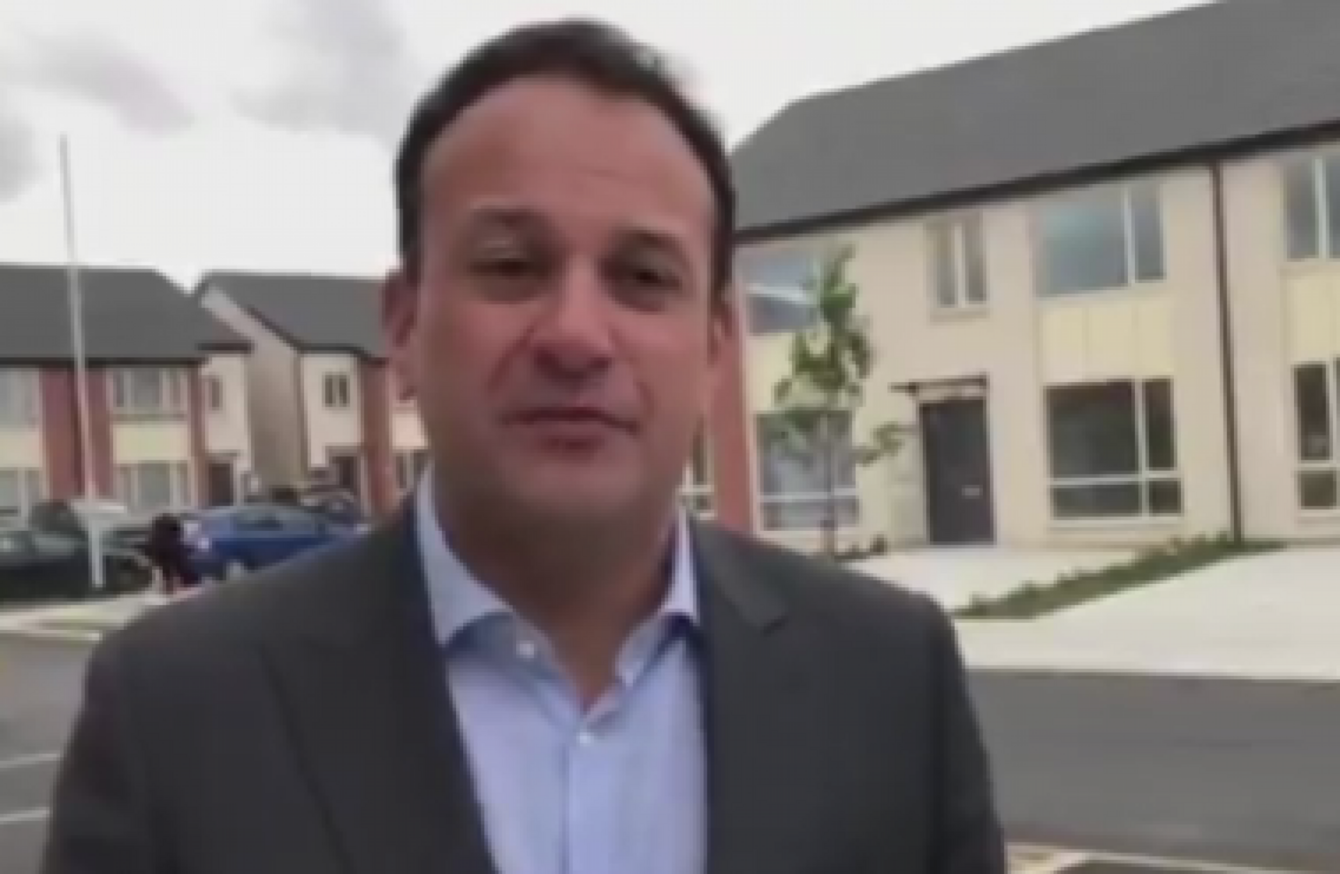 Leo Varadkar speaking outside the Hansfield housing development in west Dublin.
Image: Screengrab via Twitter
Leo Varadkar speaking outside the Hansfield housing development in west Dublin.
Image: Screengrab via Twitter
AN TAOISEACH LEO Varadkar was unable to provide a specific figure in answer to the question of what constituted affordable housing when questioned in the Dáil on Wednesday.
During Leader's Questions, Sinn Féin housing spokesperson Eoin Ó Broin asked Varadkar to provide a working definition of what affordable housing was, and how many such units would be delivered by government next year.
Varadkar replied:
"I cannot give the Deputy a numerical definition of affordable housing. Obviously it depends on the individual.
"I certainly believe that somebody who earns the average income in the State should be able to get a mortgage and purchase a home."
Varadkar went on to say that he could not provide an answer to the second part of Ó Broin's question as he did not have a numerical answer for the first.
Affordable housing?
The Dáil question arose after Varadkar and Housing Minister Eoghan Murphy visited a number of social housing sites in the Fingal County Council area on Monday.
Varadkar posted a video on Twitter from one of the developments – Hansfield Wood in Clonsilla (where 47 social housing units have been provided).
Commenting on the development, Varadkar said that there were "over a thousand new homes being built in the area at the moment".
"They're mostly private housing, affordable housing for families, a lot of three-beds. But also over a hundred public houses, social housing as well," he said.
Property websites show that prices for three- to four- bedroom homes in the Hansfield Wood development range from a cheapest of €315,000 to €395,000 per unit.
Ó Broin and others took issue with Varadkar's use of the term "affordable" in this sense – as it was used anecdotally and not in a specific, measurable way.
Ó Broin has tabled a number of Parliamentary Questions seeking a definition from government as to what constitutes "affordable" housing.
Under the Planning and Development Act (2000), provisions were made for schemes to allow people to purchase "affordable" homes.
A person applying for affordable housing had to meet a certain income criteria to be eligible, and the payments on a normal mortgage over the course of a year had to be over 35% of their net income after tax.
A number of affordable housing schemes emerged from the act.
According to Citizen's Information, if the gross joint income of a two-income household before tax was €75,000 or less they would be eligible for affordable housing – with the housing itself being sold at below market value.
The schemes were all discontinued in 2011 for a variety of reasons.
However one such affordable housing scheme recently opened in Ballymun operated by Ó Cualann Cohousing Alliance with prices starting at €160,000 for a three-bedroom up to €219,000 for a four-bedroom house.
Dublin City Council waived the development levy on each unit, and sold each plot of land to Ó Cualann at a heavily discounted price.
Speaking on Budget Day last month, Minister Murphy said the government was planning on rolling out more affordable housing schemes in the future.
Is the Hansfield development affordable?
Ó Broin's issue comes down to defining housing that costs upwards €315,000 as "affordable", even though it falls outside the bracket of what a family on the average annual wage or below could afford.
Under current Central Bank lending rules, a household wishing to buy a home can only get a mortgage worth 3.5 times their annual income.
For first time buyers, the loan they receive can be 90% of the value of the property they want to buy, with the buyers fronting a 10% deposit.
So, for example, a household with two working adults earning €30,000 a year each (€60,000 combined) would be able to get a mortgage worth €210,000 maximum.
So the maximum cost of house they could afford to buy would be about €231,000 (€210,000 mortgage plus €21,000 deposit).
To be able to afford to buy a three-bedroom home at the lower cost scale of the Hansfield development (€315,000) a household would need a yearly income of about €81,000, with an upfront deposit of €31,000.
According to CSO figures, the average annual wage for a single earner before tax is €37,500. For full-time workers it's closer to €45,000.
However, as the number of high-income earners skews the average upwards, a better measure of the earning of the typical Irish household is the median (the figure grouped at the very middle of a scale).
The median of a full-time working adult in Ireland in 2014 was estimated at about €33,000.
So a household with two working adults earning the average (median) yearly wage buying a house for the first time would still not be able to afford a home at the lower end cost of the Hansfield development.
The problem with declaring something as "affordable", is who can afford it.
"Hundreds of thousands of working people are caught in Fine Gael's affordability trap," Ó Broin said in the Dáil on Wednesday.
They earn too much to qualify for social housing but not enough to rent or buy a decent home.
On this point, a family earning more than €42,000 in joint gross yearly income is no longer eligible for social housing, but would be well outside being able to afford to buy a three-bedroom home in Dublin.
In response to a query from TheJournal.ie, a spokesperson from the Taosieach's department said that housing affordability had to do with a number of factors, like prevailing market prices, rents in different locations and access to funding and finance.
The spokesperson said that while there was no ideal price/rent-to-income ratio, there was an agreement that low- to middle-income households should not be spending more than one-third of their net income on housing costs over the longer term.
The spokesperson referenced the Hansfield development zone, which comprises about 80 hectares of land.
They said the phase currently in development would yield 1,100 housing units on the private housing market, as well as the 36 social housing units in addition to the units required under Part V of the Housing Act.