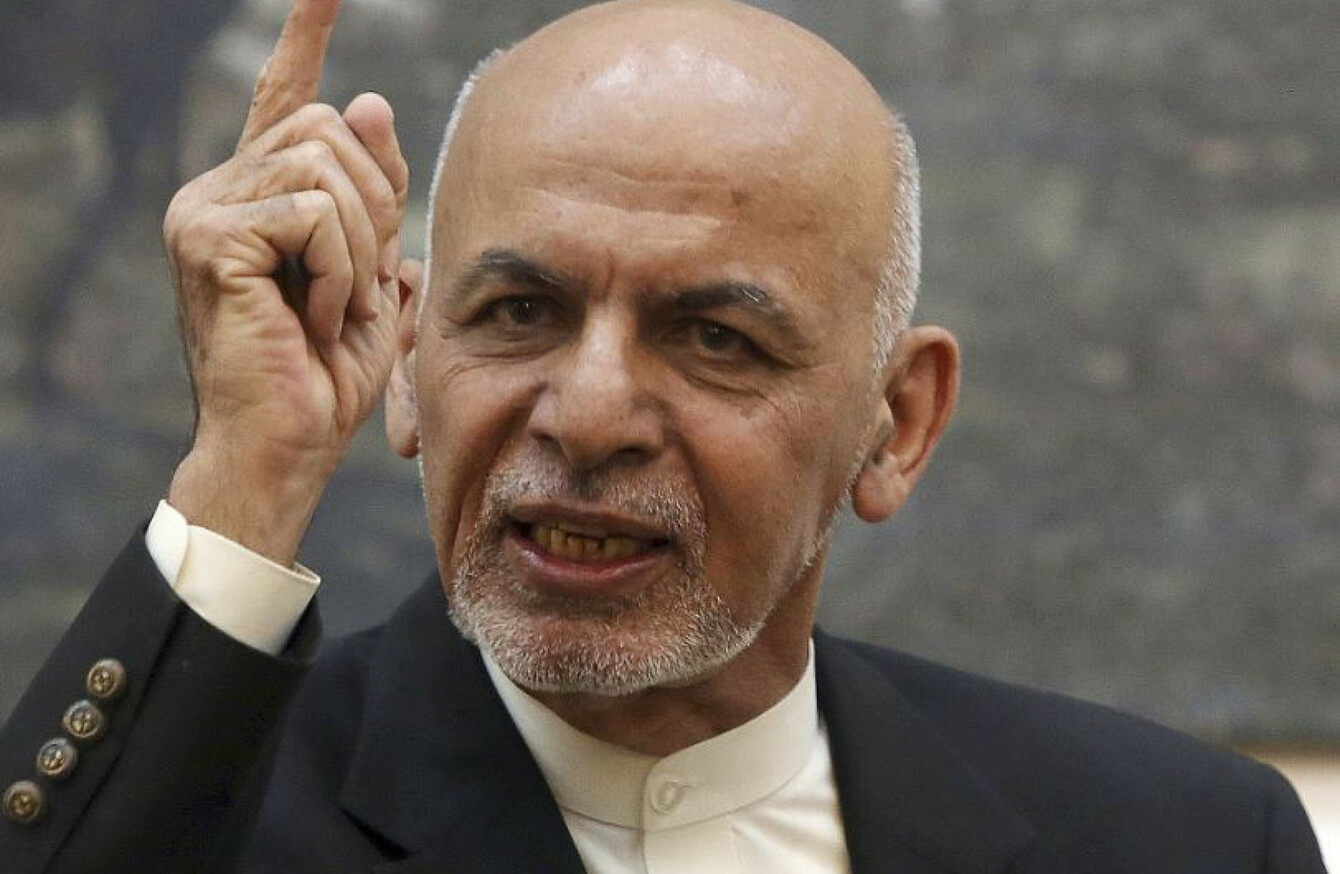 File photo of Afghan President Ashraf Ghani.
Image: Rahmat Gul/AP/Press Association Images
File photo of Afghan President Ashraf Ghani.
Image: Rahmat Gul/AP/Press Association Images
AFGHAN PRESIDENT ASHRAF Ghani today rejected the resignations of the intelligence chief and the interior and defence ministers, as the government faces fierce criticism over an increasingly deadly insurgency.
Ghani called on Defence Minister Tariq Shah Bahrami, Interior Minister Wais Ahmad Barmak and intelligence chief Masoom Stanekzai to continue their duties, after rejecting their resignation letters which were submitted yesterday and demanding they help bolster the country's defences.
"President Ghani did not approve their resignations … and gave them the necessary instructions to improve the security situation," a palace statement said.
Earlier yesterday Ghani's powerful national security adviser Mohammad Haneef Atmar resigned, in a blow to the embattled unity government before parliamentary elections scheduled for October.
Taliban and Islamic State 
The Ghani administration has been widely criticised for its inability to counter the energised insurgency. The Taliban has intensified assaults on police and troops across the country and the Islamic State group has targeted the capital Kabul.
This month has seen an extraordinarily violent series of incidents, including an attack that saw the Taliban storm the provincial capital of Ghazni — just a two-hour drive from Kabul — despite repeated warnings from local officials that the city was in danger.
Militants held large parts of the city for days and Afghan forces needed US air power to push them back, resulting in widespread destruction and estimates of hundreds of deaths.
The resignation letters came a week after Ghani offered a conditional three-month ceasefire to the Taliban, a move welcomed by the United States and Nato after nearly 17 years of war.
The Taliban has yet to officially respond to the offer. A brief ceasefire in June had sparked hopes that a path for talks with the insurgents was opening.