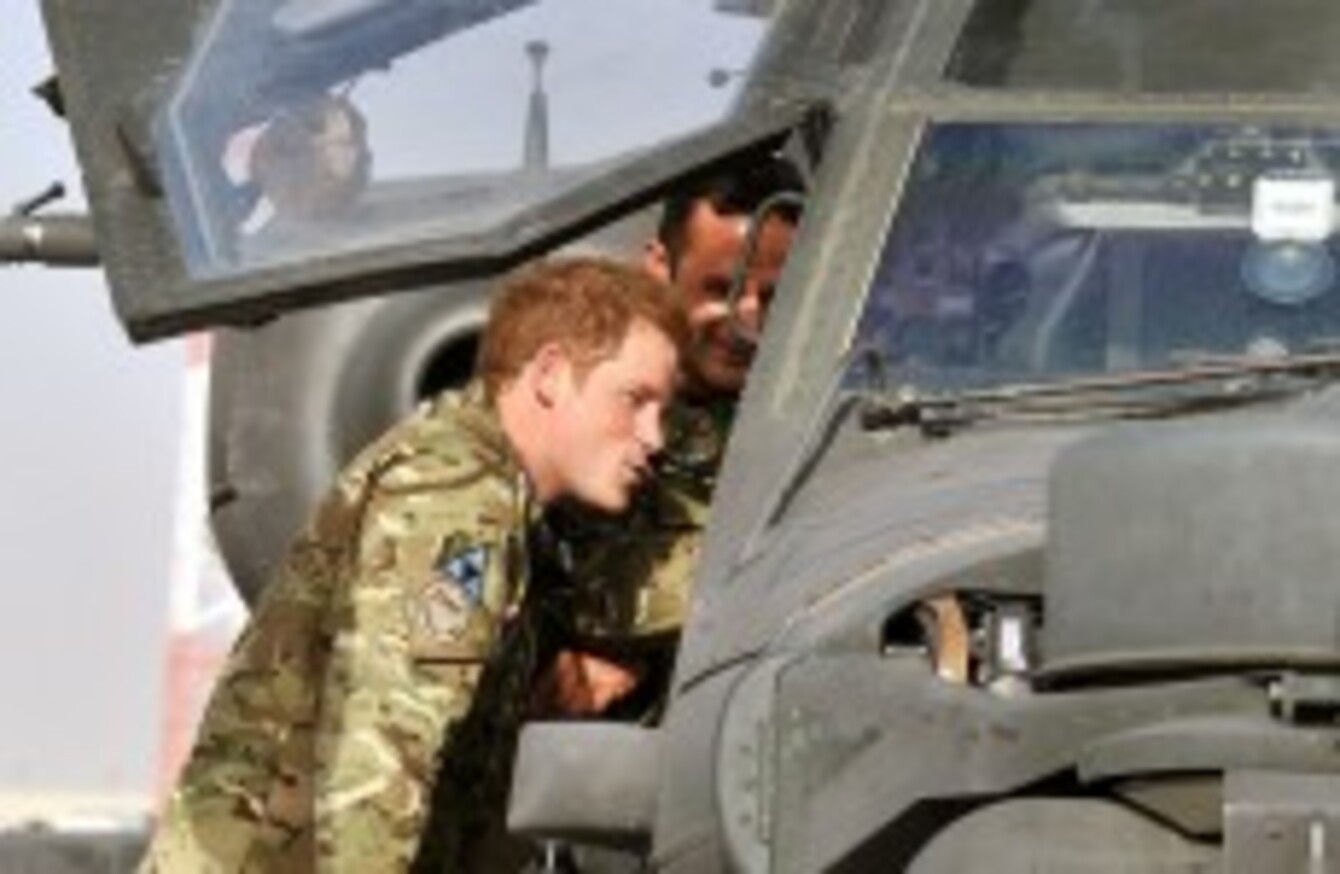 Image: John Stillwell/PA Wire/Press Association Images
Image: John Stillwell/PA Wire/Press Association Images
THE TALIBAN HAS threatened to kill Prince Harry, who is currently on tour in Afghanistan.
The Taliban's spokesperson spoke to Reuters, saying the group were "doing everything in their power to try to kidnap or kill" the Prince while he was in the country.
Prince Harry (27) is in the country for a four-month stint, and is based in the Helmand province.
The Times of India has said that the Prince underwent "brutal" training to preparing him for going to Afghanistan, which included resisting interrogation.
This is the Army captain's second tour of Afghanistan, during which he will fly Apache helicopter missions.
The third-in-line to the British throne started Apache-specific preparation yesterday, where he will begin to familiarise himself with the helicopter's configurations for Afghanistan.
The prince's previous posting as a battlefield air traffic controller in Afghanistan in late 2007 and early 2008 lasted only 10 weeks. It was cut short amid fears for his safety after his deployment was made public.
Private lives
Meanwhile, London's Metropolitan Police chief says his officers cannot interfere in the private lives of the royal family, not even to prevent Prince Harry from going bare at a Las Vegas party.
Commission Bernard Hogan-Howe told a Parliamentary committee today that his department was reviewing the role of Royal Protection officers in the incident, in which Harry was photographed naked.
He told the panel:
Our role is to maintain the security of our protected individual. They have to lead a normal life and we have to strike a balance between intrusion into their life and keeping them safe.
He added "there is a golden line that cannot be crossed, which is getting involved in the social lives of the principals."