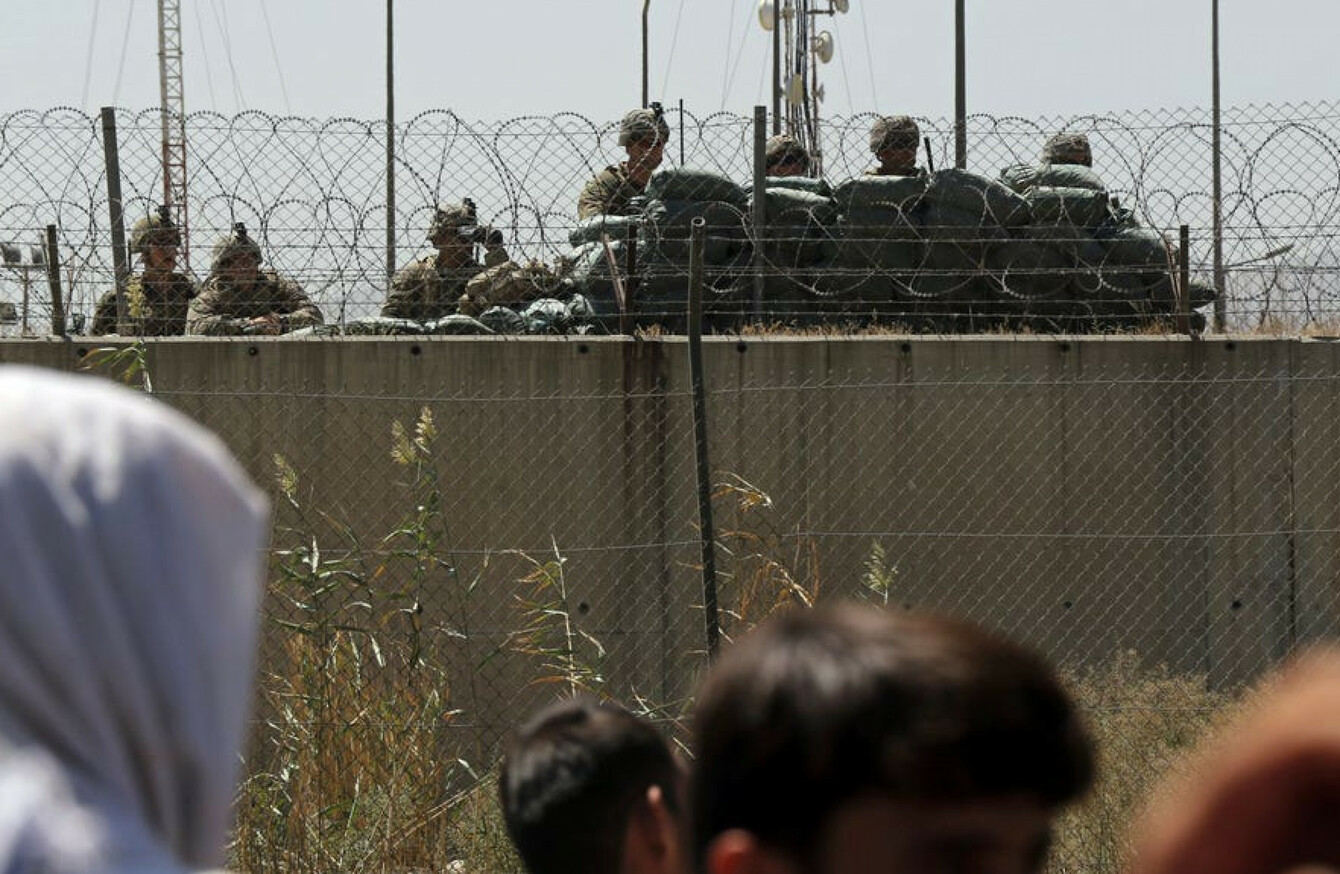 Image: PA
Image: PA
Updated Aug 27th 2021, 5:00 PM
ONLY ONE BLAST took place in the deadly attack at Kabul airport yesterday, the US Pentagon said today, correcting its earlier assessment that there were two bombers and two separate explosions.
"We do not believe that there was a second explosion at or near the Baron hotel, that it was one suicide bomber," General Hank Taylor said.
It had been believed there was a second blast at that hotel near the airport.
The attack killed at least 85 people, including 13 US troops, and opened up a deadly new chapter in the drama unfolding at Kabul airport, as thousands of people fearing Taliban rule try to escape their own country in a frantic US-led airlift due to conclude on August 31.
The Pentagon also said the evacuation drive could be hit with more attacks like the one yesterday, which was claimed by the local arm of the Islamic State group.
"We still believe there are credible threats… specific, credible threats," said US military spokesman John Kirby.
With more than 100,000 people spirited out of Afghanistan since August 14 as part of the airlift, Taylor said 5,400 more are still at the airport awaiting evacuation.
He said the United States will be able to airlift people out "until the very last moment."
Irish Defence Forces
In a statement tonight, the Defences Forces said that Ireland's Army Ranger Wing has returned from Afghanistan.
Over the last week it conducted an ECAT (Emergency Civil Assistance Team) operation in support of the Department of Foreign Affairs (DFA).
A joint DFA/DF team was deployed to Hamid Karzai International Airport in Kabul, Afghanistan to assist Irish citizens, residents and visa holders to evacuate amid the evolving situation in Afghanistan.
The team included members of the DF Special Operations Forces unit, the Army Ranger Wing (ARW).
The Defences Forces said: "On deployment the team secured the DFA personnel on the ground, liaised with key actors in the airport and assisted DFA in the processing and evacuation of identified Irish citizens/dependents. The team were also on standby to provide medical assistance if required. The teams' deployment and recovery were supported by both the Irish Air Corps and Partner Nation aircraft."
Deaths
At least 95 Afghans were killed the blast, officials said earlier today.
Two British adults and the child of a British national have been confirmed to be among those killed in the Kabul airport attack, PA reports.
British Foreign Secretary Dominic Raab confirmed the deaths and said a further two people were injured in the attack.
Raab said: "These were innocent people and it is a tragedy that as they sought to bring their loved ones to safety in the UK they were murdered by cowardly terrorists."
It is understood the child who died was a teenager, while those injured are an adult British national and an Afghan child with a British family.
Irish people evacuated from Afghanistan yesterday are currently travelling home with the French and Finnish militaries.
An Irish mission of Army Rangers and two diplomats – an Emergency Consular Assistance Team (ECAT) that landed in Afghanistan earlier this week evacuated 26 Irish people on top of a previous 10 who had already exited.
Speaking to RTÉ Radio One's Morning Ireland, Minister for Foreign Affairs and Defence Simon Coveney said around 60 Irish citizens and their families are still in Afghanistan, as well as 15 Afghan citizens with Irish residency.
"Most of them are in Kabul and we are in contact with all of those families, and we will stay in contact with them for as long as it takes," Coveney said.
DUP leader Sir Jeffrey Donaldson said he is seeking urgent clarification from the UK government about people from Northern Ireland who remain in Afghanistan.
Donaldson said he would also be raising cases of Irish citizens from NI who are believed still to be in the country with Taoiseach Micheál Martin. Donaldson and Martin are due to meet today.
Kabul residents said several flights took off this morning, while the crowd outside the airport was as large as ever.
In one location, dozens of Taliban members with heavy weapons about 500 metres from the airport were preventing anyone from venturing forward.
'Clear intelligence' of impending attack
Australia pulled all of its troops out of Afghanistan shortly before the Kabul airport bombings after receiving "very clear intelligence" of an impending attack. 
Defence Minister Peter Dutton said the Australian authorities had sent warnings in text messages yesterday to Australian citizens and those in the area of the attack.
"There was very clear intelligence that ISKP intended to strike and strike hard, and they have done that," he told Nine Network television, referring to Isis-K.
"These are people that are even more extreme than the Taliban and are basically at war with the Taliban. So it is a horribly complex situation," Dutton said.
Western intelligence agencies had warned of an imminent attack yesterday, with US President Joe Biden citing a terrorist threat from the regional chapter of the IS jihadist group.
But crowds still gathered, with just five days until the deadline set by the United States to end the airlifts out of the city.
#Open journalism No news is bad news Support The Journal

Your contributions will help us continue to deliver the stories that are important to you

Support us now
A witness told AFP that "total panic" erupted after the first explosion, with Taliban guards who were securing areas outside the airport also taken by surprise.
"The Taliban then started firing in the air to disperse the crowd at the gate," said the witness, who was also trying to get into the airport in the hope of fleeing.
"I saw a man rushing with an injured baby in his hands."
More than 100,000 people have fled Afghanistan via the US-led evacuation, with Afghans terrified of life under the new rule of the hardline Islamist Taliban.
Some US allies have said they are ending evacuation efforts, in part to give the US time to wrap up its evacuation work before getting 5,000 of its troops out by Tuesday.
The UK said its evacuations from Afghanistan will end within hours, and the main British processing centre for eligible Afghans has been closed.
The Spanish government said it has ended its evacuation operation.
The Taliban have tolerated the US forces conducting the airlift, but the IS jihadists are bitter rivals.
Additional reporting by Orla Dwyer, Aoife Barry and Press Association.