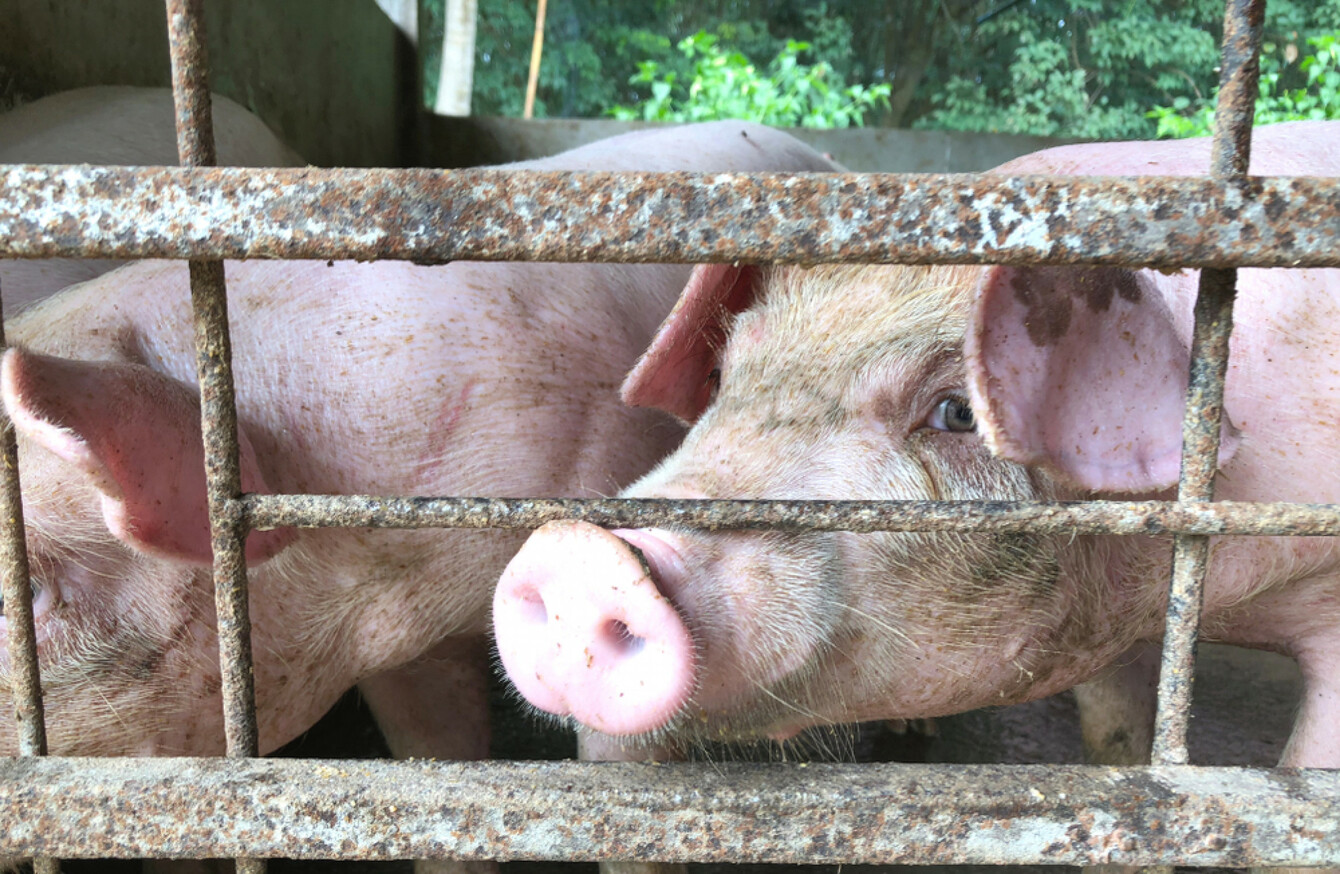 Image: Shutterstock/ratharath nimhattha
Image: Shutterstock/ratharath nimhattha
OVER THE PAST year, the government has been taking measures to ensure that an infectious swine disease – which has high mortality rates, and for which there is no treatment or cure – doesn't reach Ireland.
At the moment, African Swine Fever has been found in eight EU countries: Lithuania, Latvia, Estonia, Poland, Czech Republic, Hungary, Romania and more recently Bulgaria. In August this year outbreaks have been identified in China, which is home to more than half the world's pigs.
The Guardian reported earlier this week that in Denmark, which is a major pork exporter, measures to prevent the spread of the disease have escalated as a result.
Although African swine fever does not affect humans and does not pose a food safety risk, the virus can survive for months in uncooked or cured pork and pork products. It can survive in frozen meat for years.
So has the likelihood of African Swine Fever reaching Ireland increased?
The ASF virus first entered Georgia in Eastern Europe in 2007 and since then has been spreading across Eastern Europe.
Speaking about the likelihood of the disease spreading here, the Department of Agriculture said that "there is always a risk of an exotic animal disease such as ASF being introduced".
If it were to be introduced, it would do very severe damage to the pig industry in Ireland.
"The most likely route of entry into Ireland would be via infected meat from affected countries. While commercial imports of meat from affected countries are tightly controlled by EU legislation, infection can be inadvertently introduced by inappropriate disposal of waste food from international transport vessels, eg, airplanes and ships." 
The Department of Agriculture said that it's been working with farmers over the past year to ensure that their swine are protected, as far as is possible.
The multilingual poster, pictured above, was circulated to over 300 pig farms warning of the dangers of visitors or staff returning from affected regions of the EU and bringing back meat or meat onto Irish pig farms.
"Farmers, particularly those with backyard pigs need to be extremely careful that pigs do not get access to rubbish or waste food products.
#Open journalism No news is bad news Support The Journal

Your contributions will help us continue to deliver the stories that are important to you

Support us now
Farmers need to ensure that visitors from affected countries or unauthorised persons do not have access to their pigs.
Farmers employing workers from affected countries should discuss the issue with them, asking them not bring back food products. If they have visited pig farms in affected countries, they should avoid contact with pigs for at least 72 hours and ensure that any clothing that might have been used on those farms is not used on farms here. 
It also has advice for those travelling back from the affected countries:
Members of the public are asked not to bring back food products from affected countries and not to take food off airplanes or ships.
The Department's advice on measures that can be taken to prevent entry of the disease is available on its website for both commercial farmers and non-intensive pig farmers.
You can read more general advice about ASF on the Department's website here.