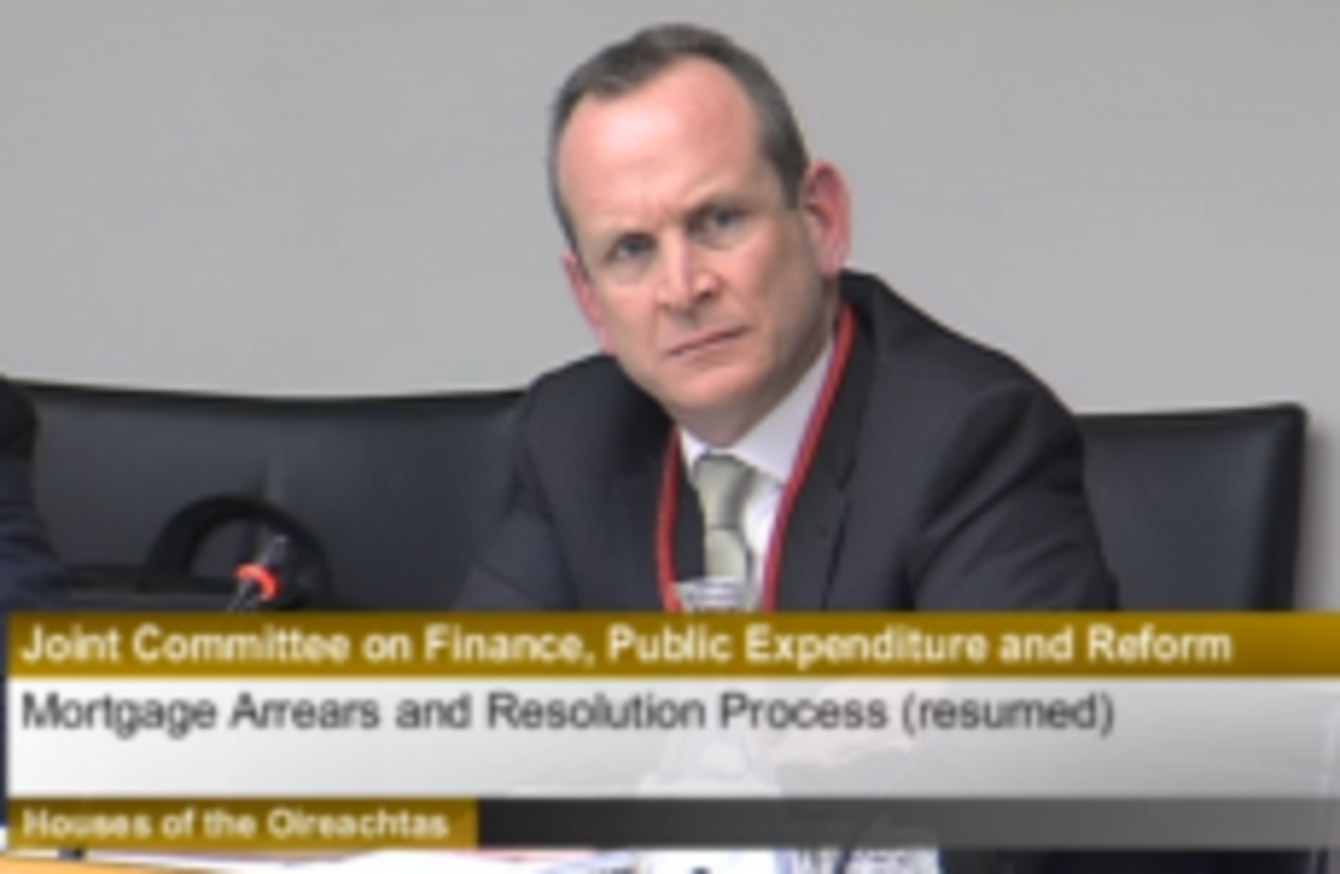 Brendan O'Connor
Image: Screengrab/Oireachtas TV
Brendan O'Connor
Image: Screengrab/Oireachtas TV
AIB HAS ISSUED legal letters to some 2,500 home owners in arrears in the last six months, the Oireachtas finance committee has heard.
Brendan O'Connor, head of AIB's financial solutions group, said that a number of these cases have or will change to sustainable solutions for repayment and, as such, will avoid repossession.
The bank repossessed 58 homes in 2013, up from 20 in 2012.
In total, the bank is involved in more than 9,000 legal or potential legal cases with mortgage holders. Typically, half of all those threatened with legal action engage with the bank to restructure their loans, while a further ten per cent do so once the legal process has been entered.
O'Connor said that the average period of mortgage arrears of the homeowners in question was two years.
During the same six-month period, 200 legal letters were sent to buy-to-let borrowers. O'Connor said that some 1,000 buy-to-lets are currently in receivership and he expects 800 of these houses to be repossessed.
Fine Gael TD Kieran O'Donnell accused the bank of adopting a "very aggressive attitude on the buy-to-lets".
'An Ass's Roar'
He added that some 50 per cent of the bank's mortgage debt restructuring was a result of legal proceedings and said "ye wouldn't come within an ass's roar of targets" without that approach.
AIB Group CEO David Duffy said that the legal letters were "merely a default, an outcome of non-engagement" and jokingly questioned O'Donnell's choice of language.
(David Duffy. Pic: Screengrab/Oireachtas TV)
Duffy said that AIB was dealing with a number of legacy issues and hoped to deliver the majority of mortgage restructuring by the end of 2014.
He stated that the bank had been "innovative" in its approach to the restructuring process as they have encouraged customers to talk to housing advocacy groups for advice.
He added that he didn't expect the upcoming ECB stress tests to show that AIB required more State capital as it has "buffers in excess of €4 billion".
SME arrears
Duffy said that SME arrears were "in monetary terms … by far the larger proportion of AIB's troubled loan book".
"The issue of SME arrears receives a disproportionately small level of coverage in the national debate despite the fact that its resolution is critical for the long-term sustainable growth of the country … I am pleased to say that we have made very strong progress in resolving our SME arrears book and are seeing much higher rates of customer engagement relative to our mortgage book," Duffy said.
He added: "We are confident that we will have completed the substantial majority of the SME restructures over the next 12 months."
O'Connor admitted that no solutions had been agreed in terms of a mortgage-to-rent scheme, but said that 300 potential cases were being discussed, with 20-30 in the late stages of agreement.
He noted that the process was "very, very complex … at the moment, it's just not functioning". He added that the about 600 of the 1,100 customers offered split mortgages were receive debt write-down of some sort.