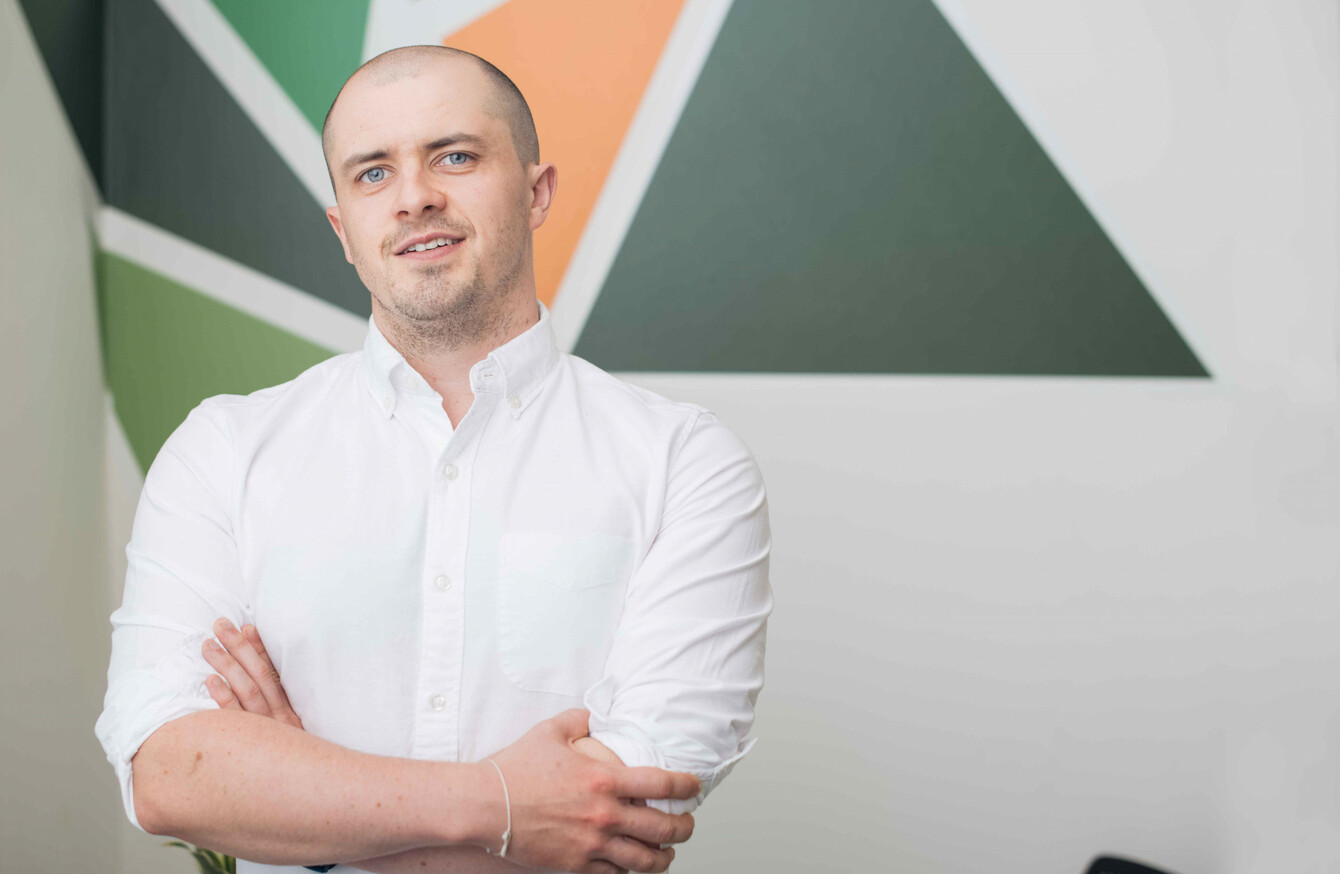 Image: Far From Avocados
Image: Far From Avocados
AIDAN COUGHLAN SPOKE to TheJournal.ie en route back from the Ploughing Championships, where he was doing some work with clients. So how was it?
"I was soaked. Just so, so, so soaked!"
So it was wet then?
"Bloody hell it was wet."
The Ploughing – a rite of passage for any Irish business – is certainly a million miles from avocados.
Coughlan established creative content agency Far From Avocados earlier this year with his partner Amy Cannon. The company now has a team of seven people and Aidan says it's the best place he's ever worked. "Maybe everyone's just being nice to me because I'm the boss now, but I think it's quite nice!" he says.
And with free gym membership and work-life balance a priority, we reckon it's got to be a pretty decent place to work. We asked Aidan six probing questions about his working day.
1. Who do you speak to first thing in the morning?
Usually that would be Amy, my partner in life, parenthood and business, but sometimes it's Arthur, my 10 month old son. I have a little chat with him before cracking into the business day at around 6.45 in the morning. 'Please, please, please, for the love of God, go back to sleep,' would be the general message, or, 'OK, fine, I'll feed you.'
The person I'd talk to most in work would be Sinead, our Content Manager. She was our first hire, she's been a really key part of our success story so far.
2. What do you do when you get to the office?
First thing in the morning when I get to the office, it's usually a stand-up meeting with the whole team. We have that at 9.30 every morning and it's a quick run-through on what we're going to get done for the day and a catch up on what we said we'd do yesterday, what's done and what's still remaining.
It's all very light and easy and quick and sharp… because no one really likes hanging around at a meeting for the first half of the day. But it does keep us focused on what we need to do.
3. What's the best part of your day?
My first coffee. Our office is right beside Brother Hubbard South (in Dublin 8) and as soon as I get in I get my coffee. It's not actually a caffeine thing – although I know that's an addict thing to say! I'm not addicted, I could quit any time, but it is my favourite part of the day.
I love the taste of it, I love the ritual of going in to order, I've become good pals with the guys who work there and there have been discussions about just cutting open a hole in the wall so they can hand the coffee straight through! It's the association with the start of a great day.
#Open journalism No news is bad news Support The Journal

Your contributions will help us continue to deliver the stories that are important to you

Support us now
4. Do you take a break during your work day?
I don't think anyone is served well by going through for an eight or nine hour day. We all like to keep our work day quite short and tight. I'm not a believer in the long work week; I've done it enough times to know that, both long term and short term, it's not great for productivity.
Generally we get out the door by 5.30pm unless there's something urgent we need to attend to. I love going to the gym at lunchtime. Everyone in our office has free gym membership. We're always encouraging people to take a class or go for a walk around the block. We're trying to set up a culture where that's acceptable.
5. What do you do to unwind in the evening?
This is off the record, right? Coronation Street is my vice. It's just easy, it's served to me on a plate. I go to the gym in the evenings sometimes if I don't make it at lunch but on a normal evening myself and Amy will sit down and watch Coronation Street.
We don't tend to talk about work too much. Without having a strict rule as such, we do tend to do things in the evening that don't involve talking about work and Corrie's a great one for that – and I'm looking forward to tuning in tonight to find out what happens at Aidan and Eva's wedding!
6. What podcasts do you listen to?
I'm listening to Sapiens at the moment. I'm a big fan of nonfiction when it comes to audiobooks and podcasts.  My Dad Wrote a Porno is my absolute favourite podcast. It's just so brilliant, so pure – which is a strange choice of words for what's basically a comedy version of erotic fiction! I can't overstate how good it is.
Second Captains too – I'm a massive admirer of what they've done. It's brilliant, intelligent sporting analysis.