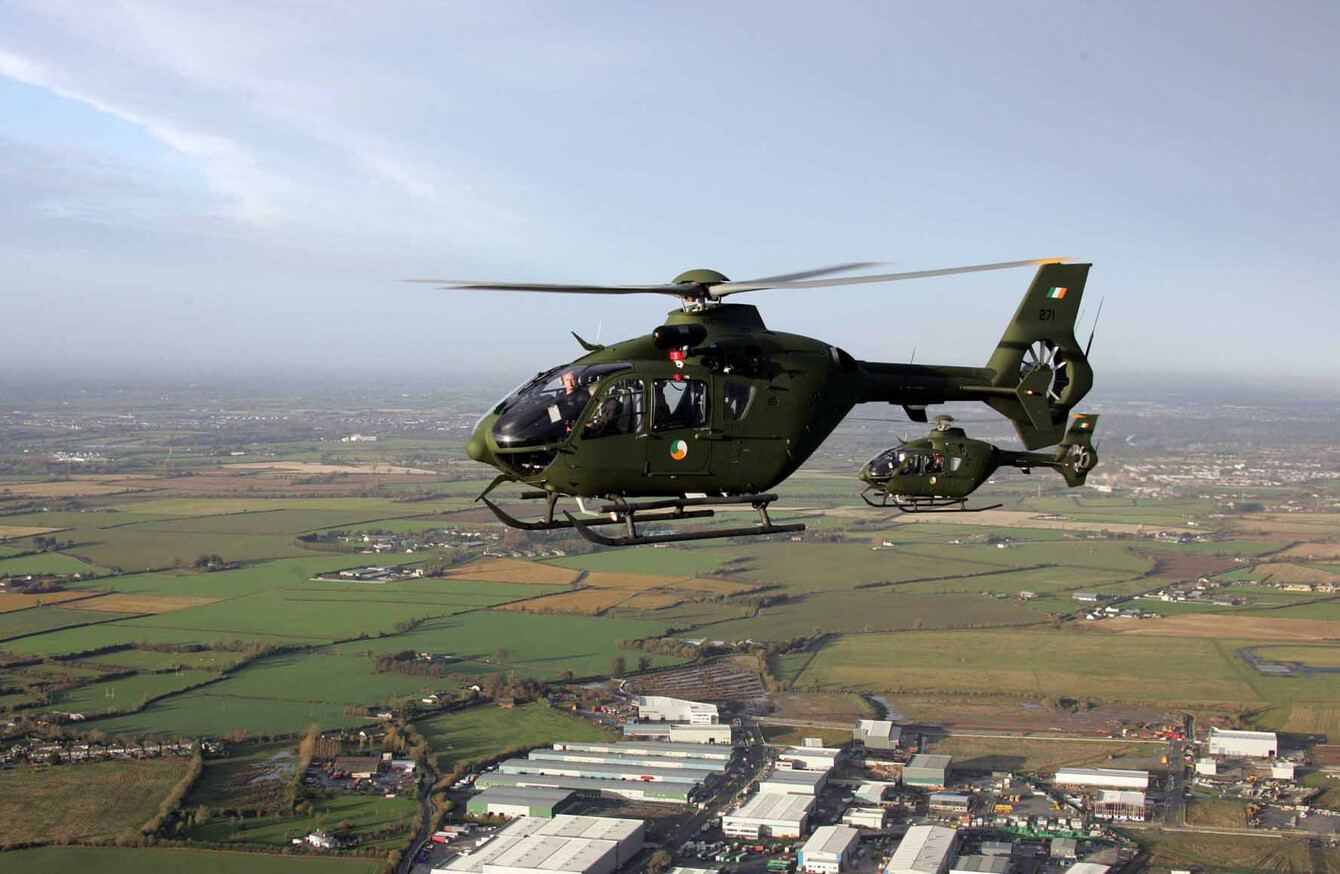 Two of the new Air Corps EC135 Light Utility Helicopters flying above Baldonnel Aerodrome, Dublin.
Image: RollingNews.ie
Two of the new Air Corps EC135 Light Utility Helicopters flying above Baldonnel Aerodrome, Dublin.
Image: RollingNews.ie
IRISH AIR CORPS whistleblowers say they hope an independent report due to be published this week will corroborate their claims that safety procedures around chemicals at Baldonnel Airfield put them at risk.
In the last 12 months, at least six former members of the Defence Forces have started legal proceedings against the State, alleging that they were exposed to toxic levels of chemicals and that a lack of protective equipment has left them with lifelong illnesses.
In January of this year, Junior Defence Minister Paul Kehoe ordered that an independent investigation be conducted by former Attorney General senior official Christopher O'Toole. The complainants have been told this crucial report will be released this week.
One whistleblower told TheJournal.ie that he hopes O'Toole's report will vindicate him and his colleagues by backing up what they said in their protected disclosure to the Minister.
A number of the former Air Corps personnel have contracted different forms of cancers which they claim are linked to the exposure of chemicals present at Baldonnel Airfield.
Yesterday, the Department confirmed that the Minister had received the O'Toole report and would be sending it to those who made the disclosures later this week.
"He will be inviting their observations on the report and will then consider the next steps," a spokesperson said.
In response to a number of queries from TheJournal.ie this year, the Department of Defence has sent the following statement:
The State Claims Agency is currently managing six claims taken by former and current members of the Air Corps against the Minister for Defence for personal injuries alleging exposure to chemical and toxic substances whilst working in the Air Corps in Baldonnel in the period 1991 to 2006. Given these matters are subject to litigation, it would be inappropriate to comment further.
In a protected disclosure made by a former Air Corps staff member which was seen by this publication, a Defence Forces whistleblower said that he has uncovered "the untimely deaths of at least 20 adults…of which I believe died of illness related to unprotected chemical exposure".
The protected disclosure details the rank and specific illness of each of those who have passed away. We are not publishing these details as to do so would breach data protection rules.
There are also claims that the partners of male members of the force suffered serious fertility issues and a number of miscarriages. Other children, according to the protected disclosure, are living with life-changing illnesses.
"For the last 12 months I have watched colleagues of mine die, develop cancer or heard of them taking their own lives," the whistleblower said.
"I know of so many partners of these men who have suffered miscarriage after miscarriage.
We were all exposed to these different organic compounds. And now they're waiting for us to die off. We've had to take the Government to court.
"We need to be vindicated. We've suffered so much. Friends are dead or dying."
A 2016 inspection by the Health and Safety Authority (HSA) identified a number of shortcomings at Baldonnel with corrective actions then taken by the Defence Forces in relation to how it handles such chemicals.
According to the HSA report seen by TheJournal.ie, the Air Corps was warned it could face prosecution if it did not "comply with advice and relevant legal requirements" about how hazardous substances were managed, among other safety matters.
Another whistleblower said this week that he is constantly worried he won't be around to support his family if he were to die early.
He told TheJournal.ie: "It's something I'm always going to be thinking about. I have a heart murmur, have had a heart attack in the last two years and I also have chronic fatigue. I left the Air Corps a number of years ago. I need to be able to support my family even if I die.
"In our minds, we are victims of the State not taking the proper precautions to protect us. They want us swept under the rug."
'Life-changing conditions'
The HSA's 2016 report stated immediate attention was needed at Baldonnel and that protective equipment must be made available to staff. The necessary equipment should include protective gear for eyes and hands, as well as respirators to protect against inhalation of toxic fumes.
In the documents, which have been seen by TheJournal.ie, the HSA said a number of safety measures must be implemented "with immediate effect" at Baldonnel.
The HSA report also advised the Air Corps that work activity involving category 1a or 1b chemicals (Cancer-causing), " a higher 'as far as technically possible' standard applies".