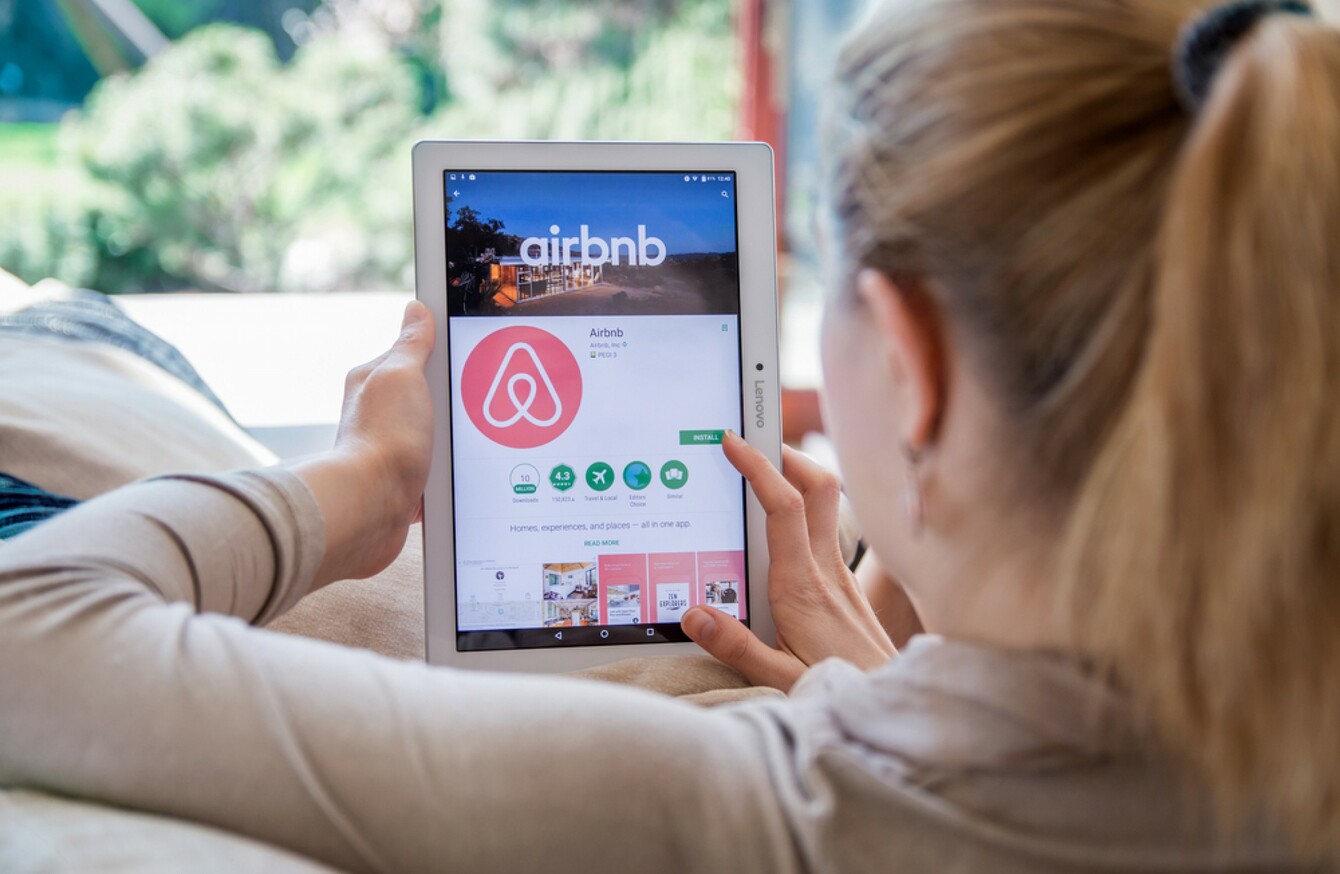 Image: Shutterstock/Daniel Krason
Image: Shutterstock/Daniel Krason
APPEARING BEFORE AN Oireachtas committee on housing today, representatives from Airbnb told TDs that the service is not exacerbating Dublin's housing crisis, with only small numbers of bookings used for long-term lets.
Airbnb's director of public policy Patrick Robinson outlined a series of stats on Airbnb hosts to committee members, claiming that the vast majority of hosters were people offering up space in their own homes to earn a bit of extra money.
Robinson also said, however, that they couldn't provide accurate data for how many days in a year a property on their site was available, with their data reliant on bookings made.
Committee members appeared frustrated with the lack of data on availability that Airbnb provided, with Sinn Féin's Eoin Ó Bróin remarking towards the end of proceedings: "If you're not willing, or able, to provide that data [on availability] to let us know if we have a problem or not, then we're left in the same position. We just don't know".
Tipping points
There has much been criticism of the short-term housing market as contributing to the current housing crisis in Dublin from TDs.
Last week, the Oireachtas Housing Committee heard that short-term rental companies are having an "adverse effect" on the rental market in Dublin.
There was criticism of Airbnb, which allows people to rent rooms or entire homes for short periods of time, and which is seen as further reducing the supply of rental properties for people living in Dublin.
In figures presented by Dr Daithí Downey of Dublin City Council (DCC), it was shown that almost half (48%) of the Airbnb rentals within the Dublin city limits are available to be booked for more than 90 days of the year.
Today, however, Patrick Robinson from Airbnb didn't agree that the company's system was contributing to the housing crisis.
He said that the data available to them, crossed with the data from the Residential Tenancies Board, suggested that a "typical housing unit would have to be rented out for well over 120 nights a year" for it to become more profitable for a property owner than finding a long-term tenant.
In some parts of Dublin, that figure would be closer to 200 nights a year.
Robinson told the committee that the typical host in 2012 "earned €5,000 and hosted for 51 nights". The "vast majority" of bookings made in Dublin on Airbnb were through someone who was living in that home, he said.
He said that Airbnb hosters usually just want to "use their space to host visitors and generate some extra income".
At the other end of the spectrum, he said long-term bookings only accounted for one in every 1000 units booked in Ireland last year.
Getting to the bottom of it
Some TDs pressed the Airbnb delegation on the numbers that were presented, with the majority of the data focused on bookings rather than availability.
Fianna Fáil TD Pat Casey said: "We're trying to get to the bottom go this. In your submission, you refer to booked rooms and rooms that have availability. These rooms could be available all year round."
Fine Gael TD Fergus O'Dowd spoke forcefully, saying that "we need control on Airbnb in areas where there are housing needs that are not being met".
Robinson replied that, because of the way Airbnb works, hosts could signal that they are available when in fact that they are not, and vice versa.
"In our discussions with governments," he said, "We've stressed that nights booked is a much more accurate picture of what's going on… that data is more readily available to us".
Sinn Féin's Ó Bróin said that it was important to have this data so that "whatever regulations are brought in are got right".
"We want to make sure that there is no abuse of the system," he said.
If you're not willing, or not able, to provide that data to let us know if we have a problem or not, then we're left in the same position were in before. We just don't know.
Robinson said that to hear of cases where a family could be left without a home because a landlord opted to let it out on Airbnb instead would be "incredibly disheartening".
He said: "Clear, fair regulation of the short-term rental sector would play a very strong role in preventing that kind of outcome. Looking at short-term rentals in isolation may lead you to make choices that have unintended knock-on consequences."
He added that the company was committed to working with the government to creating the most effective regulations in the sector to prevent people from abusing the system.