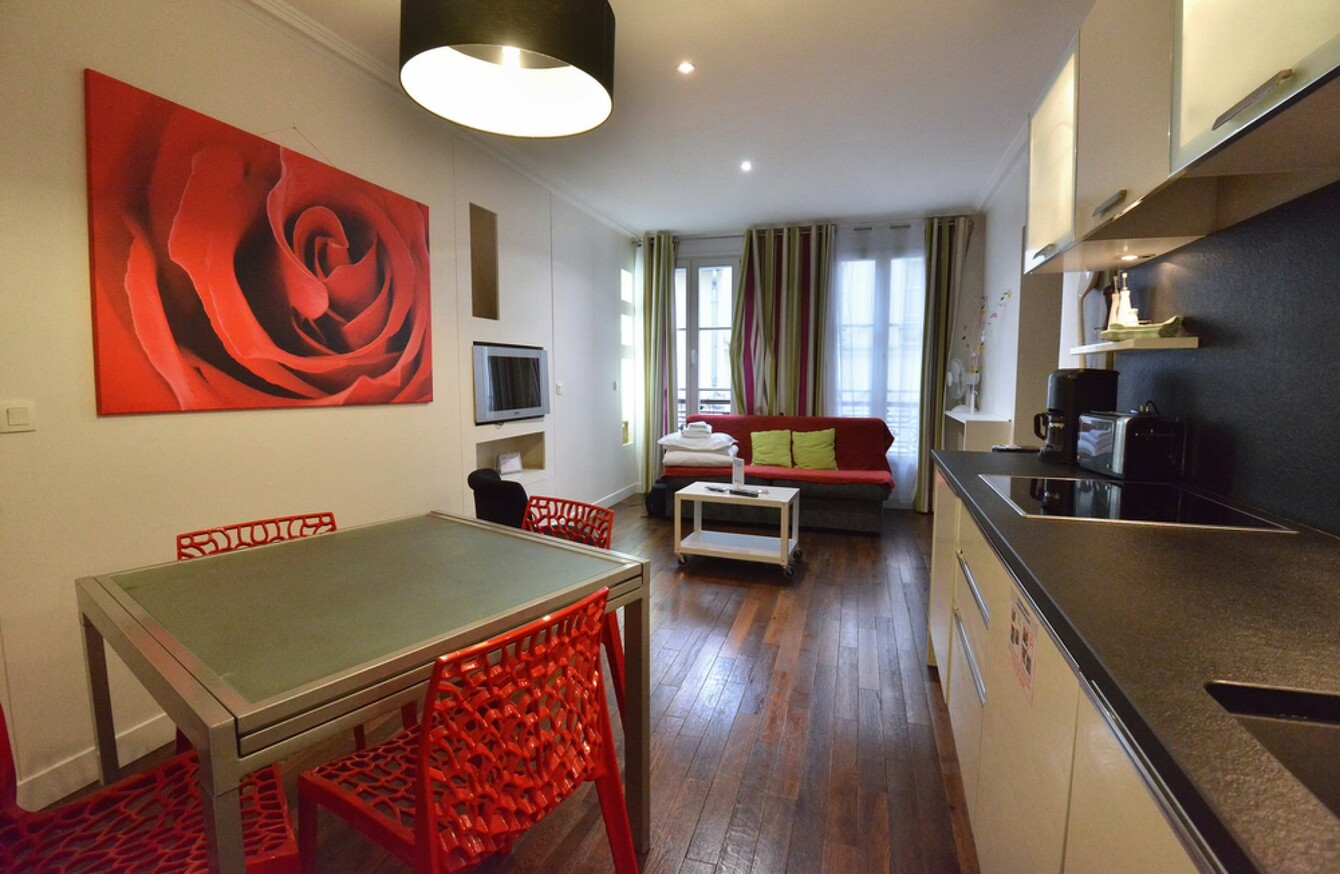 Image: Shutterstock/Hung Chung Chih
Image: Shutterstock/Hung Chung Chih
A GOVERNMENT WORKING group is to review if new regulations should be introduced for lettings website, AirBnb.
As part of the government's rental strategy, a working group will prepare a report which will look at issues such as tenancy regulation, tax liability and the tourism dimension associated with the company.
Last year, the use of short-term lettings and AirBnb hit the headlines when An Bord Pleanála upheld a Dublin City Council (DCC) ruling that an apartment owner in Temple Bar needed to apply for planning permission if they wanted to continue to rent the property out via Airbnb.
The apartment on Crown Alley in the middle of Dublin's busiest tourist area reportedly made €79,000 in one year.
Following the ruling, Housing Minister Simon Coveney vowed to tackle the issue of landlords renting out their properties through AirBnb.
The minister said his department would issue guidelines to local authorities, especially those in urban areas.
Letter to councils about AirBnb
The letter sent last December reminded local authorities that a property owner will now need to apply for planning permission to the local council for a material change of use of the apartment concerned if they are using it for short-term lets.
Planning Authorities are reminded of their obligations relating to planning enforcement under Part VIII of the Planning Act… It should be particularly noted that any planning enforcement action in this area should be focused on properties coming within scenario [of] … being exclusively used for commercial short-term letting purposes on a year-round basis.
Local authorities were told to investigate the matter by checking commercial website platforms where short-term lettings are advertised.
If there are suspicions a homeowner is using their property in such a way the owner should be written to and asked whether or not the property is being continually made available for short-term letting purposes. If the correct planning permission is not in place the department advises the council to take enforcement procedures.
Dublin City Council confirmed to TheJournal.ie that it received no submissions last year for a change of use for any residential property to be used for commercial use or short-term lets.
With up to 3,300 Dublin apartments listed on AirBnb last summer, TheJournal.ie asked Dublin City Council what regulations are in place on AirBnb properties.
Planning permission
The council stated there are no specific regulations relating to AirBnB, but outlined that if a person wants to use their property exclusively for short-term holiday lettings and there is no principal resident living in the property at all times, a change of use is required under planning permission.
However, when asked how many change of use requests were submitted to Dublin City Council last year for this reason, the local authority replied:
None to date to our knowledge.
When asked how many properties were under investigation for possible breach of planning rules and how many enforcement actions had been taken by the council, other than the Temple Bar case, the council said:
This information is not readily accessible.
Dublin City Council said it doesn't distinguish between complaints alleging unauthorised short-term lettings on AirBnb and other property listings.
Secretary General of the Housing Department, John McCarthy told the Oireachtas Committee on Housing this week that in the event that there are other properties operating in a similar manner to the Temple Bar property, they need to be followed up on.
Review 
"While a significant number of AirBnb properties may be advertised in any location at a particular time, what is not as clear is the extent to which some of those are being offered by people who are making their property available for a week or two when they are on holidays themselves.
"There is a big gulf between the numbers of units available in AirBnb and the numbers of units available for housing generally, because they are and continue to be people's primary residences," said McCarthy.
He acknowledged there are a range of issues flowing from the An Bord Pleanála case and Airbnb.
There is a commitment in the rental strategy to establish a working group to prepare a report on that by the second quarter of this year.
We will be moving forward with that very shortly.
Last year Airbnb opened a new 40,000-square-foot international headquarters in the Dublin, with the company stating that it contributed an estimated €74 million to regional and rural communities across Ireland in the last year.
According to its Home-Sharing: Empowering Regional & Rural Ireland report, in 2016 alone, 11,000 unique hosts welcomed over 650,000 guests to their homes across Ireland (including Dublin).
In the last year, 6,000 hosts in regional and rural Ireland have earned an average additional income of €2,700 per household.
Other major cities 
With the government reviewing possible regulations, what route could it go down?
A number of major cities have clamped down on the use of AirBnb.
Hosts in Berlin are only permitted to rent out their property for 50% of the year, while Amsterdam imposed a limit of 60 nights a year.
The Minister for Arts, Heritage, Regional, Rural and Gaeltacht Affairs, Heather Humphreys said the benefit of the Airbnb model is that it can bring new visitors to remote locations, and provide revenue to communities in rural Ireland.
Sinn Féin's Eoin O'Broin said he hoped the fact the company employs over 500 employees in Ireland would not be a factor when government are considering what regulations to impose.
"My worry is that if the working group only reports back in the second quarter, we are really only looking at regulations for September, October or November. Is there any way the working group can be brought forward or the gap between the report and regulations could be sped up? It is an urgent issue in terms of supply," O'Broin told the committee.
6,225 units listed on Airbnb
Raising the issue in the Dáil this week, he told Taoiseach Enda Kenny that  while there are only 1,564 properties available for rent in Dublin, there are 6,225 units listed on Airbnb.
He asked when the minister would be introducing legislation to properly regulate this sector. Kenny said he would ask the minister to give Ó Broin more accurate details and a date on which he expects the legislation to be published.
The Sinn Féin TD suggested that a 6-8 week limit be introduced on owners who wish to let their properties on AirBnb.
If local authorities are being instructed to carry out more inspections and begin more enforcement orders against property owners he said additional resources and staff will need to be provided.