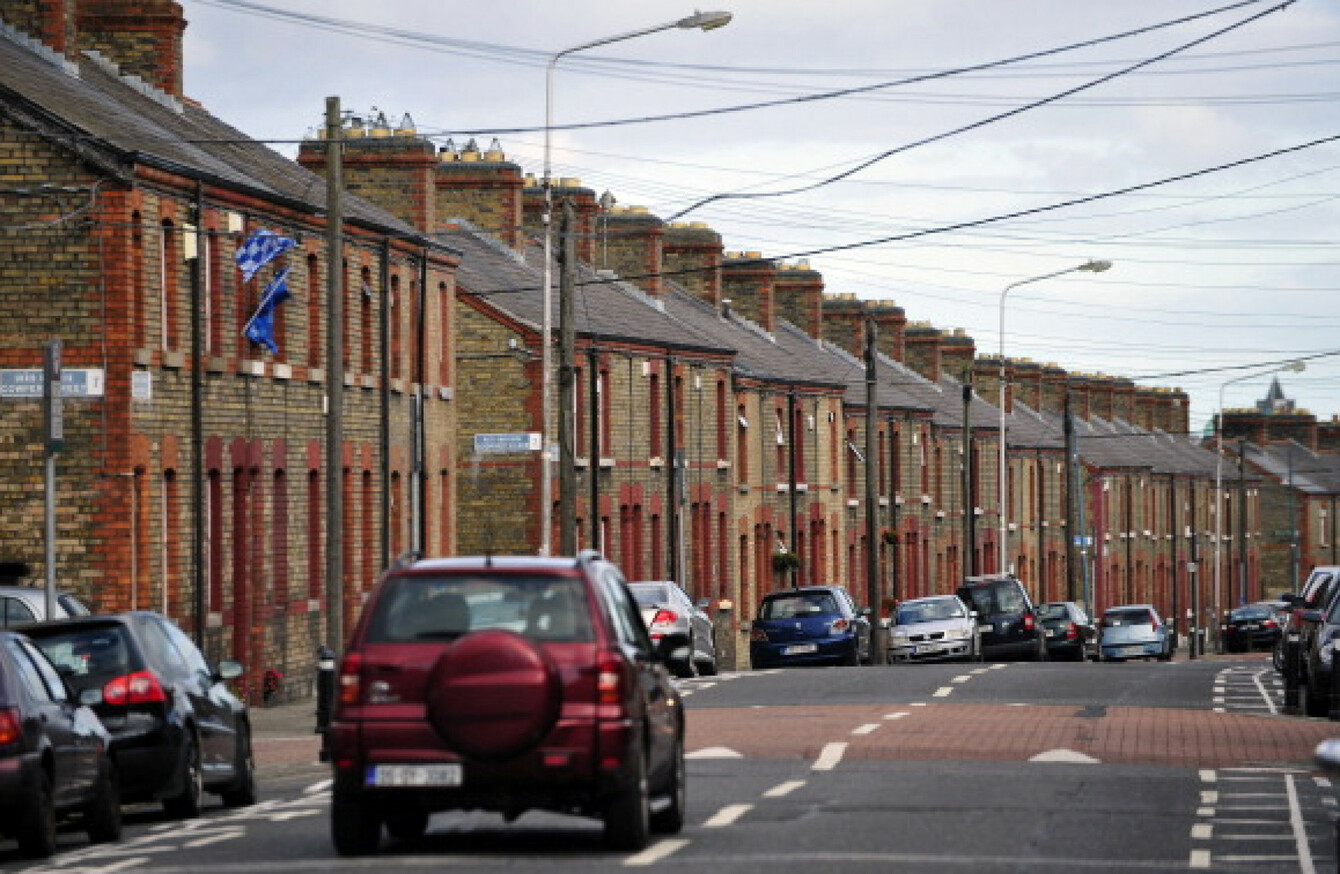 Terraced houses in Dublin city
Image: Bloomberg via Getty Images
Terraced houses in Dublin city
Image: Bloomberg via Getty Images
IN FEBRUARY 2017, there were 6,729 Airbnb listings in Dublin, but now that figure is roughly 7,300.
Just under half of them are entire homes or apartments. While certainly not the cause of the housing crisis, campaigners say the prominence of Airbnb properties in specific areas of Dublin is helping to make the problem worse.
They say the areas of Dublin 1, 2, 7 and 8 are those most affected, both in terms of the current housing shortage, and the large number of Airbnbs available in those areas.
John-Mark McCafferty, CEO of national housing charity Threshold, told TheJournal.ie that, during a time of "historically low supply" in the private rental sector, "Airbnb is taking up a share of units that would otherwise" be in the private market.
Sinn Féin's housing spokesperson Eoin Ó Broin, meanwhile, said there's a "real frustration" with government's lack of action on the issue, despite it being flagged for at least two years now.
Adverse effect
Home-sharing services such as Airbnb have become very popular in recent years. According to a recent report published by the company, there were over 8,500 overall listings in 2017 in Dublin county and city, earning its hosts €68 million.
Last June, however, Dublin City Council said Airbnb is having an "adverse effect" on the rental market in the capital.
Among those flagging concerns, there is a recognition that Airbnb is not a problem in many parts of the country. It is only a problem where there are acute housing shortages and high rents, with the areas of Dublin 1, 2, 7 and 8 singled out in particular.
They've been designated rent pressure zones, due to the high cost, and are also subject to high levels of demand as economic activity increases in Dublin.
These areas encompass the city centre in locations such as Dorset Street, Mountjoy Square, Mary Street, Dame Street, Grafton Street and Wexford Street. Further out, it also covers parts of Cabra, Phibsborough, Smithfield, Stoneybatter, Inchicore, Kilmainham and Portobello.
According to figures from Daft.ie, there are currently 347 properties to rent in these postcodes of Dublin.
And, according to figures from Inside Airbnb, there were 2,672 full homes or apartments listed on the short-term rental platform last year in the area covered by Dublin City Council with a vast majority located within these postcodes.
Of these, it was estimated that the these places were rented out on Airbnb an average of 113 nights a year. Furthermore, over half of the properties were listed for 90 days or more in a year.
According to figures from Daft.ie's Q4 2017 report, the average rent for home in these areas were among the highest in Dublin, with Dublin 2 costing €1,750 for a one bed apartment.
A similar property in Dublin 1 cost €1,503, in Dublin 7 cost €1,432 and in Dublin 8 cost €1,501. Even taking into account bigger properties, a 3-bed house would earn on average between €1,800 and €2,400 in this market.
Digging a bit deeper into the Inside Airbnb figures, it estimates that the average income for people renting out a full apartment of house in Dublin city is €1,268. While this is less than a landlord would get from a full-time tenant, it is further estimated that the residences are only rented out an average of 31% of the time.
So, by allowing a property to be rented out roughly a third of a month on Airbnb, for example, a landlord could make almost as much from a full-time tenant in these areas of Dublin.
TheJournal.ie checked the Airbnb site to book an entire home or apartment for three people for a week in April. The first, in Dublin 1, cost €1,200 for the week. One in Dublin 7 cost €470 for just three nights. With the cost to tourists of renting these properties, campaigners say it clearly shows the incentive to potential landlords to opt for Airbnb.
Threshold's McCafferty said that the increase in Airbnb properties in these areas is a matter of "real concern".
"We need more consistent data on this," he said. "But it's a concern for us that in a period of unprecedented demand, low supply and increased rents, that a significant share of entire homes are given over to Airbnb."
McCafferty emphasised that the charity has no issue with Airbnb as a model for people to rent our spare rooms or their homes when they're not there to supplement their income, but that it is whole homes – houses or apartments – let out on the platform for a significant amount of time is a problem.
He said: "The current crisis isn't being caused by Airbnb, but it isn't helping the supply.
From a policy perspective, we want to see policies that will support landlords to retain entire units in the private rental sector. We don't want policy actively pushing landlords out of the private sector.
McCafferty said that while Airbnb has argued it isn't displacing potential homes that could be used by private renters, it was "incumbent on statutory agencies to have as objective a picture as possible" and to look at the "pressure points in the system".
He suggested looking at the amount of time in which a property is rented out a year, and discouraging and disincentivising property owners from choosing to let them out long-term on Airbnb, rather than taking on private tenants.
He said: "It's not desirable for the Airbnb model to be killed off or fundamentally undermined, what is important is the balance.
We need to do it in such a way that is good for consumers, but doesn't in any way detract from the supply of long-term lets.
Speaking to TheJournal.ie, Sinn Féin's Eoin Ó Broin said that the main issue that has arisen is from "commercial short-term letting landlords who engage in short-term letting as a business".
He said that the Oireachtas Housing Committee, which he is part of, made clear recommendations about what action should be taken to prevent abuse of the system.
"The government needs to have a two-tier system," Ó Broin said. "You have the genuine people letting out their room for a period of time – and you'd apply a light form of regulation.
But if it is a commercial venture, you'd have to seek some form of planning permission, where a request would need to be made and a local authority would consider whether it is appropriate.
He called for clarity to be given to city and county councils about what measures are appropriate, and that implementing a number of days after which it is not acceptable to rent out a home on short-term let could provide that surety.
"That's the distinction then between a genuine home – the time you let out your property, whether that be 60 days or 90," he said. Ó Broin said that anyone who rents out via short-term lets like Airbnb more than that should require planning permission to do so, and it is there that local authorities could take appropriate action.
As to enforcing this, the Dublin Mid-West TD called for the creation of a licensing regime, whereby data could be collected about the person's income from Airbnb, how many days the property is let out for, how many nights it is available etc, and this would be provided by Airbnb itself.
"Under this, the genuine homesharer wouldn't require planning permission," Ó Broin said. "Hard-pressed working families will be able to make a few bob. But this system will weed out these commercial short-term letters operating under the guise of a genuine rental."
Fianna Fáil have also made proposals to fix the problem, submitting new legislation that would see a dwelling undergoing "material change in use of the property" if it is used as short-term accommodation for 90 days or more in a year, as opposed to Sinn Féin's 60 days
It also provides for the owner of the property being required to register each time it is rented out on a short-term basis. To date, however, this legislation has not been enacted.
Government action
The government has been urged to legislate for these short-term lets in many quarters, and it has recognised this need.
In a circular sent to the chief executives of city and county councils last October, the Housing Department said that "the growing use of online platforms may, if not adequately regulated, facilitate and encourage" the trend of properties being removed from the long-term rental market.
The department recommended that apartments will require commercial planning permission to be used as short-term lets, which is restricted for up to 60 nights a year. The letter also states that owners should not be allowed to rent their properties for more than five nights in a row.
It said the use of online platforms "may encourage" landlords to seek higher returns by ceasing residential letting and moving to short-term letting to tourists. This matter was described as one of "significant concern".
However, Airbnb deny this is the case, telling an Oireachtas committee on Housing in June that their service is not exacerbating Dublin's housing crisis as only small numbers of bookings are used for long-term lets.
Airbnb's director of public policy Patrick Robinson outlined a series of stats on Airbnb hosts to committee members, claiming that the vast majority of hosters were people offering up space in their own homes to earn a bit of extra money.
Nonetheless, committee members also criticised the company for having an "adverse" affect on the capital's rental market.
In a statement to TheJournal.ie, the Department of Housing said it had established a working group last year – which has met five times – to develop guidance in relation to planning applications, changes of use relating to short-term lettings and to examine the need for new regulatory arrangements.
It said this group is now working on "proposals for an appropriate comprehensive regulatory approach" for short-term tourism-related lettings. It said its circular provided guidance on planning applications related to short-term lettings.
While B&Bs are exempt from seeking planning permission under current laws, but this exemption does not cover a flat, apartment or any other dwelling in such a building.
Planning permission is still required for these premises, which are often used for Airbnb rental, the department said.
It added: "This guidance is a first step, and is not expected, or intended, to resolve all the issues related to short term letting."
This working group is now developing proposals for the "broader licensing and regulatory approach" which have yet to be finalised.
Speaking to TheJournal.ie, Sinn Féin's Ó Broin said now is the time to take action.
"Places like Stoneybatter and Smithfield were getting more expensive anyway," he said. "But places like Mountjoy Square traditionally had lower rents. And once supply runs out, and prices go up, they're never going to go back down.
We don't need primary legislation to make these changes needed. They could be done tomorrow. Having this go on for so long now without real change is a real source of frustration.
With reporting from Christina Finn