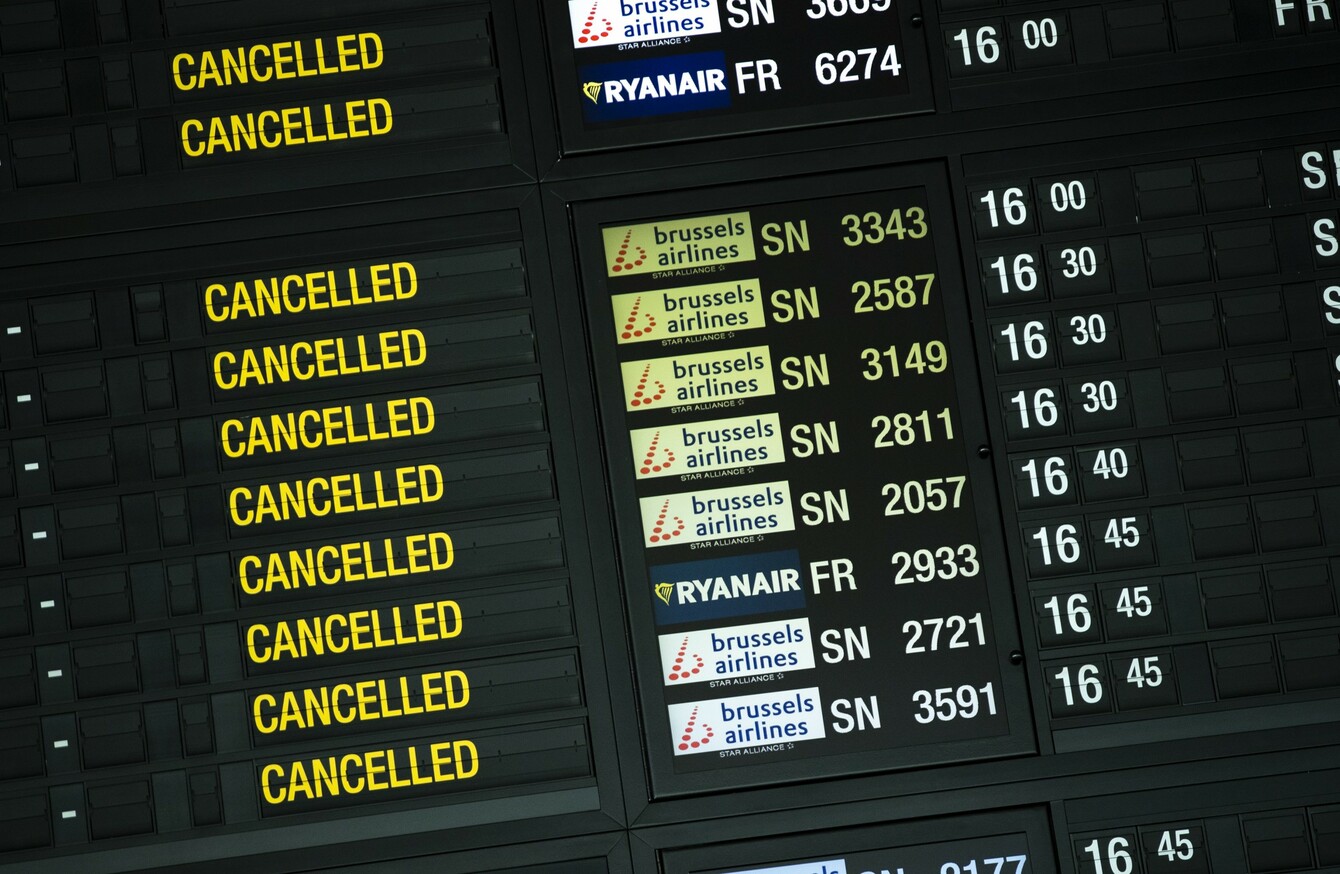 Image: AP/PA Images
Image: AP/PA Images
Updated May 13th 2020, 4:53 PM
THE EUROPEAN COMMISSION has said airlines must give passengers refunds for cancelled flights, and that vouchers alone won't do. 
The commission, which has been under pressure to change regulations, said that under EU rules, travellers have the right to choose between vouchers or cash reimbursement for cancelled transport tickets.
"We cannot judge on the economic situation of the individual…this is why we say this is your right, full stop," executive vice-president of the commission Margrethe Vestager said during this morning's press conference on resuming travel and rebooting Europe's tourism sector. 
Vestager said that letters are being sent out to member states "as we speak" to remind them of this right. 
The EU body had been under pressure to change the rules on how airline passengers can be refunded for cancelled flight in order to solve current cash flow constraints of airlines.
The Irish government was among 13 member states who co-signed a letter calling for the commission to temporarily allow airlines to issue vouchers instead of refunds to passengers whose flights have been cancelled due to the Covid-19 pandemic.
Under EU Regulation 261/2014, airlines must reimburse passengers whose flights are cancelled the choice of a refund or a re-routing within seven days.
But the member states – Ireland, Belgium, Bulgaria, Cyprus, the Czech Republic, Greece, France, Latvia, Malta, the Netherlands, Poland, and Portugal – claimed current rules place airlines in a difficult situation, particularly as many are facing financial difficulties.
The letter follows complaints from customers that Ryanair and Aer Lingus had joined a number of other airlines across the continent in primarily offering vouchers to those whose flights had been cancelled.
Passengers were told they would have to wait until the Covid-19 pandemic had passed before applications for refunds would be considered. 
'Consumers can be reassured'
The commission has recommended that airlines ensure vouchers become a viable and more attractive alternative to reimbursement for cancelled trips and should be protected against insolvency of the issuer, with a minimum validity period of 12 months, and be refundable after at most one year, if not redeemed. 
"They should also provide passengers sufficient flexibility, should allow the passengers to travel on the same route under the same service conditions or the travellers to book a package travel contract with the same type of services or of equivalent quality. They should also be transferable to another traveller," the guidelines state. 
"European consumers can be reassured. The commission will not downgrade their EU rights for reimbursement for cancelled travel," said commissioner for justice and consumers, Didier Reynders. 
"We recommend, however, making vouchers more attractive for those who chose this option. In the meantime, freedom of movement is the right European citizens cherish most. It is important to restore this right as soon as the circumstances allow it."
Political reaction 
Among those welcoming the news was Green Party MEP Ciarán Cuffe. 
The Dublin representative said he was glad that the European Commission "did not yield" to the pressure from airlines.
"This is a difficult time for airlines, but it's also an extremely difficult time for customers too and it is only fair that Commissioner Vestager has told airlines that they must play by the rules and issue refunds rather than force customers to accept vouchers," Cuffe said.
He added that it was crucial airlines and travel companies outline how they'll refund customers in a timely manner.
#Open journalism No news is bad news Support The Journal

Your contributions will help us continue to deliver the stories that are important to you

Support us now
Fine Gael MEP Mairead McGuinness said the European Commission had introduced a "strong recommendation" for travellers affected by Covid-19 today. 
"It aims to make vouchers attractive to passengers or travellers without depriving them of their right to reimbursement in money," she said.
She said the guidelines provide for the safe and gradual restoration of passenger transport by air, rail, road and waterways, adding: "There are a series of recommendations, such as the need to limit contact between passengers and transport workers, and passengers themselves, reducing, where feasible, the density of passengers."
Fellow Fine Gael MEP Frances Fitzgerald, however, said that Ryanair CEO Michael O'Leary "clearly has a point" when he argued against State bailouts for airlines.
The airline has already formally appealed decisions from the European Commission for State aid to be provided to Air France and SAS.
"We will appeal any European Commission state aid decisions that discriminate unlawfully between airlines," said the low-cost airline.
Fitzgerald said: "Clearly he has a point, competition rules and State aid rules are being broken all over the place. And the whole question is, what is allowable at a time of emergency like this? Or really has this got to be called out and for the commission to seriously examine it and make a decision in relation to it?"
With reporting from Sean Murray