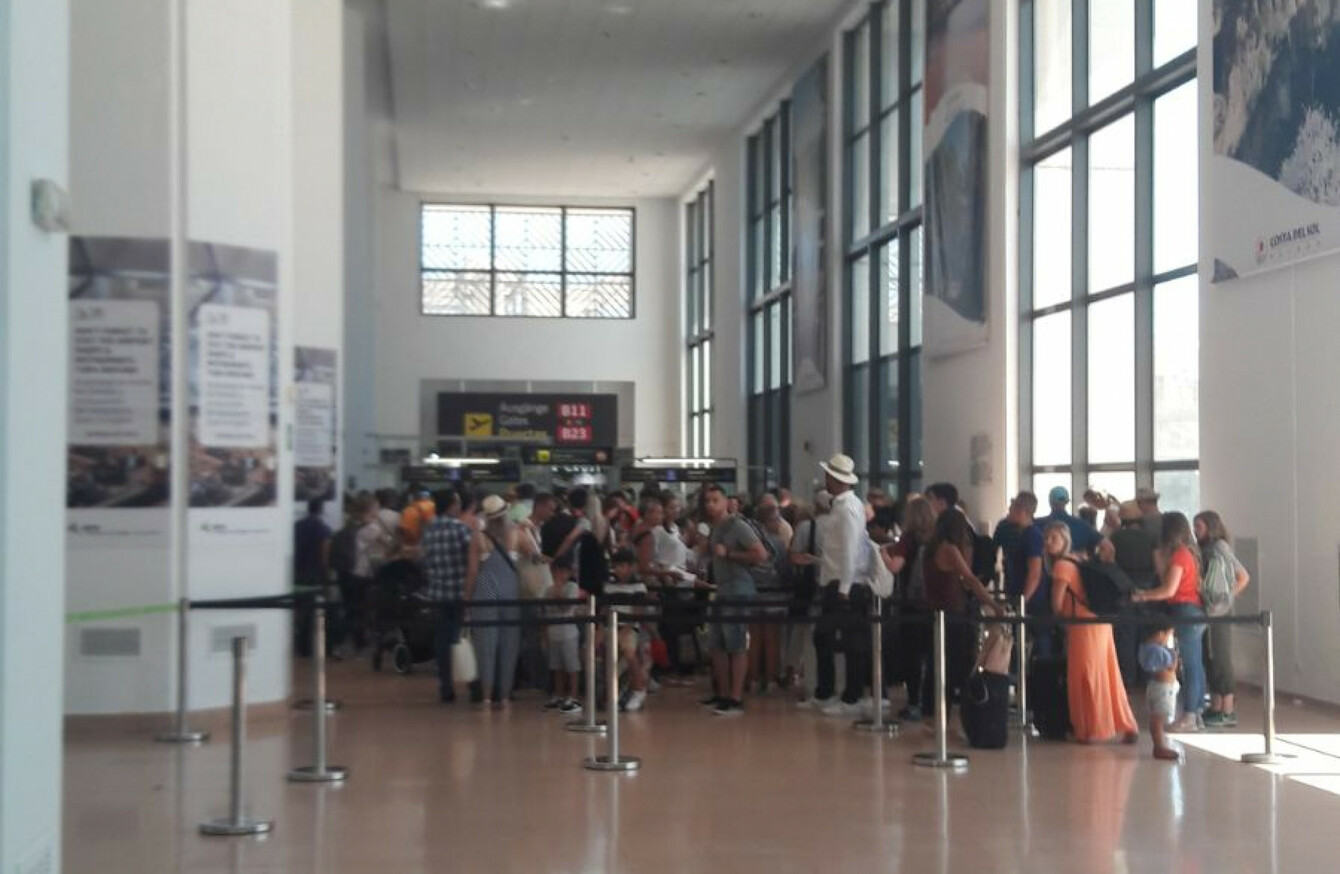 Malaga Airport queues
Image: Joanne Dunne
Malaga Airport queues
Image: Joanne Dunne
"IT BROKE US."
An Irish woman who was due to travel home from Malaga Airport, Spain, in July with her husband and four young children has told TheJournal.ie that she was faced with extraordinarily long queues which resulted in them missing their flight.
This occurred as passengers around Europe reported facing huge delays because of a newly-tightened EU regulation on border checks.
Joanne Dunne, her husband and their four young children (including twins aged two) were booked in on flight FR055 on 21 July – but they never made it onto the plane.
"There were tears, the kids were looking at us asking 'what's wrong mammy, are we ever going to get home?'. They were bawling their eyes out," Dunne said.
Dunne told TheJournal.ie that she arrived at Malaga airport three hours before departure time.
However, when they arrived at the airport, the family were faced with queues of up to 30 minutes at the bag-drop area, security and passport control, before making it to the designated departure gate.
New EU regulations
Thousands of flights in Europe recently had to be delayed because EU border controls are "significantly understaffed" to comply with tightened immigration checks, Airlines for Europe (A4E) has said.
A new EU regulation was implemented in March of this year which outlines the reinforcement of checks against relevant databases at external borders.
A4E has said this has led to airports in Spain, France, Italy, Belgium and Portugal facing immigration queues of up to four hours, leading some passengers to miss their flights.
The delays aren't currently being reported in Dublin Airport. This is because Ireland isn't part of the Schengen Agreement – a treaty which led to the creation of Europe's Schengen area, in which internal border checks were largely abolished.
EU member states aren't obliged to check every non-Schengen passport until October, when regulation EU 2017/458 will be fully implemented.
"I'm an ex-travel agent, so I'm no stranger to going through airports," Dunne told TheJournal.ie. 
"The bag drop queue was just something else. It took about 30 to 40 minutes to get through that."
'Monster queues'
From there, the family headed to security checks where they were placed into a special family queue. Again, Dunne claimed she was faced with a "massive queue".
After getting through security, Dunne said the family grabbed a quick coffee before heading to passport control – the next hurdle.
"We were faced with a monster queue," she said.
Just three staff members were present at passport control, according to Dunne.
"I don't know what they were doing but they were taking ages with every passenger."
Everyone was skipping the queue as they were about to miss flights, which left an unruly mess. There were fights and altercations in the queue.
Dunne and her husband made the decision to push their way up to the top of the queue, out of fear that they would miss their flight. This resulted in fellow passengers "shouting asking what [they] were doing".
The Dunne family made it to the gate just 10 minutes before the flight was due to take off. They were told by Ryanair staff they would not be permitted to board the flight.
"The [staff] that were standing at the gate looked like they were going to burst into hysterics and they rang through to what I presume was the pilot and they were told no and that was it," Dunne said.
We walked around the airport in tears and had to fight at every hurdle to get on the plane. It was so stressful.
The Dunne family were left with no option but to check into a hotel that night and book seats on a flight home to Dublin the next day, which came to a total of €1000. Ryanair didn't reimburse the family for the missed flight, according to Dunne.
Calls for action
In a recent statement, A4E said: "During this busy summer travel season, airline travellers have become victims of the disproportionate impact that the implementation of a new EU Regulation is having on the flow of traffic at European airports."
Managing director of A4E Thomas Reynaert said that member states should take necessary measures to prevent such disruptions and deploy appropriate staff and resources in sufficient numbers to carry out the requested checks.
"Especially during the peak season, travellers face lines and can't get on their flights," Reynaert said.
At some airports, flight delays have increased by 300% compared to last year — member states must take the responsibility for this.
RTE News reported earlier this week that the European Commission stated that member states have had time to prepare for tighter controls, which were brought in after the Paris terror attacks in November 2015.
Commission spokesperson Mina Andreeva said: "This is about the security of our citizens.  All EU member states wanted the current rules. They asked for them specifically.
"More checks can lead to more delays, and that is the price for security. We cannot have on the one hand a joint request from member states to have more checks and controls, to increase security, and the same time have complaints about longer waiting periods."
Even though we didn't sign the Schengen agreement, that doesn't mean people aren't advised to be aware of queues in Ireland due to summer holidays.
Ryanair is advising all customers to arrive in plenty of time for their flights.
"It is every customer's responsibility to ensure that they do so," a statement from the airline said.
"Our operations across the network are running as normal and we continue to advise customers to arrive at least three hours before the scheduled departure time of their flight."
Aer Lingus issued similar advise: