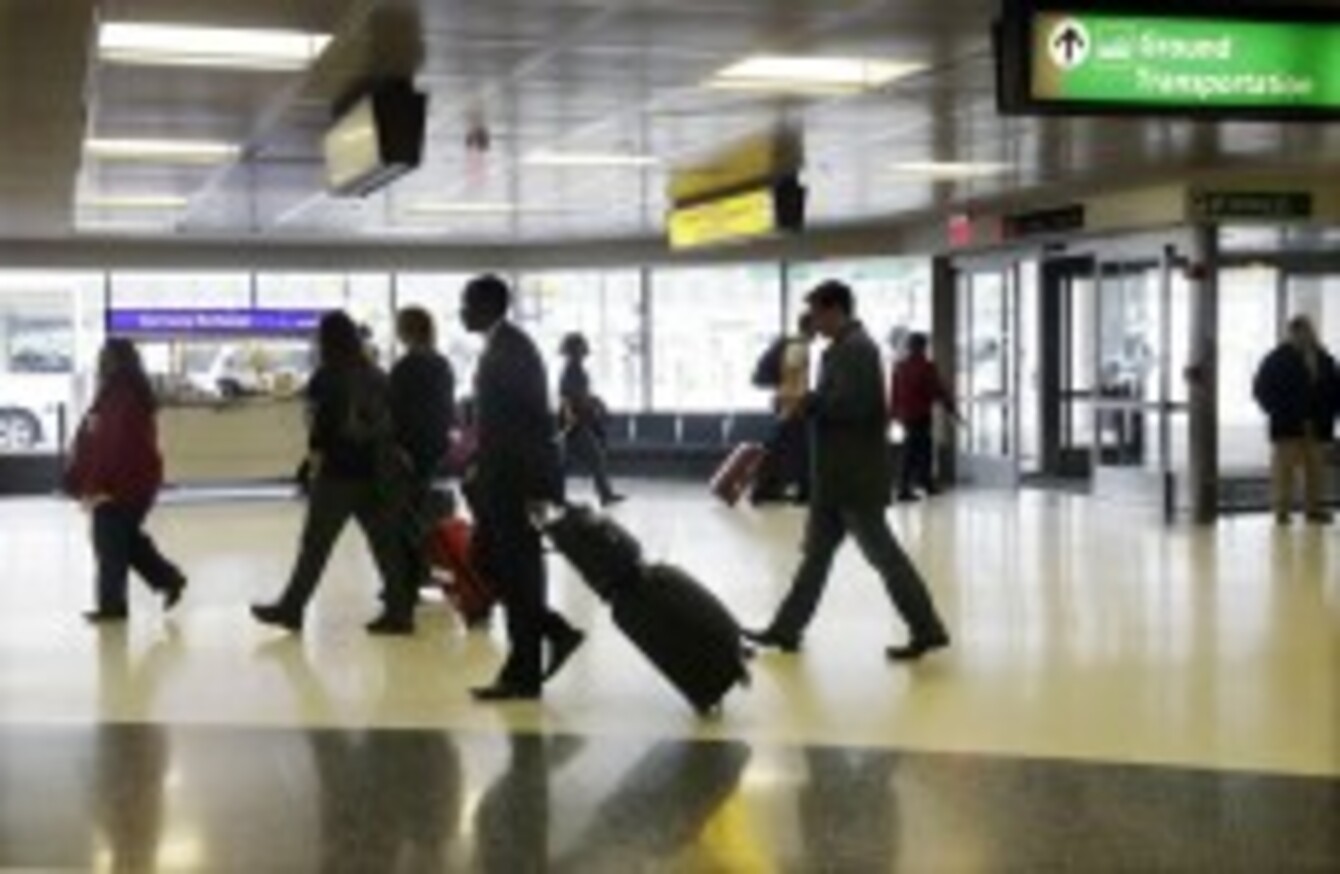 Image: AP/Press Association Images
Image: AP/Press Association Images
Updated 1.05 PM
AUTHORITIES AT DUBLIN Airport say they are aware of increased security at a number of airports, including the UK, but are continuing to operate as normal.
US authorities have said they are bolstering security at some airports in Europe and the Middle East that have with direct flights to the US amid concern that terror groups are developing new explosives to circumvent airport security.
US Homeland Security Secretary Jeh Johnson announced unspecified steps that would be carried out in "coming days," without saying which airports would be affected.
A spokesperson for the Dublin Airport Authority has said they note the comments but that passengers travelling through the airport will not notice any changes.
Passengers flying to the US go through the usual security checks in Dublin but are also checked for a second time by US officials. It is here that passengers may experience tighter security but it is up to the US authorities to decide at what hubs they will implement them.
After an assessment of security threats, Johnson said he had directed the Transportation Security Administration "to implement enhanced security measures in the coming days at certain overseas airports with direct flights to the United States."
Johnson said that "we will continue to adjust security measures to promote aviation security without unnecessary disruptions to the travelling public."
The airports were located in the Middle East and Europe, according to an official at the Department of Homeland Security, who spoke on condition of anonymity.
The announcement came before the US Independence Day celebrations on Friday but officials would not say whether authorities had uncovered a specific threat or plot.
"There will be enhanced security measures in certain airports that fly non-stop to the US," the DHS official said.
"We're targeting certain airports abroad… based on real time intelligence," the official added.
The new measures would be designed in a way to avoid creating major hassles for travellers, without signaling to potential terrorists what those steps would be, officials said.
"Information about specific enhancements is sensitive as we do not wish to divulge information about specific layers of security to those who would do harm," said a second DHS official, who asked not to be named.
The official said authorities "may require some additional screening of persons and their property, so travelers should always arrive at an airport with plenty of time for screening to be sure they do not miss their flights."
Media reports said the additional screening could apply to shoes worn by passengers and electronic devices.
In the UK, the Department for Transport (DfT) said late Wednesday that it would "step up some of our aviation security measures" following the warning from US security chiefs, the Guardian reported.
"For obvious reasons we will not be commenting in detail on those changes. The majority of passengers should not experience significant disruption," a spokesman told the BBC.
US counter-terrorism experts in recent months have said there is cause for concern that extremists have come up with new tactics to avoid detection at airports.
Just Sunday, US President Barack Obama warned that "battle-hardened" Europeans who embrace jihad in Syria and Iraq threaten the United States because their passports mean they can enter the country without a visa.
"We have seen Europeans sympathetic to their (militants') cause travelling into Syria and may now travel into Iraq, getting battle-hardened. Then they come back," Obama warned in an interview that aired Sunday on the US broadcaster ABC.
These combatants "have a European passport. They don't need visas to get into the United States," he told the program "This Week."
"Now, we are spending a lot of time, and we have been for years, making sure we are improving intelligence to respond to that.
"We have to improve our surveillance, reconnaissance, intelligence there. Special forces are going to have a role. And there are going to be times where we take strikes against organizations that could do us harm."
- Additional reporting by Rónán Duffy