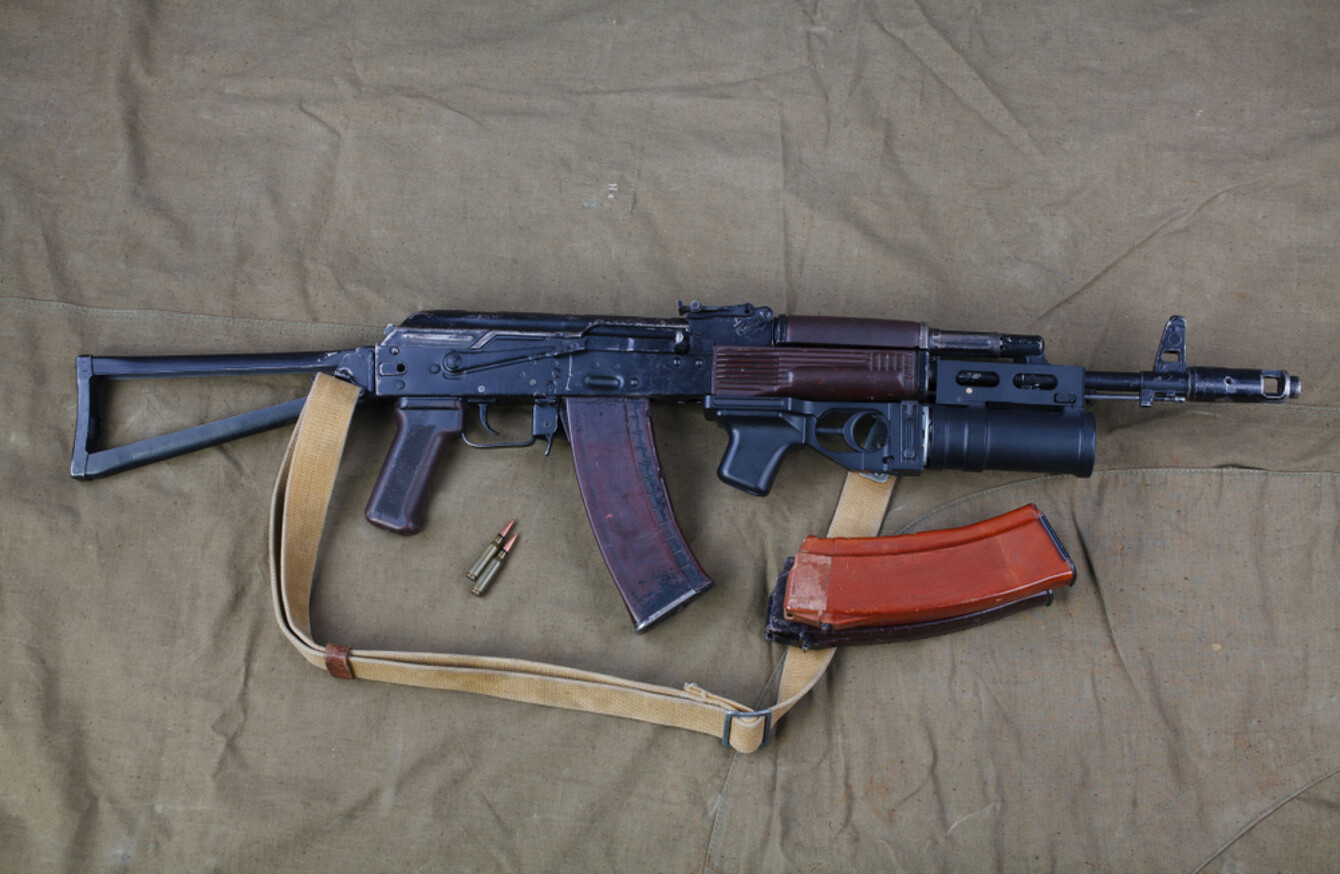 A file photo of an AK47.
Image: Shutterstock
A file photo of an AK47.
Image: Shutterstock
A YOUNG DUBLIN man who was caught walking around with a realistic looking imitation AK-47 rifle has received a two-and-a half-year sentence.
Detective Garda Michael Harkin said that the imitation Kalashnikov rifle Eoin Berkeley (24) had in his possession was "the most realistic" of its kind his colleagues had ever seen.
Dublin Circuit Criminal Court heard that gardaí had received multiple calls about a male walking around near Dublin Airport and Santry with what looked like a firearm.
Detective Garda Harkin said Berkeley immediately shouted the gun was a fake when approached from behind at Northwood Avenue, Santry.
Berkeley, of Hamptonwood Way, Finglas, Dublin pleaded guilty to possessing a realistic firearm in a public place on 29 May 2016.  He has 24 previous convictions all dealt with in the district court and dating from 2013 to 2017.
Harkin told Dara Hayes BL, prosecuting, that Berkeley told him he'd found the gun in a field and that it wasn't real.
The detective said garda colleagues forensically examined the device which turned out to be an airgun capable of discharging 6mm ball bearings.
He said he confiscated the imitation gun from Berkeley at the scene and told him he was free to leave the area. Berkeley was later arrested at his mother's home.
The court heard Berkeley took up bail but that this was revoked and to date he has spent 18 months in custody on this charge.
Harkin agreed with John Fitzgerald BL, defending, that Berkeley's previous convictions, including drugs and public order offences, had been dealt with in lower courts.
Fitzgerald submitted to Judge Melanie Greally that his client had been placed into a foster home when he was four years old because his mother had her own difficulties.
Counsel said Berkeley had no secondary school education and had speech and language issues when he was younger.
Judge Greally said the "punitive element" of the case had largely been addressed due to the length of time Berkeley has spent in custody already on the matter.
She noted that he had not presented in court expressing a desire for rehabilitation but just to have the case finalised. She further noted that his significant amount of previous convictions had been accumulated in a condensed period of time.
The judge stated that "possessing an imitation firearm is not to be taken as a trifling offence" and added that it must be regarded seriously for abatement of such behaviour.
She imposed a two and a half year sentence with credit given to the time Berkeley has spent in custody on the matter.