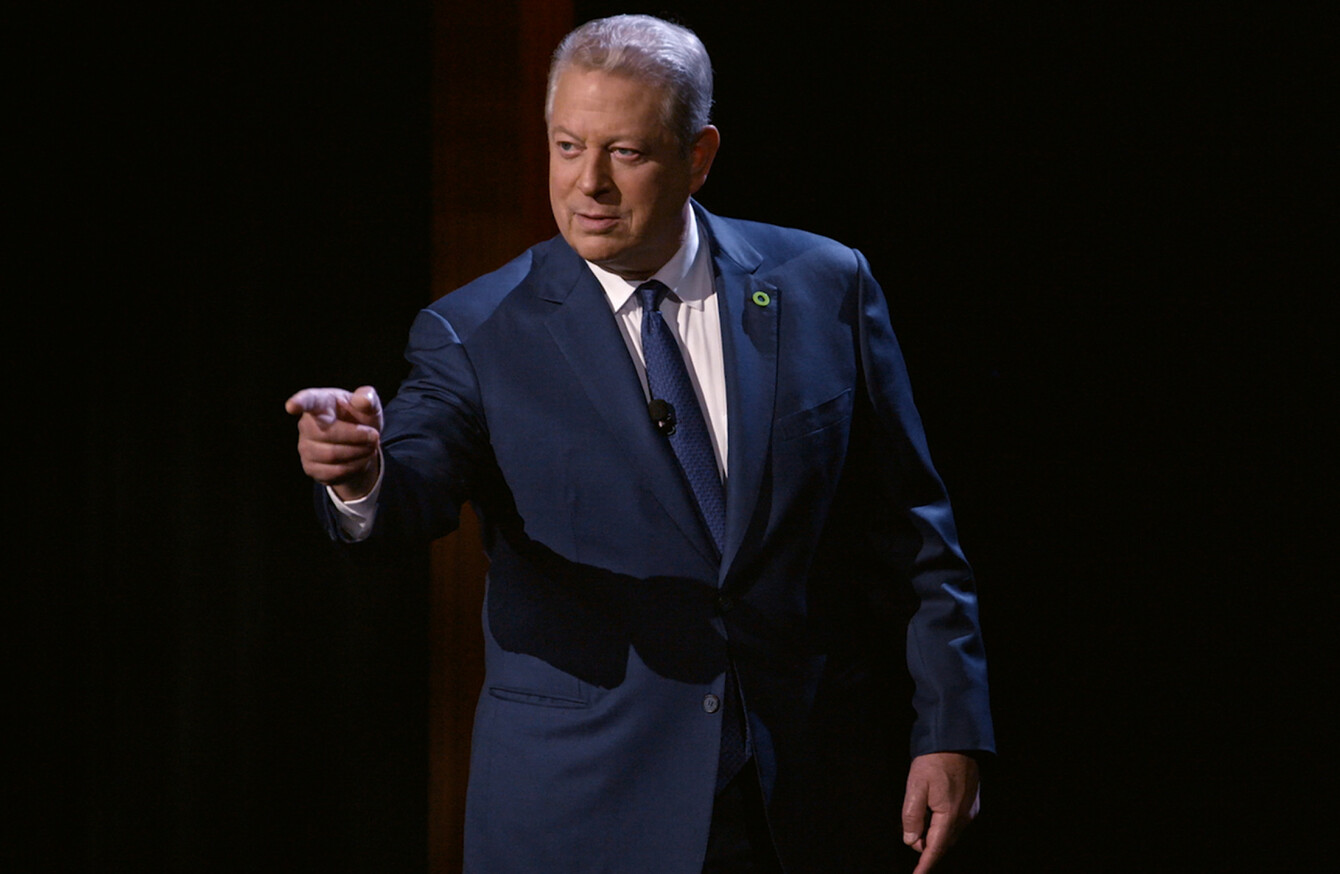 Image: Paramount Pictures and Participant Media
Image: Paramount Pictures and Participant Media
FORMER US VICE President Al Gore has given a strong message to Ireland's government: move more quickly on climate change.
Earlier this year, Minister for Climate Action Denis Naughten admitted Ireland is "playing catch-up" in relation to its climate change obligations. Meanwhile, the government has faced criticism due to the fact that the country will exceed the EU's 20-20-20 target of cutting greenhouse gas emissions by 20% by 2020.
Asked about Ireland's approach to tackling climate change, Gore had strong words.
"I would encourage the Irish government to move more quickly," he told TheJournal.ie while speaking to us about his new documentary, An Inconvenient Sequel: Truth to Power, which is released on Friday in cinemas nationwide.
He pointed to Irish history, particularly the Great Famine, saying it should encourage the Irish government – which is led by Taoiseach Leo Varadkar – to join the dots on the issue.
"I have been so inspired by the way Ireland has led the world in fighting against so many famines, in particular of course because of the searing experience midway through the 19th century that formed a deep multi-generational commitment to helping all others who experience famine," said Gore, referencing Ireland's Famine of 1845 – 52, during which one million people died.
He pointed out that right now "there are 20 million people in Africa according to the United Nations in danger of famine, in part because of the impact of the climate crisis and the effect of the climate crisis on reducing crop yields and interrupting both plantings and harvesting".
He said he believed this "should lead those with this deep commitment to fighting against famine to connect these dots and understand one of the most important ways to prevent famines in other parts of the world in future is to solve the climate crisis".
Gore said that his documentary, the follow-up to the Oscar-winning An Inconvenient Truth, has a more hopeful message to it than its predecessor – while still outlining the impact of climate change globally, including flooding, extreme weather, and forest fires.
The film looks at the advances in countries using solar and wind energy, and the success of the recent Paris Agreement, which saw 197 parties agreeing to fighting climate change globally.
But some last-minute changes needed to be made to the documentary after US President Donald Trump announced he wanted to remove the USA from the agreement. Gore said that this didn't indicate a wider support for Trump's views in the United States.
"In the US, more than two thirds of the American people are on side and a majority of Republican voters are on side," said Gore. "Trump has isolated himself and that limits the damage."
Overall, he believes the film has a positive message. "I'm so glad to be able to bring this message of hope. It's coupled with a message that we should have an increased sense of urgency but it's really about positive developments: that the solutions to the climate crisis are here now and all we need is the political will to implement more changes."
Climate change and Ireland
In March, Ireland's first National Mitigation Plan for climate change was published by Minister for Communications, Climate Change and Environment, Denis Naughten. In the plan is a message from Taoiseach Leo Varadkar, who says:
Climate change is one of the biggest global challenges of this century. Its scale and complexity demands a coordinated approach at both national and international levels.
He also says that the government " does not underestimate the scale" of what it entails to achieve its 2050 objective of a low-carbon and climate-resilient future.
However, An Taisce described the plan as "long on aspirations for the distant future but crucially short on political leadership, courage or vision from the current government".
#Open journalism No news is bad news Support The Journal

Your contributions will help us continue to deliver the stories that are important to you

Support us now
The plan looks at an approach to carbon neutrality in agriculture, decarbonising transport and the built environment, and the overall climate policy framework.
The Social Democrats criticised the fact the plan requires "massive capital spending which is not available because [the government] refuses to challenge EU spending rules", while the Minister for Transport, Tourism and Sport, Shane Ross TD, said that the plan "represents a key step in the fight against climate change".
Green Party leader Eamon Ryan TD said there was "nothing new" in the plan, and that it "lacks any detail on how we are going to achieve our emissions reduction targets".
The Environmental Protection Agency says that climate changes evident in Ireland "have tended to follow the global average, with an average temperature increase of just under 1ºC over the last century. Since 1993, average sea level has risen around Ireland by just over 3cm per decade". A recent study in the Science journal found that climate change is behind the dramatic shift in timing of Irish floods.
Ireland has committed to reducing its greenhouse gas emissions under the international Kyoto Protocol, which sets out reduced emission targets.
Asked about how people's minds might be changed on the climate change issue, Gore said that once people see the results of global warming, they realise things need to change.
"My experience [has] been that mother nature is far more persuasive than any of us and the message is not one that people shrug off when these events take place and it is actually having a huge effect," said Gore.
I believe so strongly in this cause and those of us who understand how high the stakes are just try every way possible to achieve the solutions more quickly, and when you can make progress it really feels good. The late Nelson Mandela once said during the anti-apartheid movement: "It's always impossible, until it's done."
Read our full interview with Al Gore on TheJournal.ie this Saturday. An Inconvenient Sequel is released in Irish cinemas on Friday 18 August.