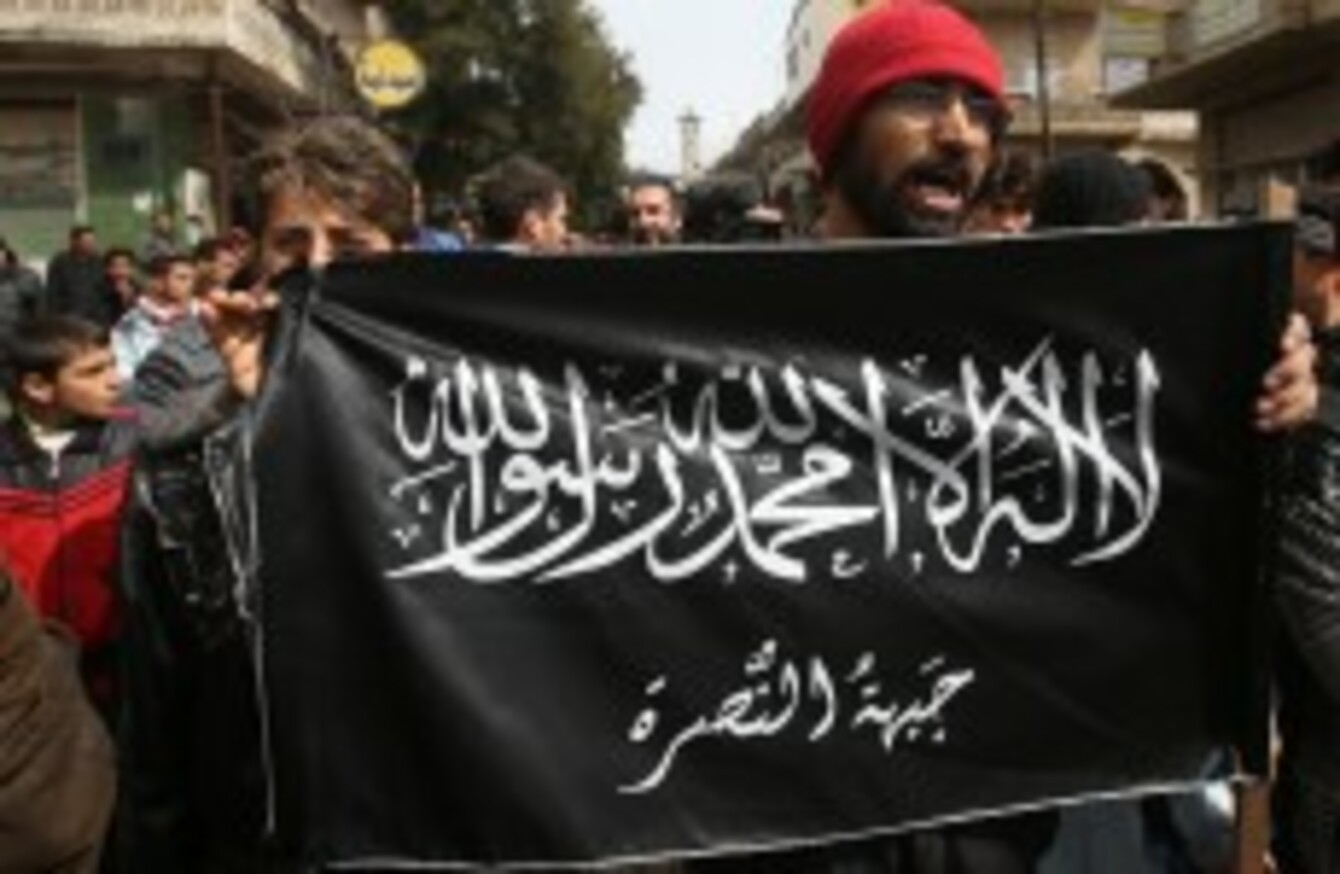 In this file photo, anti-Syrian President Bashar Assad protesters hold the al-Nusra flag.
Image: AP/Press Association Images
In this file photo, anti-Syrian President Bashar Assad protesters hold the al-Nusra flag.
Image: AP/Press Association Images
THE AL-NUSRA FRONT, Al-Qaeda's Syrian franchise, has threatened reprisals against nations participating in air strikes against the Islamic State group, denouncing them as "a war against Islam."
Group spokesman Abu Firas al-Suri said in a video posted online Saturday the states involved had "committed a horrible act that is going to put them on the list of jihadist targets throughout the world."
The warning came as the US-led coalition widened its air strikes against the IS group in Syria, as British warplanes flew their first anti-jihadist combat missions over neighbouring Iraq.
Four refineries controlled by the Islamic State group in Syria were hit by airstikes, the Pentagon said today.
Washington has been supported in its Syria campaign by Arab allies Bahrain, Jordan, Qatar, Saudi Arabia and the United Arab Emirates.
Seven targets were hit in Syria, the Pentagon said, including at the border crossing into Turkey of the besieged Kurdish town of Ain al-Arab, also known as Kobane.
Muhsin al-Fadhli, a long-standing Qaeda operative and alleged leader of Khorasan, was killed in the strikes, according to a jihadist who fought with the group.
The SITE monitoring group said a series of tweets from the jihadist, identified as a member of Al-Qaeda, expressed condolences for the deaths of Fadhli and another Khorasan leader, Abu Yusuf al-Turki.
The US-based monitoring service said the jihadist in Twitter postings dated September 27, 2014, also lamented the situation on the ground in Syria as coalition forces bombard IS forces.
Coalition partners
The United States and its coalition partners aim to destroy the Islamic State group, which controls a swathe of territory in Iraq and Syria, has murdered two US journalists and a British aid worker and is locked in a brutal war with Iraqi and Kurdish authorities.
The IS campaign there has already driven 160,000 refugees into Turkey.
Royal Air Force Tornado GR4 jets took off from Britain's RAF Akrotiri on Cyprus for Iraq but returned to base without dropping their laser-guided bombs.
"On this occasion no targets were identified as requiring immediate air attack by our aircraft," said a defence ministry spokesman in London.
Belgium and Denmark have also approved plans to join France and the Netherlands in targeting IS in Iraq, allowing Washington to focus on the more complex operation against its Syria base.
Washington warned that the jihadists could not be defeated in Syria by air power alone, saying that up to 15,000 "moderate" rebels would need to be trained.