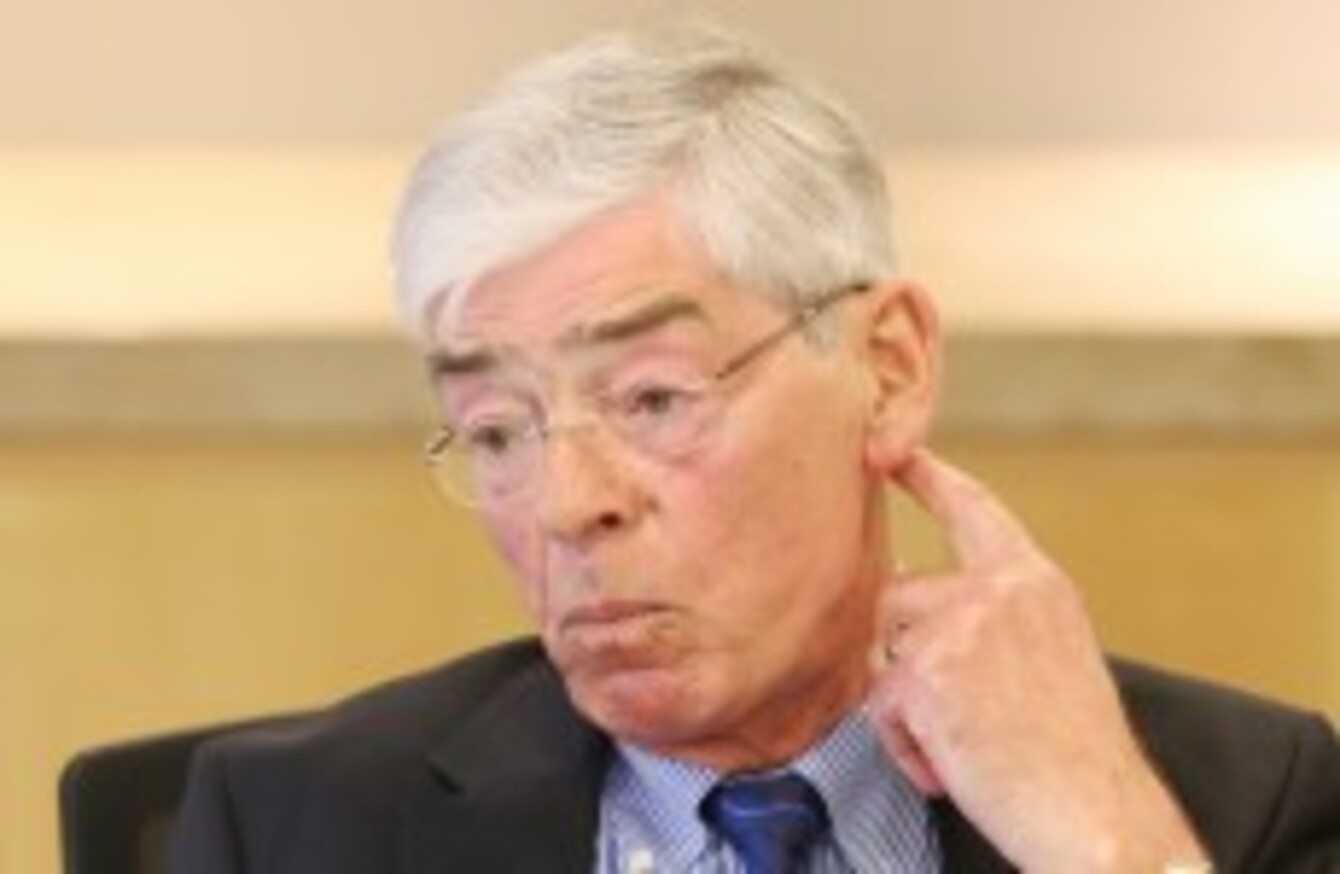 Alan Dukes
Image: Sasko Lazarov/Photocall Ireland
Alan Dukes
Image: Sasko Lazarov/Photocall Ireland
THE FORMER CHAIRMAN of IBRC has said that the information read in to the Dáil record last week about Denis O'Brien's dealings with IBRC is wrong.
Alan Dukes was speaking after the High Court clarified that the media can report comments made by Catherine Murphy under Dáil privilege last Thursday.
The comments related to O'Brien allegedly receiving "extremely favourable interest terms" from IBRC when repaying loans to the now-liquidated bank.
Speaking to Newstalk's Lunchtime programme, Dukes said: "Anything that Catherine Murphy has said to the effect that he [O'Brien] was getting some special consideration, or special deals were being done in an unusual or unethical way, all those suggestions are completely wrong."
Speaking in the chamber last Thursday afternoon, Murphy said:
We are now aware for example that the former CEO of IBRC made verbal agreements with Denis O'Brien to allow him to extend the terms of his already expired loans.

We also know that the verbal agreement was never escalated to the credit committee for approval. I'm led to believe, and I would welcome the minister clarifying, the rates applicable at this time, that the extension also attracted some extremely favourable interest terms.

I understand that Mr O'Brien was enjoying a rate of around 1.25%, when IBRC, and arguably, when IBRC could, and arguably should have been charging 7.5%. We are talking about outstanding sums here that are upwards of €500million. The interest rate applied is not an insignificant issue for the public interest.
Source: Catherine Murphy TD/YouTube
When these remarks were read back to Dukes by presenter Jonathan Healy, the former Fine Gael leader said:
"All of that is wrong and that is an issue that will certainly come up in the course of an inquiry."
Dukes was referring to the inquiry undertaken by the former IBRC liquidator, KPMG's Kieran Wallace, into Siteserv and other transactions carried out by the former Anglo Irish Bank in the wake of the controversy about the deal that arose in April. O'Brien said today he has nothing to hide in relation to the Siteserv deal and called for a judge-led review.
we have nothing to hide and would welcome an early review of this. Preferably, Siteserv would be reviewed first by Mr Justice Iarfhlaith O'Neill and the contents of the review made public immediately.
When asked about what rate O'Brien was paying on the loans, Dukes said: "I am not going to talk publicly about the rate but, as far as I am concerned, up to the point at which IBRC was liquidated in February in 2013, none, there is no basis for any of those statements made by Catherine Murphy.
I don't know what kind of basis she has for making those statements, I haven't seen any of the documentation but she is simply downright wrong.
#Open journalism No news is bad news Support The Journal

Your contributions will help us continue to deliver the stories that are important to you

Support us now
Speaking earlier on the same programme, Murphy said she was standing by what she said last week and said she was "confident of my sources".
The independent said the court decision "vindicates the rights of elected representatives to raise matters of public concern and for those issues be fairly reported in our media.
She also repeated her calls for a "credible inquiry" into the Siteserv transaction, and said in a statement
The substance of my concerns has always been to have a full, competent and independent inquiry into the wider governance issues in IBRC and I will continue to pursue that through the appropriate democratic channels available to me in the Oireachtas.
Meanwhile, Fianna Fáil leader Micheál Martin also welcomed the decision by High Court judge Justice Donald Binchy, describing it as a "good day for parliamentary democracy and for freedom of the press".
Today's judgement vindicates Article 15 of the Constitution which protects what is said in the Oireachtas and the right of the media to freely report all statements made by elected representatives in either the Dáil or Seanad.