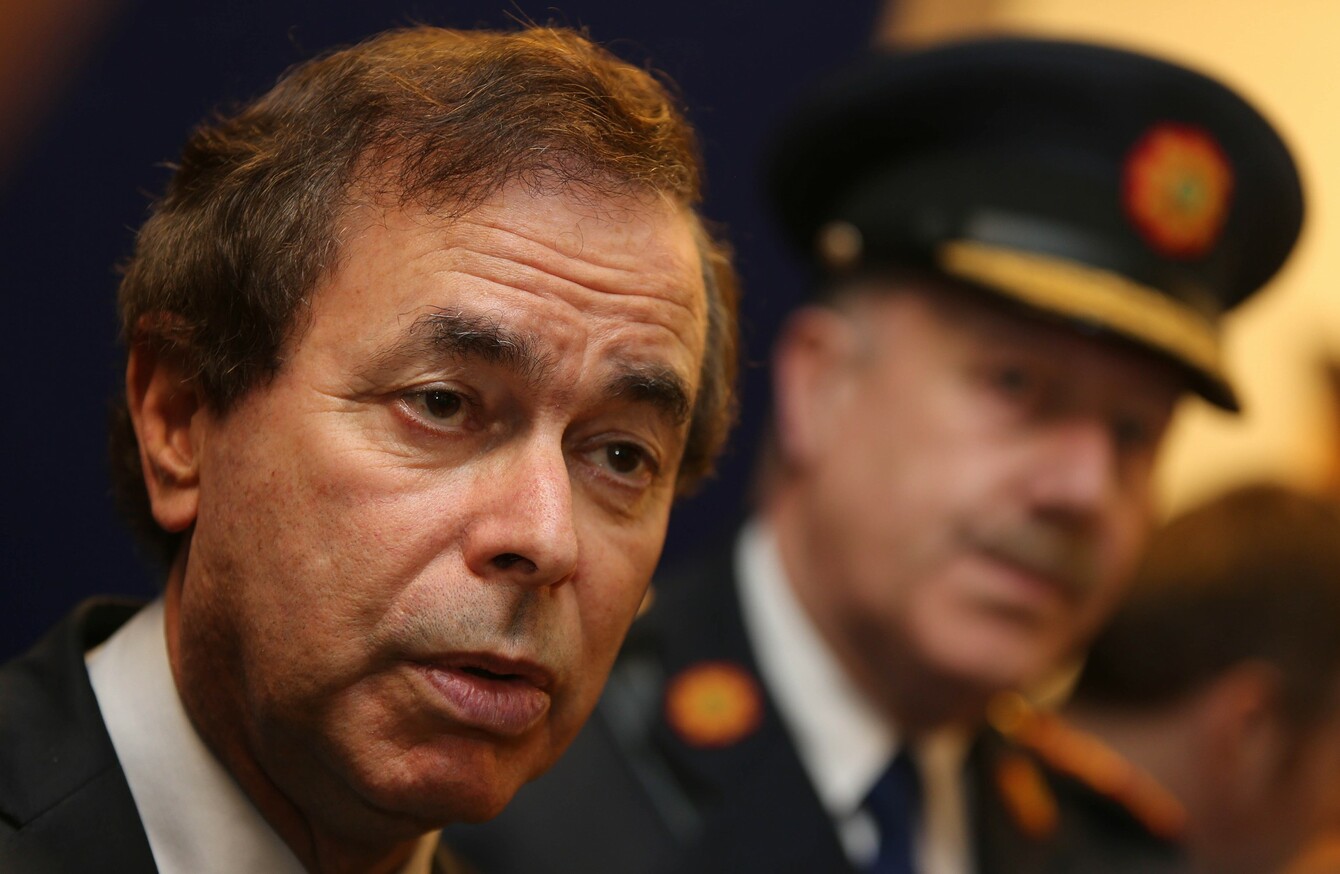 Former Minister for Justice Alan Shatter and former Garda Commissioner Martin Callinan.
Image: Niall Carson
Former Minister for Justice Alan Shatter and former Garda Commissioner Martin Callinan.
Image: Niall Carson
THE FORMER JUSTICE Minister Alan Shatter has said the last two years have been "extraordinarily difficult" for him and his family.
Shatter told RTÉ's Sean O'Rourke programme that following the publication of the Guerin report he was shouted at on the street and was the "object of continuing abuse on social media".
On one occasion Shatter said a cyclist spat at him on the street.
"When my wife and I tried to get away from this and took a week's break in France some six or seven weeks after my resignation I found myself subject to a tirade by an Irish guy on the same flight when we landed in the middle of the terminal."
One felt as if I had murdered someone or robbed a bank… for a period I lost faith that telling the truth mattered.
On another occasion, Shatter said he was out for lunch with his daughter in the immediate aftermath of his resigning and they were pursued by a photographer.
Last night, Shatter released a letter that he has sent to Taoiseach Enda Kenny, requesting the Dáil record to be corrected following the publication of the O'Higgins report.
In the letter he stated:
The conclusions of the O'Higgins Commission totally contradict and are incompatible with the adverse findings made against me in the Guerin Report.  I am surprised that neither you nor Frances Fitzgerald acknowledged that in your comments yesterday.  On such a serious issue affecting a former colleague in Government, I expected this would be acknowledged.
He said he had no doubt had some things gone differently, he may still be a member of Dáil Eireann.
"The issues arising from the Guerin report came across to the electorate when knocking on doors," he said.
It is very difficult when you're in a situation where you know you are telling the truth about matters of genuine public importance, where you understand you dealt with matters in a careful, reasoned way… to find yourself being constantly accused of lying, accused of incompetence…
The wider issue is the government are standing over two contradictory reports, said Shatter.
Correcting the Dáil record 
Earlier this week, when Enda Kenny was asked if he would correct the Dáil record, he cited legal reasons for not being able to discuss the matter, however, he said he was happy Shatter had been fully vindicated in the O'Higgins report.
Today Shatter denied that Kenny's hands are effectively tied due to his upcoming Court of Appeal case.
He said it was "reasonable" to ask the Taoiseach and his former colleagues to correct the record.
O'Higgins report into the Cavan/Monaghan Division of the gardaí gives a summative assessment of whistleblower Sergeant Maurice McCabe, stating the following:
Sergeant McCabe has shown courage, and performed a genuine public service at considerable personal cost. For this he is due the gratitude, not only of the general public, but also of An Garda Síochána.
While some of his complaints have not been upheld by this commission, Sergeant McCabe is a man of integrity, whom the public can trust in the exercise of his duties.
While Shatter said it was "absolutely, perfectly right" for McCabe to raise issues of major concerns, he said there was no evidence for some of his allegations, stating that some were "unfounded" and "wrought havoc in the lives of a number of people".
Shatter would not confirm if he has spoken to the former Garda Commissioner Martin Callinan, but said, "I am sure the former Garda Commissioner is very pleased and relieved".