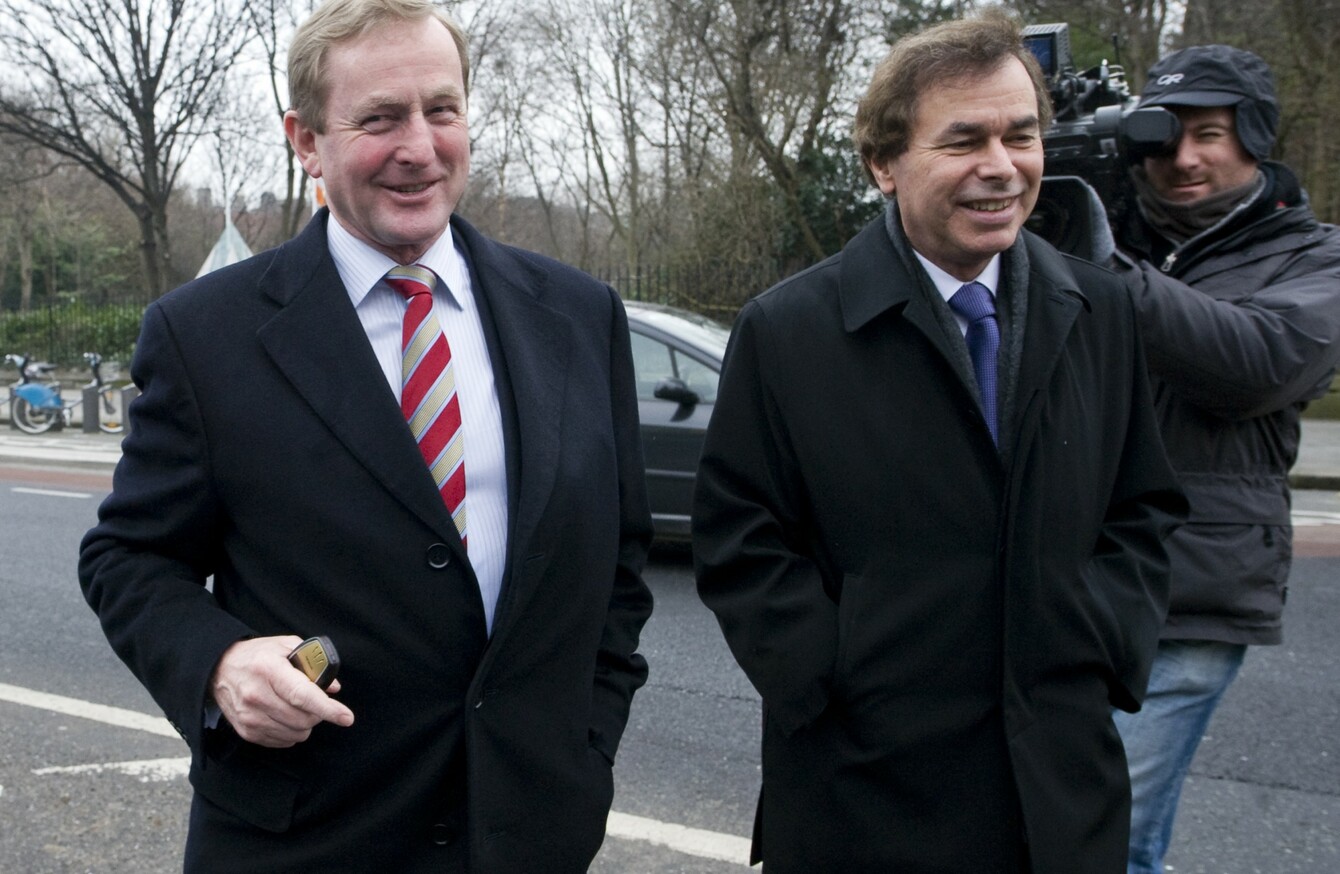 Taoiseach Enda Kenny and former Justice Minister Alan Shatter.
Image: /Photocall Ireland
Taoiseach Enda Kenny and former Justice Minister Alan Shatter.
Image: /Photocall Ireland
Updated: 20.55
FORMER JUSTICE MINISTER Alan Shatter criticised the Government this evening as it emerged that the Guerin Report has been removed from the Department of An Taoiseach's website.
Taoiseach Enda Kenny said that following a meeting with the Attorney General this morning, he instructed the Secretary General of the Department of the Taoiseach to take down the report.
And in a statement this evening, Shatter said he was happy it had been removed.
He said: "I welcome the fact that the Guerin report has been removed from the Taoiseach's website. It is over two and a half years since I expressed my concern to the Taoiseach about the absence of fair procedures in the approach taken by Mr Sean Guerin in the preparation of his report.
Unfortunately, my concerns were entirely ignored both by government and opposition.
Shatter said he detailed his concerns on the day of his resignation, in private correspondence and discussions with the Taoiseach and ultimately, in the Dáil.
The Guerin Report focused on Shatter's handling of complaints made by Garda whistleblower Sergeant Maurice McCabe.
It was prepared for the government by barrister Sean Guerin after a number of allegations were made about policing in the Cavan/Monaghan area.
Following the publication of the report, which was critical of the handling of the issue by Alan Shatter, the then-Justice Minister resigned from his position in government.
However, the Kevin O'Higgins Commission of Investigation, which also looked at allegations of Garda malpractice and the failings of gardaí to properly investigate crimes, subsequently found Shatter had dealt with the concerns appropriately.
Shatter has said previously that the commission's findings "totally contradict and are incompatible with the adverse findings" made against him in the Guerin Report.
Earlier this month, the Court of Appeal unanimously granted Shatter's appeal to challenge the Guerin Report, after the High Court had earlier dismissed his challenge.
In the written judgement, Mr Justice Sean Ryan said that Shatter was in jeopardy of losing his constitutional rights due to the conclusions barrister Sean Guerin had planned to put into his report.
It's reported this week, the former Fine Gael minister wanted parts of the report quashed.
"Obviously arising from the O'Higgins Report and the decision of the appeals court there is no further reason why that should be up on the Department of the Taoiseach," Kenny told the media today.
In May, the Taoiseach corrected the Dáil record in relation to comments he made about former Justice Minister Alan Shatter after the Guerin Report into Garda misconduct was published two years ago.
The Taoiseach said that he was "happy" to correct the Dáil record in the wake of the findings of the O'Higgins report.
With reporting by Garreth MacNamee