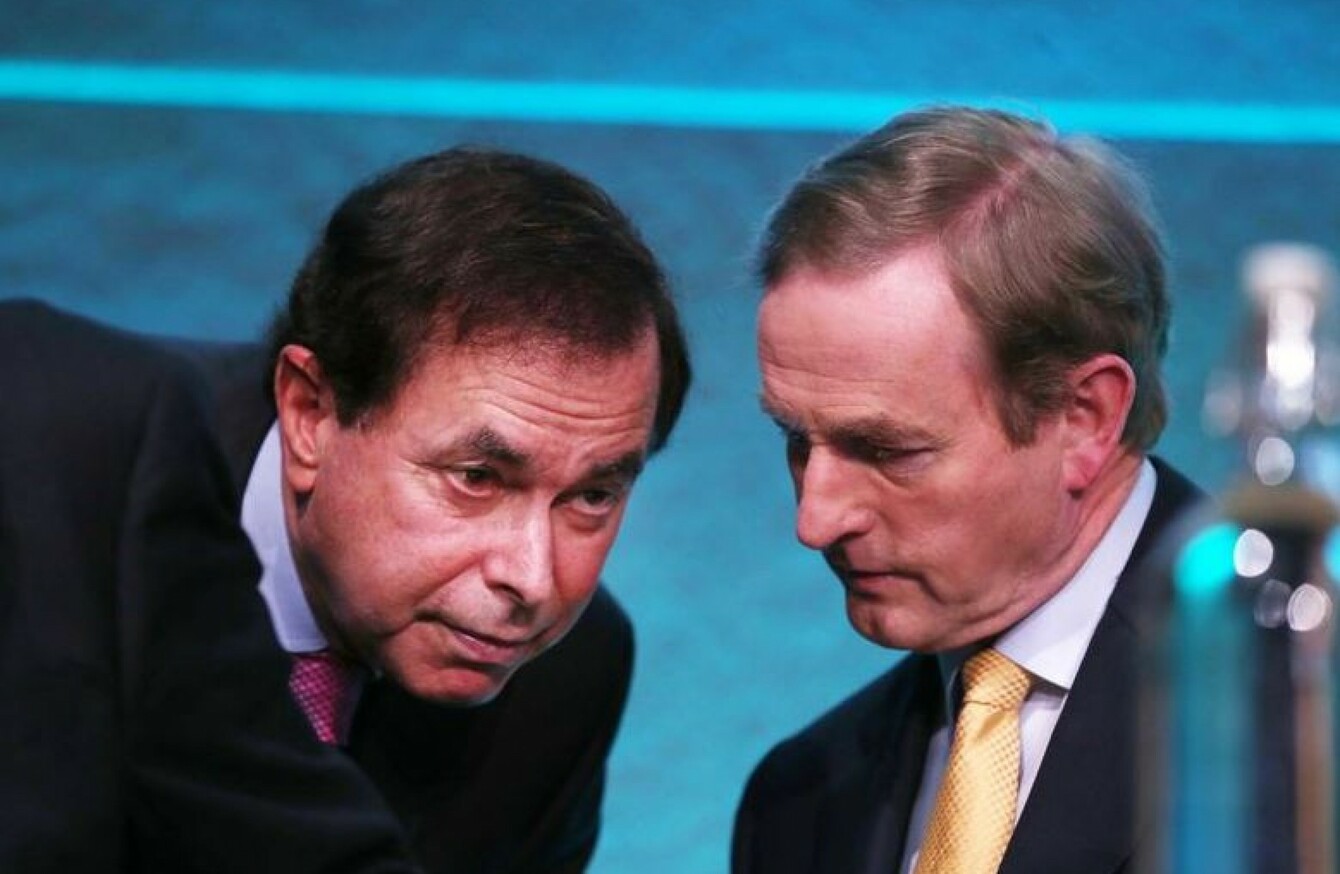 Shatter and Kenny
Image: Leon Farrell/RollingNews.ie
Shatter and Kenny
Image: Leon Farrell/RollingNews.ie
ALAN SHATTER HAS said the Fennelly Commission report into non-emergency calls being recorded at garda stations shows the issue was "more cock-up than conspiracy".
The long-awaited report was published yesterday.
Speaking on RTÉ's Morning Ireland, the former Justice Minister was also critical of Taoiseach Enda Kenny and Attorney General Máire Whelan, saying their actions might be "a resigning matter".
Shatter said: "The report does disclose substantial managerial dysfunction within An Garda Síochána, which is something that clearly should and must be addressed.
"But the report also confirms that Commissioner Martin Callinan, upon discovering the existence of these recordings, put a stop to them and preserved them, pending getting legal advice from the Attorney General's office.
"And we now know, from the interim report and confirmed in this report, that the Attorney first received a reasonable and substantial briefing on this in November 2013, but failed to inform either me or the Taoiseach in late March 2014 of her knowledge going back to November 2013…
"The Attorney met with the Taoiseach on the evening of 23 March 2014, gave him what Fennelly regarded as very alarmist advice, advice that Fennelly concluded that she didn't have adequate information to give.
"And, in circumstances where additional information was required, neither the Taoiseach nor the Attorney in the following 24 hours made any contact with me as Minister for Justice, in circumstances in which I was uniquely placed to contact the Garda Commissioner to see what additional information could be obtained.
Judge Fennelly has also concluded that there was no intention to invade people's privacy. That this was more cock-up than conspiracy, that the gardaí committed no criminal offences when this occurred.
"And it's now absolutely clear that the alarm sounded by the Attorney General, as Fennelly recalls, that the jails would be thrown open, that the prosecutions would collapse, that miscarriages of justice had occurred, all of that, has proved to be a gross and serious misjudgement."
Earlier on Morning Ireland, Labour leader Brendan Howlin defended Whelan, saying the alarm was justified at the time as people were unsure of how events would play out. Shatter said Howlin was looking at events "through a political filter" as Whelen is a member of the Labour Party.
'A resigning matter' 
During the interview, Shatter repeatedly questioned why neither Kenny nor Whelan contacted him at the time.
"Why did the Attorney General not forthrightly detail, either to me or the Taoiseach, her knowledge of events going back to November 2013? Why did the Attorney General not brief me or the Taoiseach or Cabinet on these issues after November 2013 and, most seriously of all, why did each of them give evidence to the Fennelly commission of investigation which Judge Fennelly rejected?
In any other parliamentary democracy, when the Attorney General of the day or the Taoiseach of the day would give sworn evidence at a commission of investigation or a tribunal that was rejected by the person appointed to draw conclusions, that would be a resigning matter.
"I believe each of them have avoided addressing these issues pending the conclusion of Judge Fennelly's report. I say this with a great deal of regret because when I resigned I paid tribute to both the Taoiseach and the Attorney General … They were very supportive of me in government."
Shatter said he thinks Kenny needs to address the Dáil about the issue, adding that he isn't sure if the opposition are willing to pursue this as some of them had promoted the "false narrative" that he was somehow involved in the phone tapping and "snooping" on people.
Last month, the Taoiseach rejected Shatter's claim that he had a "casual relationship with the truth". At the time, a government statement rebuking Shatter referenced his resignation letter in which he said Kenny was "an extraordinary Taoiseach doing an extraordinary job".
TheJournal.ie has contacted the Taoiseach's office for comment on Shatter's remarks today.