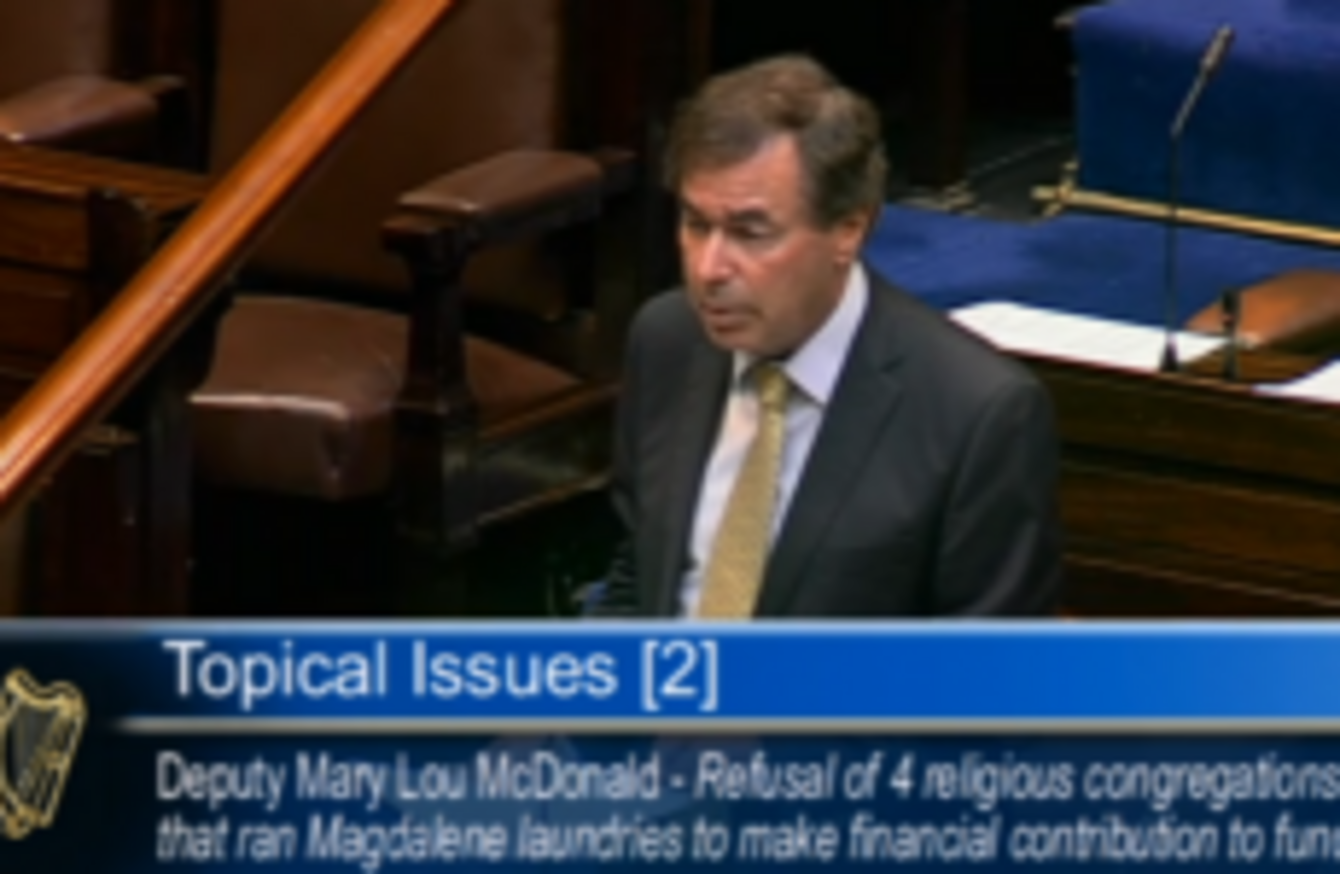 Image: Screengrab
Image: Screengrab
JUSTICE MINISTER ALAN Shatter has said that he cannot force the four religious orders involved in the Magdalene Laundries scandal to contribute to a fund set up for survivors.
Four religious orders who were responsible for the running of the institutions have told the government that they cannot pay into the scheme set-up for survivors of the laundries in the wake of the McAleese report.
"I can't play my role as Minister for Defence and arrive with a tank outside one of the gates of where one of these congregation are and demand that they provide funding," Shatter told the Dáil this afternoon.
He said he was disappointed that the congregations - Good Shepherd Sisters, Sisters of Our Lady of Charity, Sisters of Mercy, and Sisters of Charity – did not recognise their "moral, ethical and social obligation" to contribute to the scheme that could cost as much as €58 million.
The orders have said they will cooperate with the provision of and checking of records in order to validate applications made to the compensation scheme.
Shatter said during Topical Issues in the Dáil today that the government had expected that congregations would contribute to the fund and said that ministers had been informed by survivors of the laundries that these congregations were prepared to contribute.
'Moral obligation'
"Regrettably, all four religious congregations have informed us that they do not intend to make a financial contribution.  I regard their response as very disappointing," he said.
"It is my view that the congregations have a moral obligation to make a reasonable contribution to the fund required under the Scheme and that view is shared by my Cabinet colleagues. It is a view I believe that will be shared by a majority of people outside this House. "
The Minister said he hoped the four congregations would reflect on their decision and consider again whether to contribute to the fund "reducing the burden imposed on taxpayers throughout the State".
But he later emphasised that he could not do anything about their non-compliance with the compensation aspect of the scheme, saying: "I'm not going to pretend there is something I can do that is not do-able"
He also told the Dáil that as of yesterday evening, 212 completed application forms had been received from survivors applying for compensation and more are arriving every day.
"These applications are being processed as quickly as possible and I am happy to say that the religious congregations are co-operating fully in the checking of records held by them and are providing all the assistance they can in that context," he said.
Sinn Féin TD Mary Lou McDonald, who had raised the issue, said that religious orders had "simply snubbed their nose" at the survivors in their actions.