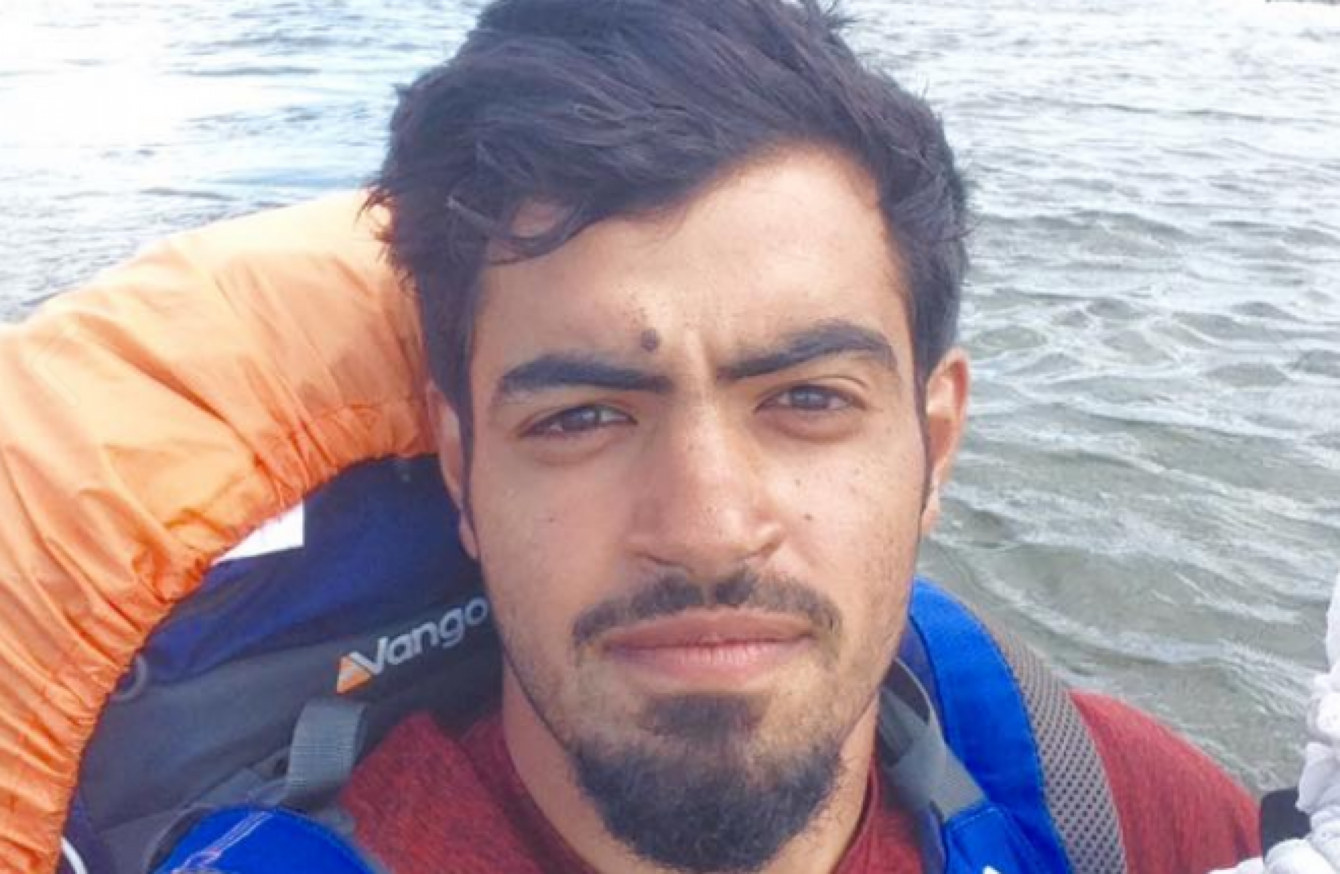 Ammar Albadi and his backpack that have traveled around the country.
Image: Facebook
Ammar Albadi and his backpack that have traveled around the country.
Image: Facebook
A STUDENT WHO has walked over 2,000km around the whole of Ireland is set to finish his epic journey at 7.16pm (19:16) later this evening.
Ammar Albadi says he is looking forward to an ice bath for his overworked feet and aching back that have carried him and and his 15kg backpack for 40 long days.
The Omani student has been in Ireland for five years, first studying English and then engineering in DCU for four years.
Speaking to to TheJournal.ie from Dún Laoghaire in south Dublin only hours from his final destination, he says he loves the country and just wanted to see more of it:
I just like the country and I've been with the Hiking Society in DCU for three years and it was just an idea that came to me. When I was doing my internship I couldn't keep it out of my head so I just went for a walk. I just like the country and I like the people and what better way to see a country than walking it.
Albadi has been updating his Facebook page everyday throughout his trip, letting people keep tabs on the different legs of his journey.
Dublin to Drogheda to Dundalk to Belfast to Derry, Letterkenny, Westport, along the coast of Galway and the Ring of Kerry and back up the east coast again.
Along his journey, Ammar says he hasn't "cheated" by getting lifts anywhere, only hopping on a ferry once out to Valentia Island.
During the night, he stayed in hostels and B&Bs but when he couldn't find a bed he set up camp in his tent, camping in some random spots from beaches to the Burren.
And people's reactions when they found out what he was doing?
"The say 'you're crazy, you're crazy but keep doing what you're doing'. All they way around people kept offering me lifts but I kept saying I'm walking, I'm just walking."
On my first day I was walking from Dublin to Drogheda and a guy stopped me on the road and asked me where I was going. I said I'm going to Dublin, he said 'you're going the wrong way'. I said I'm going the right way, I'm just going the long way.
On average, Albadi has been walking about 10-14 hours each day, trying to average 50km dependant on the weather and the terrain, even so he insists he's not tired:
I was tired on the first week but today, no I'm not tired today. I'm just happy to finish it. I've had hard days, I've seen hard days but you know by then when it finishes I am happy that I can tell good stories.
The student says that some of his hardest days were along the Dingle Peninsula when he was walking in heavy rain and on exposed roads that are more suitable for driving than walking.
But even though those days may have been tough, he says that beautiful part of the country could well be his favourite.
Today though is all about finishing, and he's even planned that his finish will celebrate the country he's just traversed.
"I'll finish it in front of the GPO," he explains.
I was planning on walking 2,000km in 40 days but then I just wanted to thank the Irish who are proud of their history. So I wanted to celebrate the anniversary of 1916-2016. So I decided to finish it with 2016km and finish it on front of the GPO at 19:16.