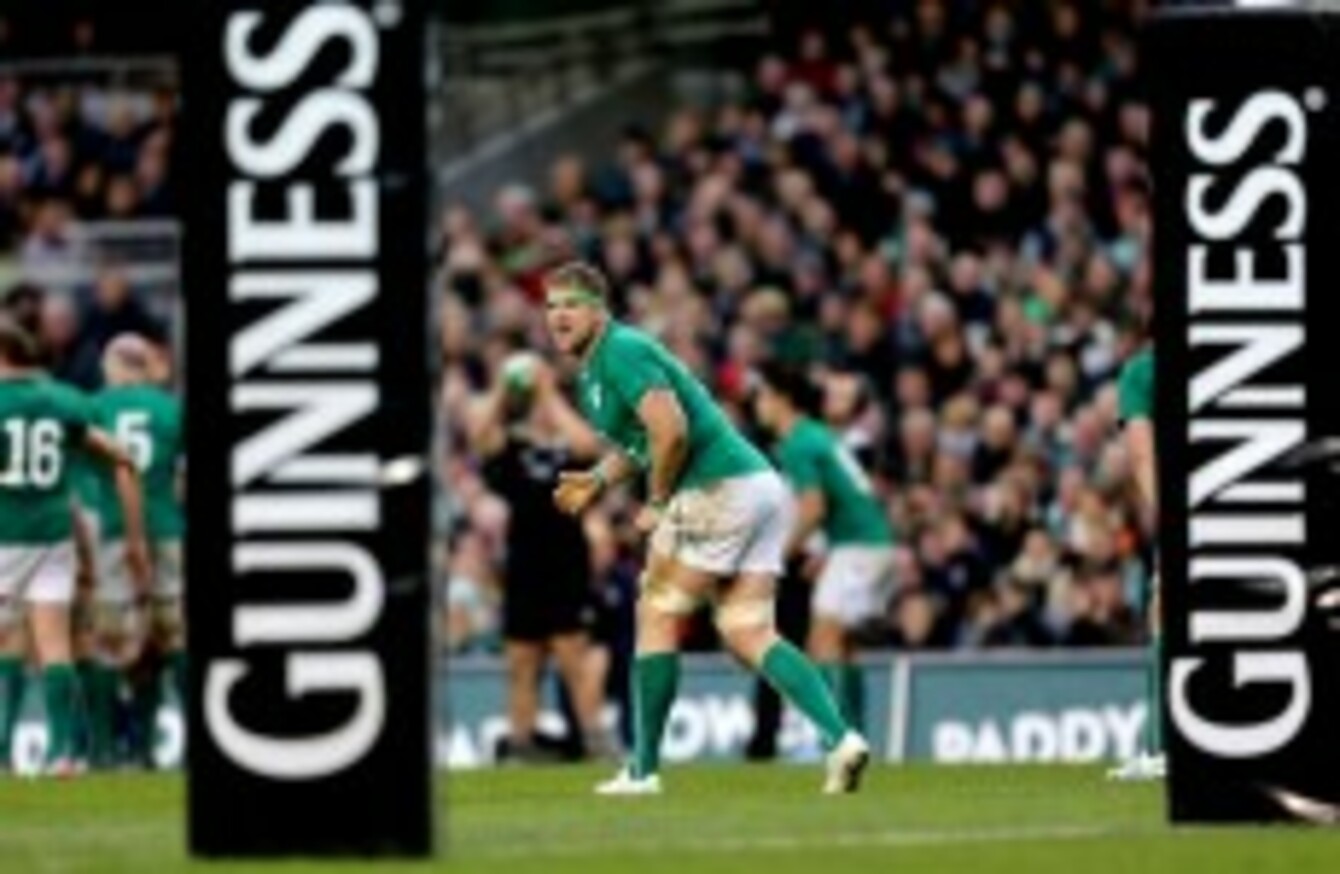 Ireland's Jamie Heaslip pictured during the Guinness Series match against New Zealand.
Image: James Crombie/INPHO
Ireland's Jamie Heaslip pictured during the Guinness Series match against New Zealand.
Image: James Crombie/INPHO
THERE ARE REPORTS today that the government is set to drop already long-fingered proposals to ban alcohol companies from sponsoring sporting events.
While there has been no official comment from the Department of Health today, RTÉ News is reporting that the proposal looks set to be abandoned following discussions between several government departments earlier this week.
A health source described that report as "speculative" and said that discussions on the issue are ongoing between ministers.
Today FM is also reporting that the proposals will be dropped.
A spokesperson in the Department of Transport, Tourism and Sport (DTTAS) said:
"The Department is on record in the past as saying that it is not in favour of changes being made unless an alternative funding stream is identified, which at this time looks unlikely."
The spokesperson added that a memo which deals with alcohol sponsorship of sport is due before government "in the near future".
Health Minister Leo Varadkar, who was formerly in DTTAS, said earlier on RTÉ that while the sponsorship ban was still a matter for discussion it would only be implemented once alternative funding has been found.
Ministers have been in dispute over proposals to ban alcohol companies' sponsorship of sports teams and events after sporting organisations warned about the impact on sports funding in Ireland if such a ban was imposed.
Over a year ago, it was confirmed that the proposal for a ban was to be delayed until alternative sources of funding could be found with indications at the time that it would be pushed out to 2020 at the earliest.
It's now being reported that the proposal will be dropped altogether.
Despite the dispute over the sponsorship issue there has been government agreement on the introduction of a Public Health Alcohol Bill.
This is likely to be finalised next week and would include provisions on minimum unit pricing to stop retailers selling below cost, restrictions on advertising and the addition of calorie information and health warnings to labels.
The bill itself is due to be published shortly.