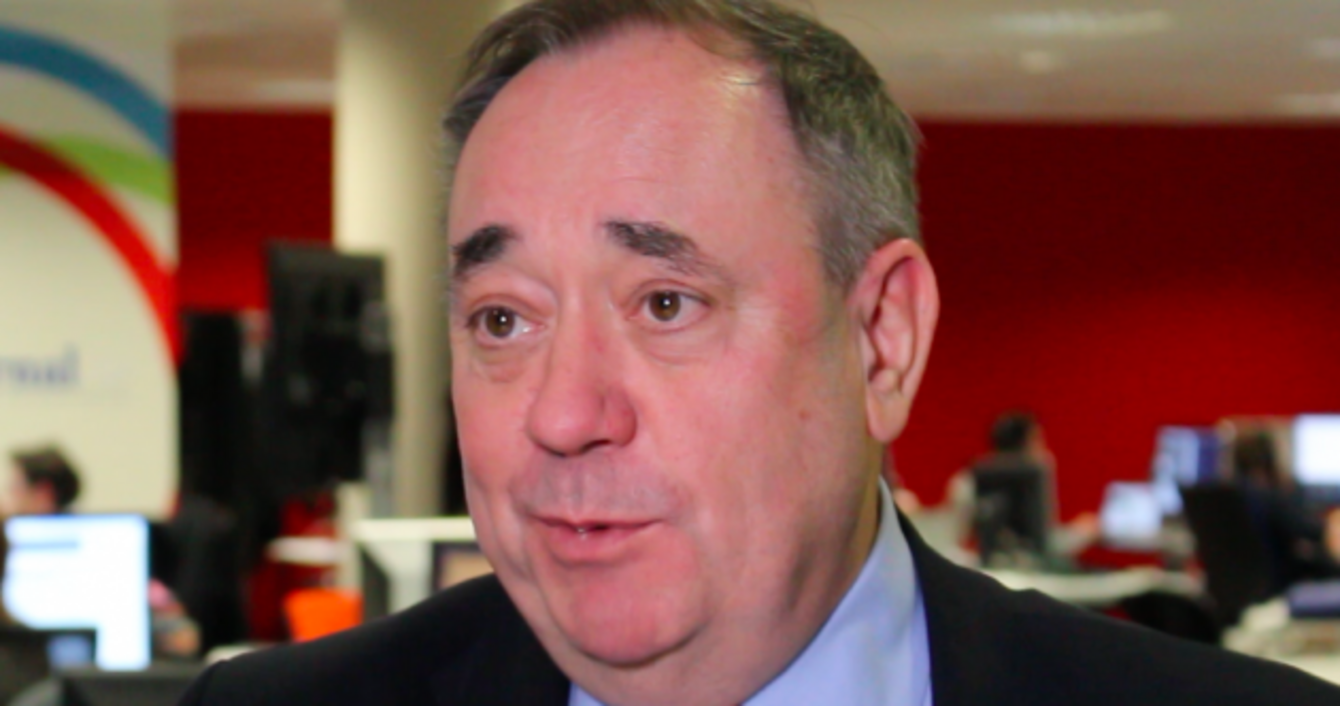 Alex Salmond speaking to TheJournal.ie today
Image: TheJournal.ie
Alex Salmond speaking to TheJournal.ie today
Image: TheJournal.ie
FORMER SCOTTISH FIRST minister Alex Salmond believes a united Ireland is as inevitable as Scottish independence.
The former Scottish National Party leader has been in Dublin for the past few days reflecting on the Scottish independence referendum defeat last year and discussing the implications of a British exit from the European Union.
Salmond is already on record as saying a second independence referendum in Scotland is inevitable in the coming years.
But he told TheJournal.ie today that Irish unity is also likely in the future as long as it is done democratically, peacefully and with the consent of the people:
Source: TheJournal.ie/YouTube
Explaining his rationale, the current Westminster MP said that when he started out in politics the very idea of a Scottish parliament was:
"The idea of an SNP majority in a Scottish parliament was ridiculous," he continued. "The idea of a referendum on independence was absurd.
Also, when I started out in politics the idea of the Democratic Unionist Party and Sinn Féin being in coalition in Northern Ireland would have been regarded as absurd. Yet I was there watching the Reverend Ian Paisley and Martin McGuinness put aside the past to think about the future.
"Politics ebbs and flows. There are tough times, there are good times, there are bad times, there are difficult issues to be resolved. But the movement of history seems to be for a bit more than co-existence on this island."
Salmond held several meetings with political parties in Leinster House today, including Sinn Féin and Fianna Fáil, but was giving little away about what advice he had for them.
The 60-year old insisted he was friendly "with all the parties in the Republic" but said that, along with Brexit, another hot topic was austerity.
They were asking about the anti-austerity message certainly because you quite rightly say and identify that our coherent anti-austerity message in this year's general election was a key factor in the SNP sweeping the boards.
Salmond also told us about why the Irish electoral system completely baffles him:
Source: TheJournal.ie/YouTube
Watch out for more from our interview with Alex Salmond on TheJournal.ie, including his views on Brexit, more reflections on the referendum and THAT Solero photo.