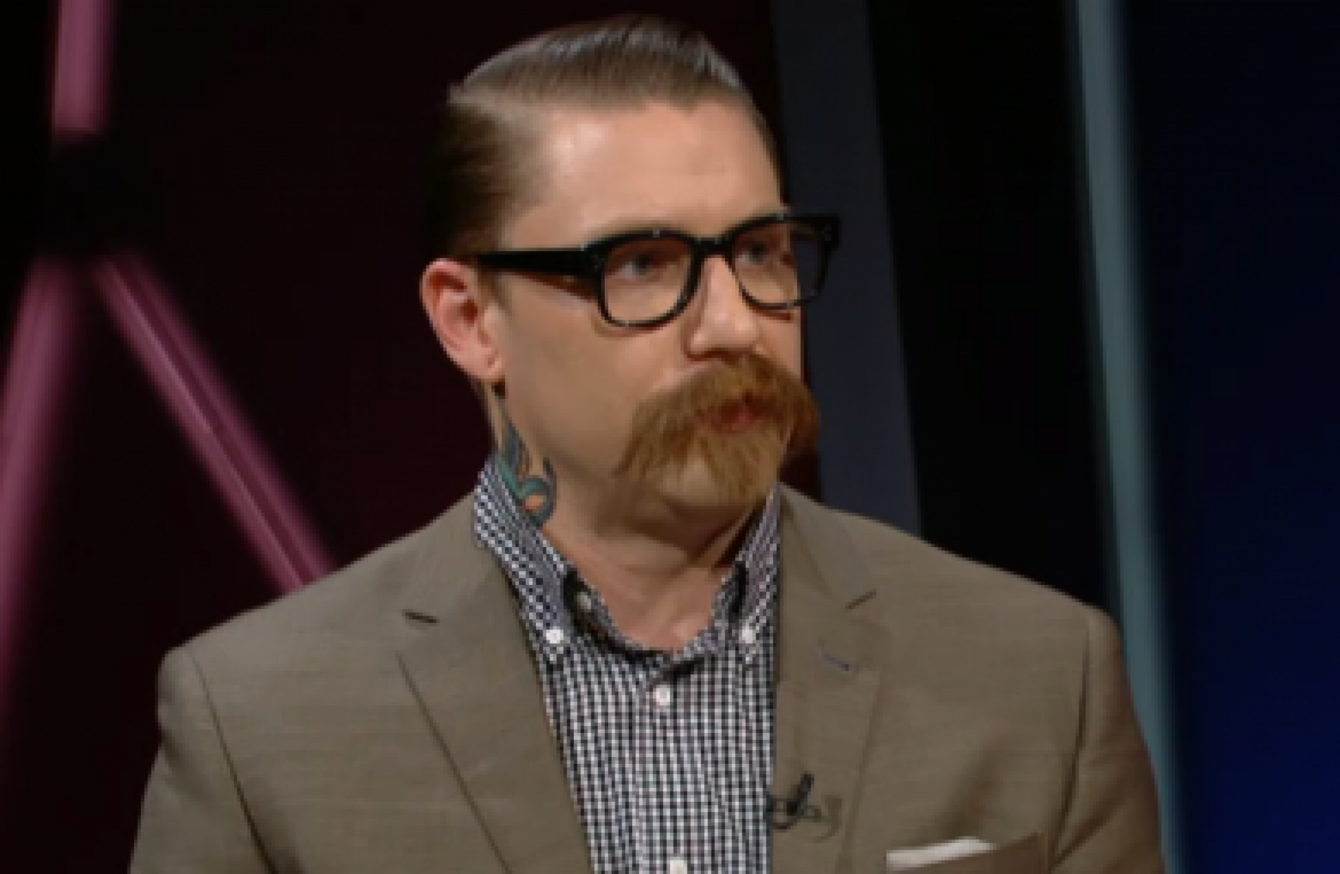 Image: RTE
Image: RTE
HAS THE SO-CALLED alt-right movement got a foothold in Ireland? Are the online groups, signature 'looks' and far-right ideologies gaining popularity on this isle?
There was much talk last week about the phenomenon after a glossary of terms (often derogatory towards minority groups) used by fascist groups and individuals was published online.
The article on the Irish Times website was written by Nicholas Pell, an American writer living in Ireland who has identified as a member of the 'alternative right' – in a deleted tweet from last July, he said, "We're not the "alt right" anymore. We're just the right."
(Pell has since deleted the tweet and now says he does not identify as 'alt-right').
Criticism of the piece centred on the fact that it had given a legitimate platform to racist opinions. Those opposed to it being published described it as dangerous, saying it disseminated fascist notions.
Following the burst of chatter, TheJournal.ie examined how prevalent such opinions were on the ground – and online – in Ireland.
"It's very difficult to have clear data on the far right but the suspicion is that they are a very vociferous, small minority of people… Not significant," commented Shane O'Curry, director of the Anti Racism Network Ireland.
He is one of a group of activists and experts who believe there is little fear about the emergence or growth of a far-right movement here.
The Anti Racism Network's iReport website received 37 complaints about Pell's article in one day. The online reporting mechanism normally receives just one or two reports from the public in a 24-hour period.
And O'Curry says of the over 1,000 racist incidents reported to his organisation since 2013, "very few of them are linked to the far right".
"It's not to say Irish people aren't capable of racism, but people won't engage in that kind of organised far-right stuff, these ideas won't wash with Irish people," he continued.
They've never managed to mobilise a great number of people in the real world, or have any electoral breakthrough. There have been several attempts over the last couple of years for them to create a respectable front; we had the Irish National Party and before that Identity Ireland, we had Pegida Ireland – they've all been complete failures.
"Having said that, there are a lot of keyboard warriors and social media is conducive to that kind of lynching. People can deploy the kind of language and tactics of the far right but that doesn't mean there is a significant far right."
Activity on social media
A search for so-called alt-right terms on social media reveals little activity associated with the 'alt right' among Irish users.
Recent posts on the small number of such accounts focused on Pell's article, a story about an alleged riot on Dublin's Henry Street on St Stephen's Day and reports about plans to settle refugees at a hotel in Roscommon.
The users also regularly share articles about alleged sexual assaults by migrant men on women in European countries, suggesting these kinds of incidents will happen in Ireland if the country continues to accept asylum seekers.
A number of people on one 'alt-right' Facebook page – which has over 2,000 likes – left comments criticising a photo meme which read: "There is nothing more beautiful a white woman can do than to bring a white child into the world."
"You'd be amazed at all the beautiful things any woman of any colour can do," one woman commented.
You'd have to open your eyes though in order to see reality.
#Open journalism No news is bad news Support The Journal

Your contributions will help us continue to deliver the stories that are important to you

Support us now
"Personally I only care about the survival of my white race," the administrator of the page replied. "The other races can look after themselves but if they cannot we white people are not responsible for them."
'People won't engage with that'
Teresa Buczkowska, integration team coordinator with the Immigrant Council of Ireland, pointed to the findings of the EU barometer survey in December which revealed 57% of Irish people were in favour of non-EU migration.
"What we found, particularly in the last two years, is that we've never seen such an outpouring of positive engagement. People are offering practical help and they are concerned."
O'Curry said there are a number of reasons why far-right ideologies have never taken off in Ireland, as we have seen them do in the US or in Britain. In his experience, Irish people are "instinctively anti-racist".
Historically, we had colonialism. [Irish people] were subject to penal law which was formerly apartheid law. Irish people in Britain were allies of other minorities in struggling for dignity and human rights. So, we understand these things instinctively.
Though O'Curry does not see the alt-right as a threat in Ireland, he said he hoped the media would "do their job to inform people that this is the far right and has its roots in white supremacism."
"If people give this a soft spin, their ideas may become more acceptable."
Equally, Buczkowska said it is important that "we don't allow platforms for racist and anti-immigrant statements to come out".
"We need to create an environment whereby people can ask questions. There will be concerns so we want people to be able to find out what's happening so it isn't left to nameless, faceless accounts on social media stirring up fear that is not based on fact."