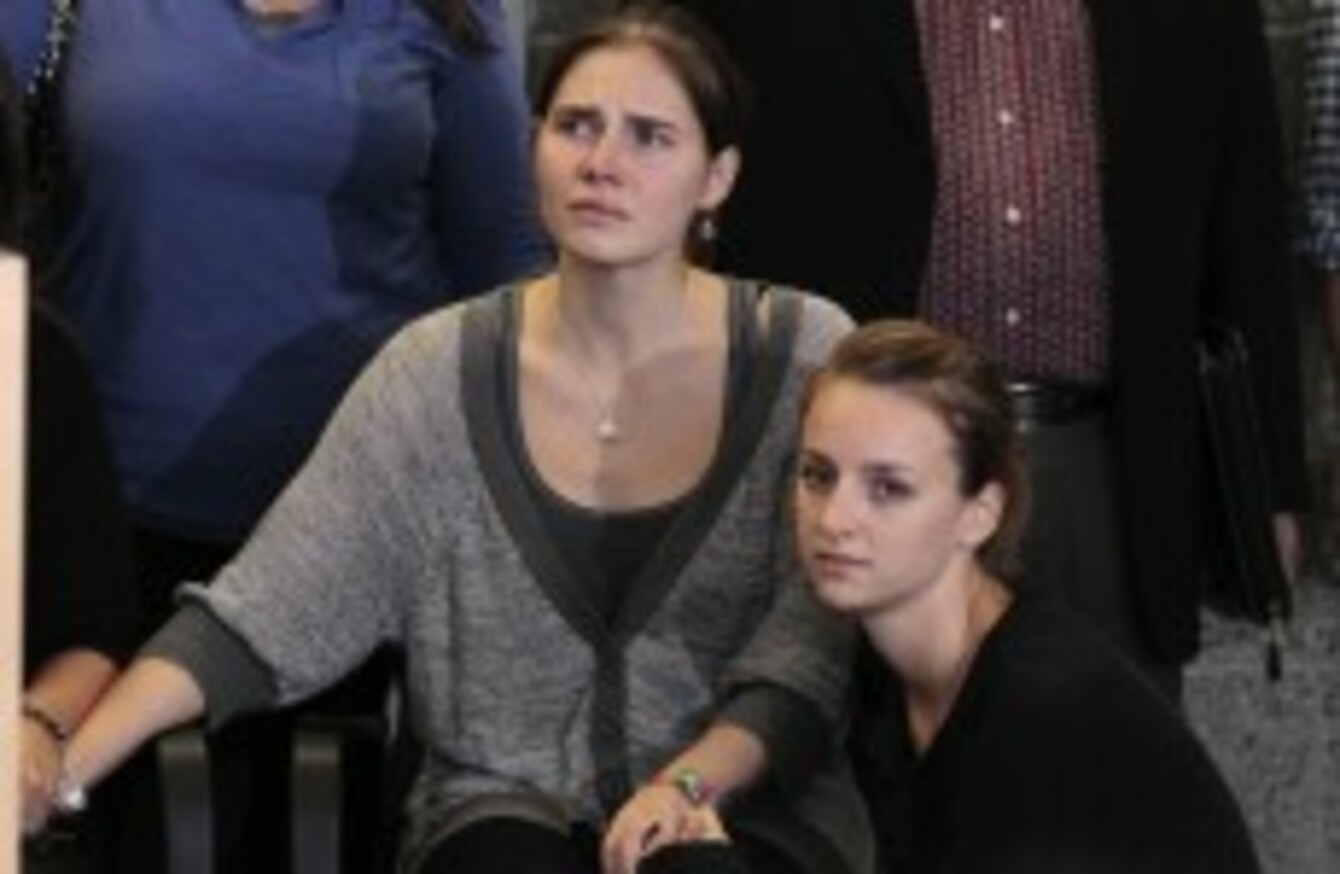 Knox, left, is comforted by her sister, Deanna during a news conference in 2011
Image: Elaine Thompson/AP/Press Association Images
Knox, left, is comforted by her sister, Deanna during a news conference in 2011
Image: Elaine Thompson/AP/Press Association Images
ITALIAN JUDGES WILL decide today whether to uphold or overturn American Amanda Knox's conviction for the savage murder of her British housemate, in the case's fourth verdict in six years.
Knox and former lover Raffaele Sollecito spent four years in prison for the 2007 murder of Meredith Kercher, before being freed on appeal in 2011.
The 26-year-old has been in the United States ever since but has been unable to shake off an assiduous Italian justice system, which saw the supreme court quash her acquittal and order a fresh appeal trial in 2013.
She has not returned to Italy for fear of being "wrongly convicted". Both Knox and Sollecito insist they are innocent.
The case was sent to a fresh court in Florence, where Knox and Sollecito are re-appealing against their original convictions amid intense media coverage.
A verdict is expected later today, once Knox's lawyers have presented their final rebuttals.
Raffaele Sollecito, left, and his father Francesco leave court [Image: AP Photo/Antonio Calanni]
Two judges and eight jurors will decide whether Knox and Sollecito played a part in the brutal sexual assault and stabbing of the Leeds University student, found partially naked with her throat slit in the house she shared with Knox.
Kercher's brother and sister are expected to be in court for the verdict and the family's lawyer Francesco Maresca said they "still have faith in Italy's justice system".
Sollecito's father has said his son will be present "to show respect for the court", while Knox will wait for the news in her home town of Seattle.
Experts doubt Knox could ever be extradited even if definitively convicted, but she has said she fears "becoming a fugitive" from Italian justice.
Whatever the outcome, an appeal by either side will send the case back before the supreme court again before the verdict is considered final.
A guilty verdict now, however, could see Sollecito, 29, back in jail or stripped of his passport to stop him fleeing Italy while the appeal process is exhausted.
Weapon
The Florence court has focused largely on the presumed murder weapon — ordering fresh DNA tests on a kitchen knife found in Sollecito's apartment.
Local drug dealer Rudy Guede, whose DNA was found at the scene, is the only person currently serving time for the murder, but investigators say the knife wounds suggest there was more than one killer.
A previously untested sample of DNA was shown to belong to Knox, but a tiny sample on the blade which the original forensic tests said belonged to Kercher was too small to retest and is considered inconclusive by the defence.
Prosecutors claim Knox's DNA on the knife and Sollecito's DNA on a bra clasp ripped off during the attack prove they stabbed Kercher while Guede raped her.
The prosecution say Knox then removed traces of herself and Sollecito from the crime scene — a thesis ridiculed by the defence, which insists she could not have cleaned up some DNA traces while leaving those incriminating Guede.
The judges and jury have been urged by the supreme court to look at the evidence as a whole rather than examining each individual element on merit, and give greater weight to witnesses discarded in the last appeal trial.