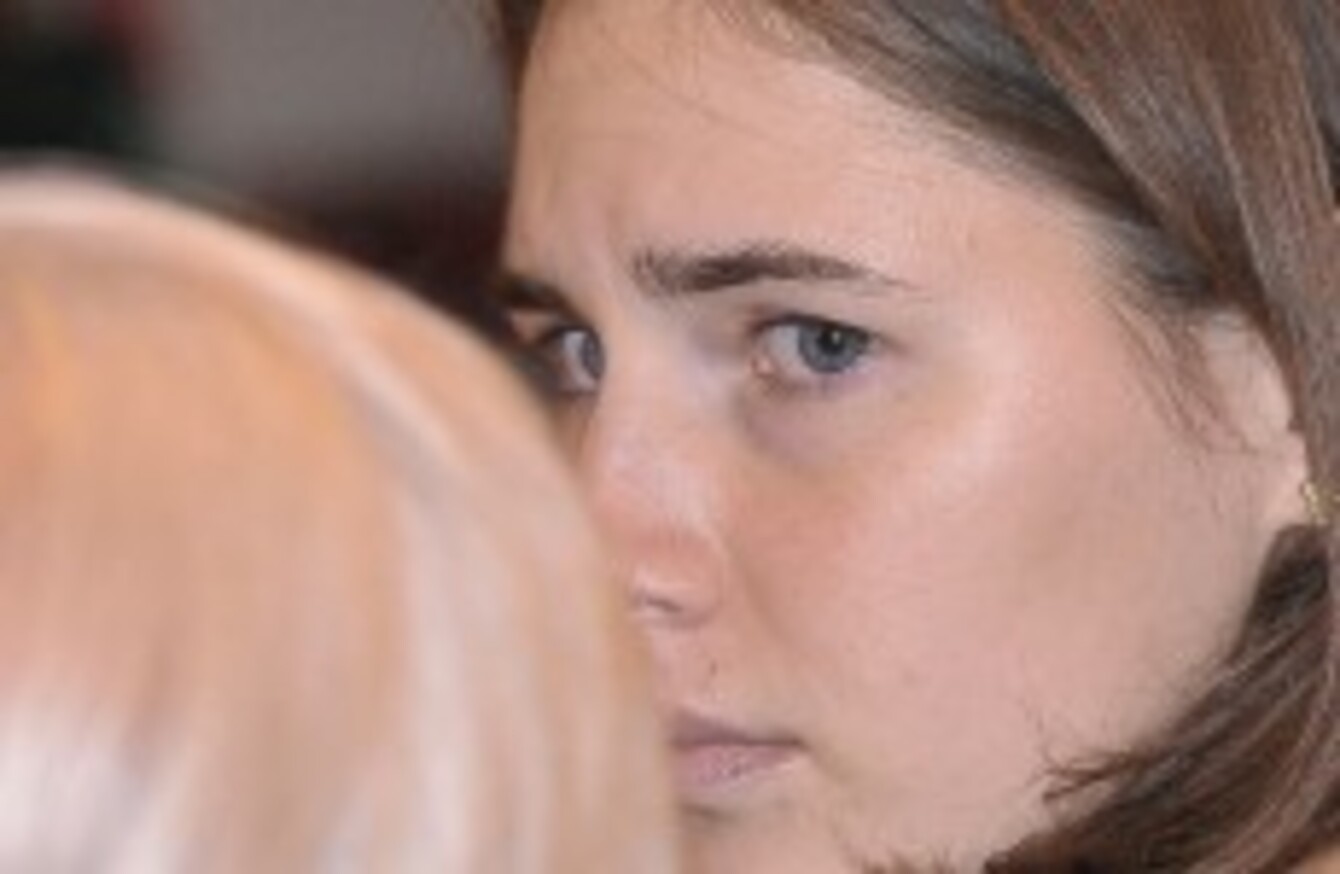 Amanda Knox in court earlier today.
Image: Stefano Medici/AP/Press Association Images
Amanda Knox in court earlier today.
Image: Stefano Medici/AP/Press Association Images
Updated 9.40pm
AMANDA KNOX HAS been cleared of the murder of British student Meredith Kercher after an Italian appeal court threw out the conviction this evening.
Knox and former boyfriend Raffaele Sollecito were cleared of the murder which was based on DNA evidence which the appeal court judge ruled was unreliable in a verdict delivered at the appeal court in Perugia.
Knox broke down in court as the verdict was read out, crying loudly as she was later escorted out of court by police.
She will be brought back to the prison where she was being held to pack up her things and go home.
The American student did lose her appeal against her conviction for slander against local barman Patrick Lumumba and her three-year jail sentence still stands.
However having already served four years, she is free to go and was ordered to pay €22,000 to the Lumumba for his legal costs.
Watch the moment (via BBC News/EnglishWorldNews/YouTube):

The reading out of the defamation verdict initially led to some confusion with one live news channel translation leading to confusing breaking news updates and tweets stating Knox had lost her appeal against the murder conviction.
The family of 21-year-old Kercher looked on grimly and a bit dazed as the verdict was read out by the judge after 11 hours of deliberations by the eight-member jury.
Outside the courthouse, some of the hundreds of observers shouted "Shame, shame!"
Yet inside the courtroom, Knox's parents, who have regularly travelled from their home in Seattle to Perugia to visit the 24-year-old over the past four years, hugged their lawyers and cried with joy.
"We've been waiting for this for four years," said one of Sollecito's lawyers, Giulia Bongiorno.
Both Knox and Sollecito were appealing their conviction for the sexual assault and murder of Knox's flatmate, British student Meredith Kercher, in 2007.
Knox was sentenced to 26 years in prison and Raffaele Sollecito to 25 but both denied any involvement in the murder.
A third person was convicted for Kercher's murder in a separate proceeding: Rudy Hermann Guede from Ivory Coast. He has been sentenced to 16 years and also denies wrongdoing.
Prosecutors can appeal the acquittal to Italy's highest court. There was no word late Monday if they planned to do so.
- additional reporting from AP