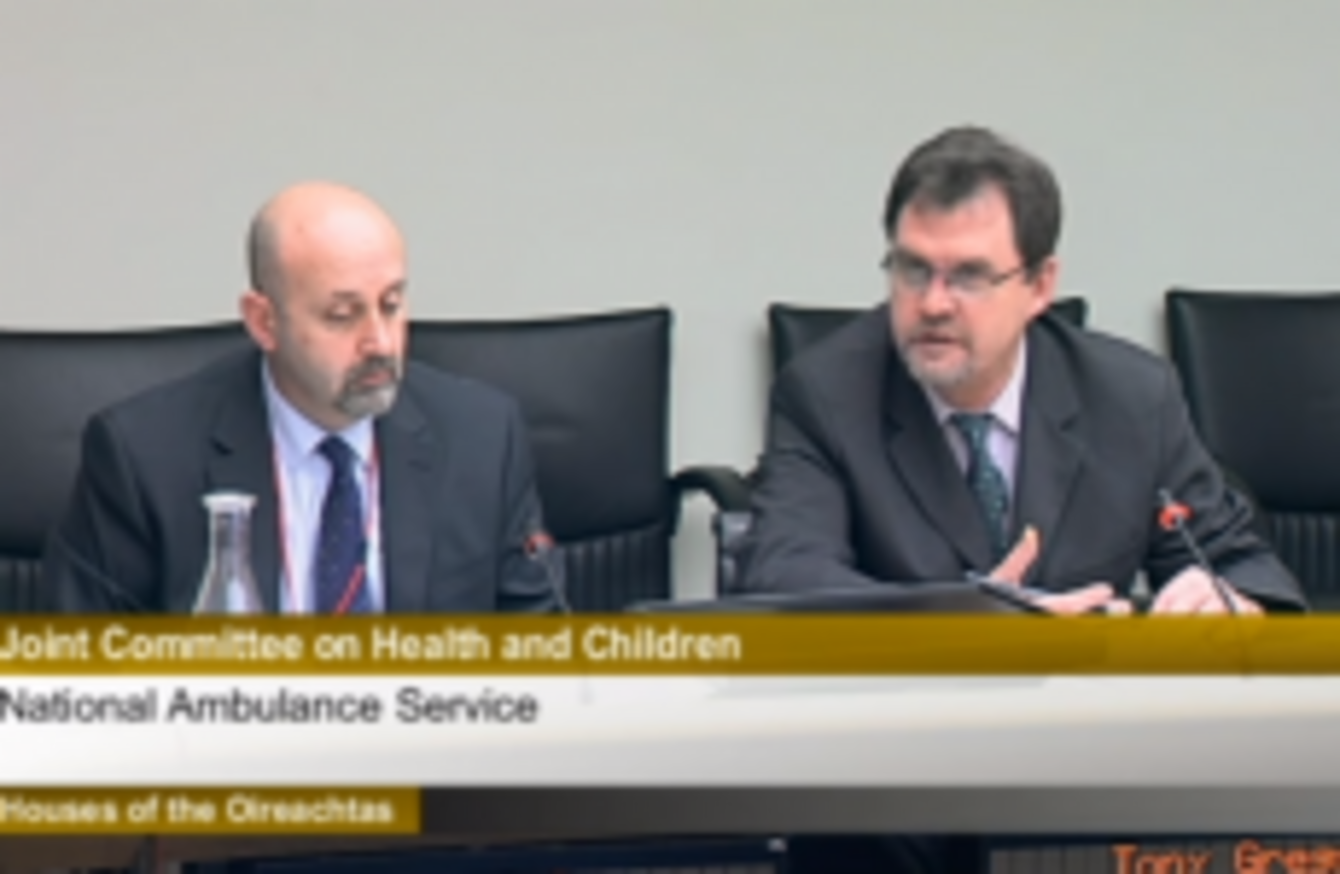 REPRESENTATIVES OF THE National Ambulance Service Representative Association (NASRA) today told an Oireachtas committee that response times set for ambulances are "unrealistic" and that poor resources are putting lives at risk.
Speaking to TDs and Senators in the Health Committee today, NASRA Chairman Michael Dixon said the "consequences of this have been very tragic indeed".
The family of Wayne McQuillan, who died after being taken by garda car to hospital because of a delay in ambulance response, sat in the gallery and several members expressed their condolences and apologised to them.
Dixon told the committee that losses like this are "felt and deeply regretted by every professional paramedic in the country" but that the association did not believe that this was "created or contributed to by dedicated paramedics".
Response time
Currently, the response time for serious and life-threatening incidents is 7 minutes and 59 seconds. However, Dixon said the National Ambulance Service has not been able to reach the targets set out by HIQA and the HSE has asked for them to be reduced.
He said that in NASRA's opinion, there were three reasons for this – a shortage of personnel, a shortage of infrastructure and a shortage of funding. As an example, he offered this comparison:
In Northern Ireland, where the population is 1.7 million, there are 1,200 staff and an annual budget of €78 million.
In Scotland, there are 3.5 million people served by 5,400 staff with a budget of €258 million.
In Ireland,  population of 4.6 million people is served by 1,600 staff on a €137.4 million budget.
Rapid Response Vehicles
His colleague, Tony Gregg, who is National Secretary of NASRA, spoke of the use of Rapid Response Vehicles, manned by lone paramedics, as an alternative to an ambulance.
Earlier this month, TheJournal.ie revealed that there were almost 3,500 incidents across the country attended by one of these vehicles in a six-month period and this figure is likely to be substantially higher when community first responders are included.
The original purpose of these vehicles was to work alongside the people-carrying ambulance but NASRA representatives said lone responders are now being sent as first responders so that response time targets can be met.
Gregg said the association did not accept that a large number of calls can be "collateral damage".
Everyone has a right to an ambulance within those times.
"What we are dealing with here is people's lives," he told the committee.
Sinn Féin's Caoimhghín Ó Caoláin said he believed paramedics are "yet to receive the proper recognition that their work deserves".
Clare Daly pointed out that in the course of the hearing, members should remember that "there are real life consequences".
The committee hearing continues in Committee Room 1.