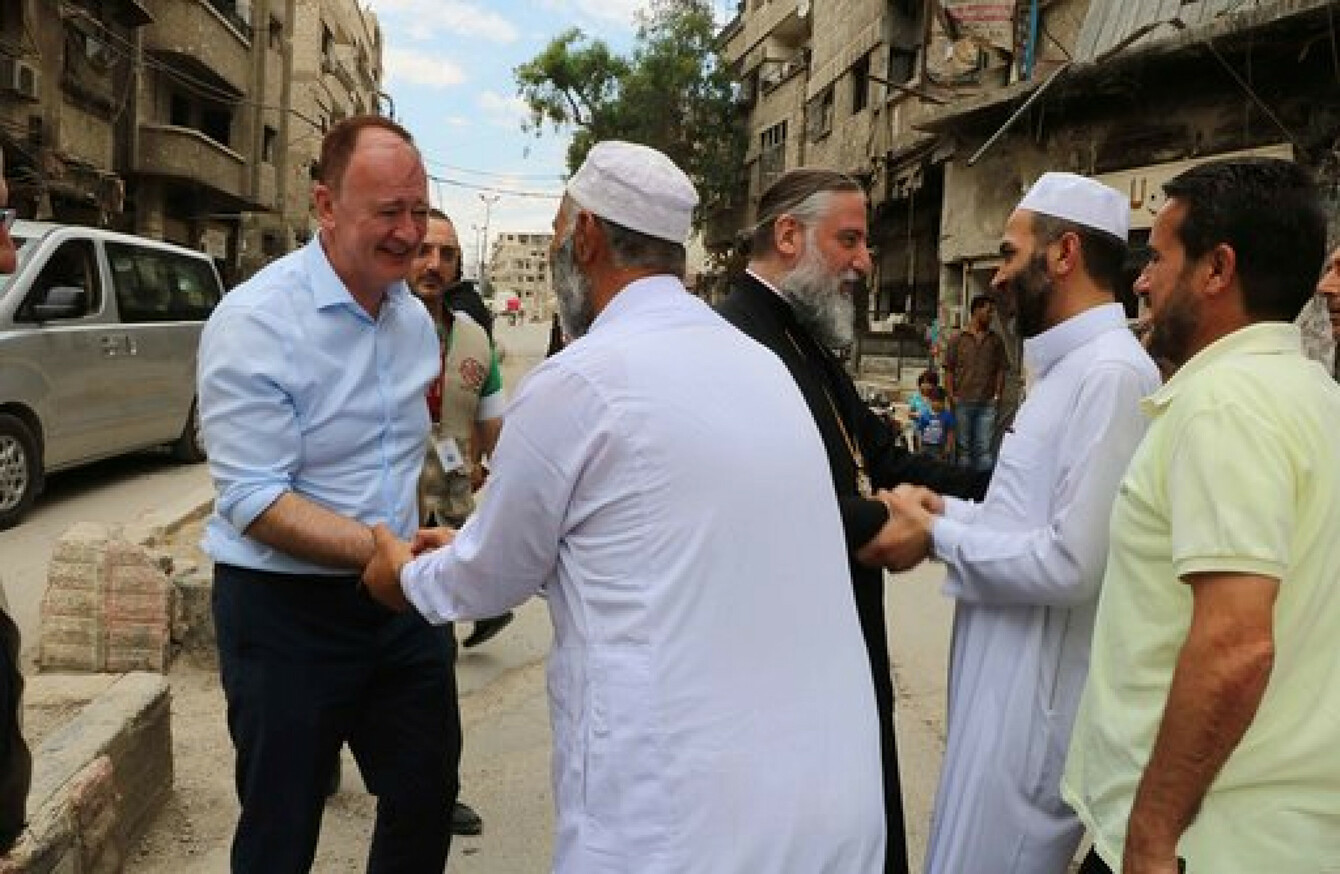 Mark Mullan in eastern Ghouta, Syria
Image: Irish Red Cross
Mark Mullan in eastern Ghouta, Syria
Image: Irish Red Cross
A FLATTENED LANDSCAPE greeted Mark Mullan as he passed into eastern Ghouta in southwestern Syria earlier this year. 
Mullan had arrived – following protracted negotiations with Syrian authorities – to deliver humanitarian aid to 30,000 people in the district, a key rebel stronghold in the ongoing conflict.
"There were women weeping, various people dealing with psycho-social trauma," says Mullan, who is the regional director in the Middle East for the Swiss organisation HEKS/EPER.
One of only three foreign members of the first delegation allowed visit eastern Ghouta to evaluate the conditions of the population, Mullan had to "establish trust in a very short period of time" with authorities, he says. 
In war-torn Syria, "a crises of access" – as Mullan terms it – is a major roadblock in delivering humanitarian assistance. What began with peaceful protests in 2011 has since turned into a full-scale civil war.
Mullan – who had learned that Syrian authorities might be willing to allow aid delivered into eastern Ghouta – set about negotiating, working alongside his Syrian NGO partner GOPA-DERD.
Having headed a number of major missions with ECHO in Africa, Mullan has travelled to various countries in the region as part of his regional humanitarian role, including Iraq, Israel, Palestine, Yemen and Lebanon from his base in Jordan.
As an "invisible actor", Mullan had to establish trust with Syrian authorities "in a very short period of time, he says. 
We didn't know we were going to get in until the last-minute.
'Torn apart'
Feeling a "heightened state of expectation", Mullan entered eastern Ghouta after a series of negotiations with authorities around security, "a major factor" in gaining access to the region, he says. 
Mullan says that "nothing can really prepare you for these things" as he entered what he describes as a Dresden-like landscape, greeted by local religious leaders.
You don't know what the reaction is going to be. You're going to a place that has been torn apart by war for years.
The eastern Ghouta region was once home to 400,000 people. Towns and villages in the area have been gradually destroyed and its people displaced since the government siege began in 2013. 
An analysis by the UN in December 2017 identified approximately 3,853 destroyed buildings, 5,141 severely damaged buildings and 3,547 moderately damaged buildings using satellite imagery. 
The Syrian civil war has become more than a conflict between those opposing President Bashar al-Assad and government forces. Various groups have become involved in the ongoing fighting, as well as other countries, which has claimed the lives of of more than 350,000 people since 2011. 
"And refugees are not coming back in any significant countries," says Mullan who, by negotiating with Syrian authorities for 10-week continued access, managed to begin the delivery of humanitarian assistance to 30,000 people in "one of the most pulverised areas."
A finalist in the 2018 Irish Red Cross Humanitarian Awards - which take place today – for his achievement in eastern Ghouta, alongside homeless campaigner Alice Leahy and the late Emma Mhic Mhathúna - Mullan hopes that the access he gained to eastern Ghouta "paves the way for others."
"Humanitarian diplomacy is incredibly complex," he says. "You put the people first and timing is everything."