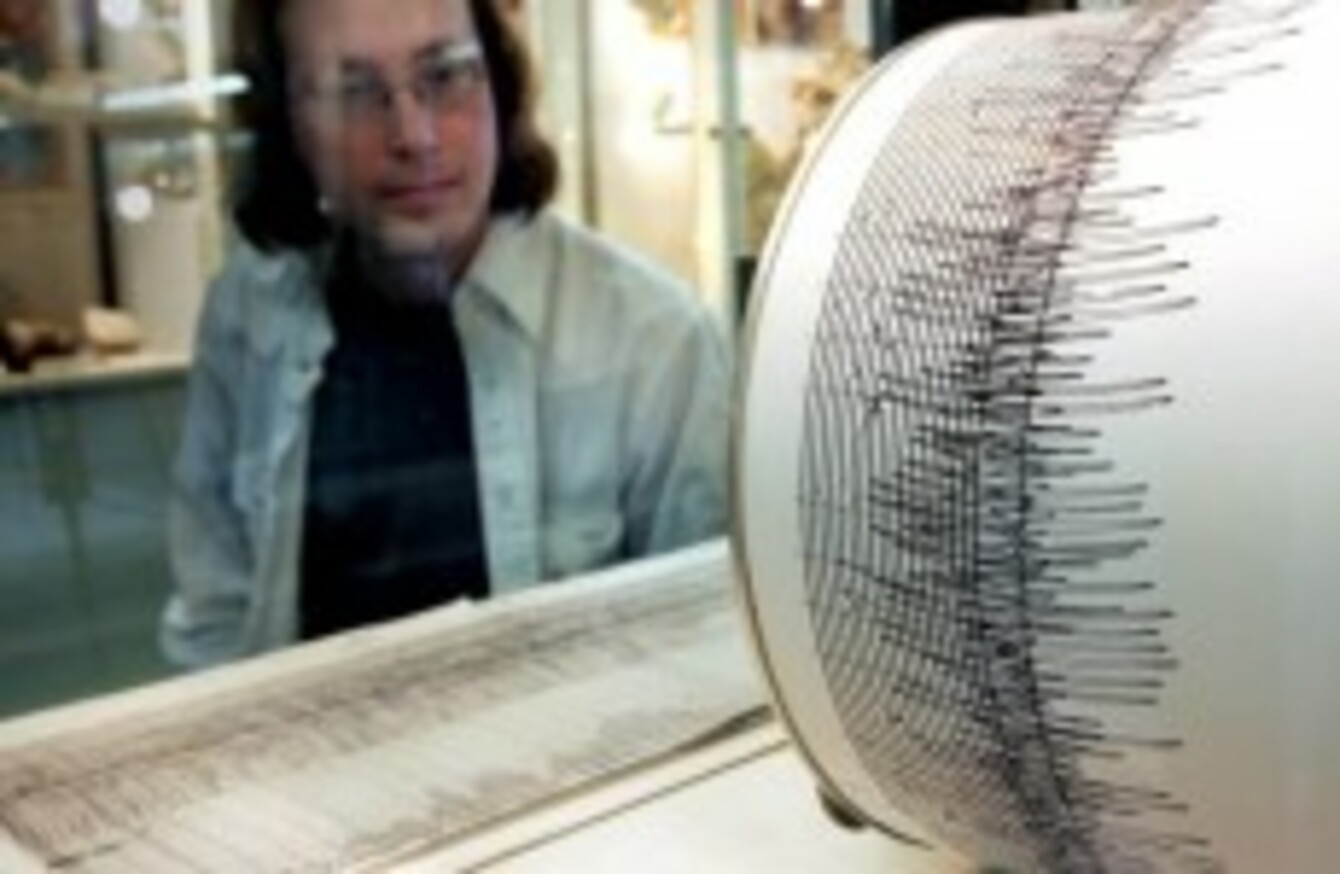 File photo of a seismometer catching details of the massive Indonesian earthquake in March, 2005.
Image: WAYNE GLOWACKI/AP/Press Association Images
File photo of a seismometer catching details of the massive Indonesian earthquake in March, 2005.
Image: WAYNE GLOWACKI/AP/Press Association Images
EARTHQUAKES ARE QUITE common and frequent in Ireland despite the country not sitting on any major fault lines.
And not only is the island susceptible to earthquakes, Ireland has been hit by tsunamis in the past – and could be again.
Following a minor earthquake in Donegal this week, TheJournal.ie got in touch with the Irish National Seismic Network (INSN) to ask what is the actual threat to Ireland from seismic activity.
Speaking to us, the INSN advised that not only do earthquakes occur in Ireland but that they "happen continually".
Director of the organisation Tom Blake says there are two areas in Ireland where major faulting occurs – Donegal and Wexford.
In Donegal, fault lines come in from as far away as Scotland and in the Irish Sea, near Wexford, there are fault lines coming from Anglesea."
This week's earthquake in Donegal measured 2.2 on the Richter Scale and Blake advised that it was "normal" in terms of seismicity in the area.
"The measure was within the standards we expect," added Blake, who oversees five seismology stations in various parts of Ireland.
More powerful earthquakes have been experienced in the Irish Sea with "bangs" measuring about magnitude 5 being relatively common. On 19 July 1984 an earthquake hitting 5.4 on the Richter Scale hit the Irish Sea causing some structural damage on the east coast.
This can be expected to happen every 25 to 30 years, said Blake, but added that no seismologist in the world can accurately predict quakes.
We can only look at previous patterns and we can see something of a similar nature has occurred before."
However, sometimes the earth offers up surprises.
The largest onshore event in Ireland since records began in 1978 happened in Clare in May 2010 when an earthquake of magnitude 2.6 hit in an area previously thought to be aseismic.
Image of a seismometer reading during the 2010 earthquake in the region of Ennistymon and Inagh.
The past
There is plenty in Ireland's past to indicate that earthquakes occur here. Folklore from before the 1800s shows us that seismic activity is not new phenomenon.
"The writings of various peoples from the past show there are indications of people writing down effects of earthquakes. In the Mallow area, there are depictions of the earth shaking and crockery rattling during events of the 1800s. This folklore give us an insight into the past activity onshore and offshore Ireland," explains Blake.
Going back even further, there are details in The Annals that depict an earthquake in Sligo in 1490 during which 100 people, as well as cattle and sheep, died.
The Irish Connection
Although Ireland is known as a quite stable land with little risk of a major earthquake, it was an Irish scientist and engineer Robert Mallet who coined the term seismology and created the first seismometer in 1846.
Earthquakes in Ireland are not connected with plate movement but with a buildup of stress and tension on the rocks. As this pressure becomes too much and is released, it manifests as an earthquake.
The nearest plate boundary to Ireland is the Mid-Altantic Ridge about 2,500km off the west coast. Although active, it is very unlikely that an earthquake there would cause a major problem for Ireland – unless a massive tidal wave occurs.
And that is a greater possibility than one might think…
The Great Lisbon Earthquake on 1 November 1755 was felt in Cork and about 2-and-a-half-hours later a tsunami engulfed the coast of Cork.
"Nobody was killed, thank goodness," exclaims Blake, "But it does raise an interesting topic about monitoring seismicity around the Atlantic and Bay of Biscay."
If the event is strong enough and shallow enough, another tsunami is "quite possible", continues Blake.
Similar waves to that seen in Cork in 1755 were recorded at Newlyn, England after earthquakes west of Portugal in 1941 and 1975.
As well as the network's five permanent stations in Dublin, Kerry, Galway, Donegal and Wexford, the group's outreach programme has installed 55 seismometers in schools across the country to keep an eye on activity.
It says that the 2010 expansion of its work plays an important role in monitoring for tsunamis to feed data to the North East Atlantic and Mediterranean Tsunami Warning Centre.