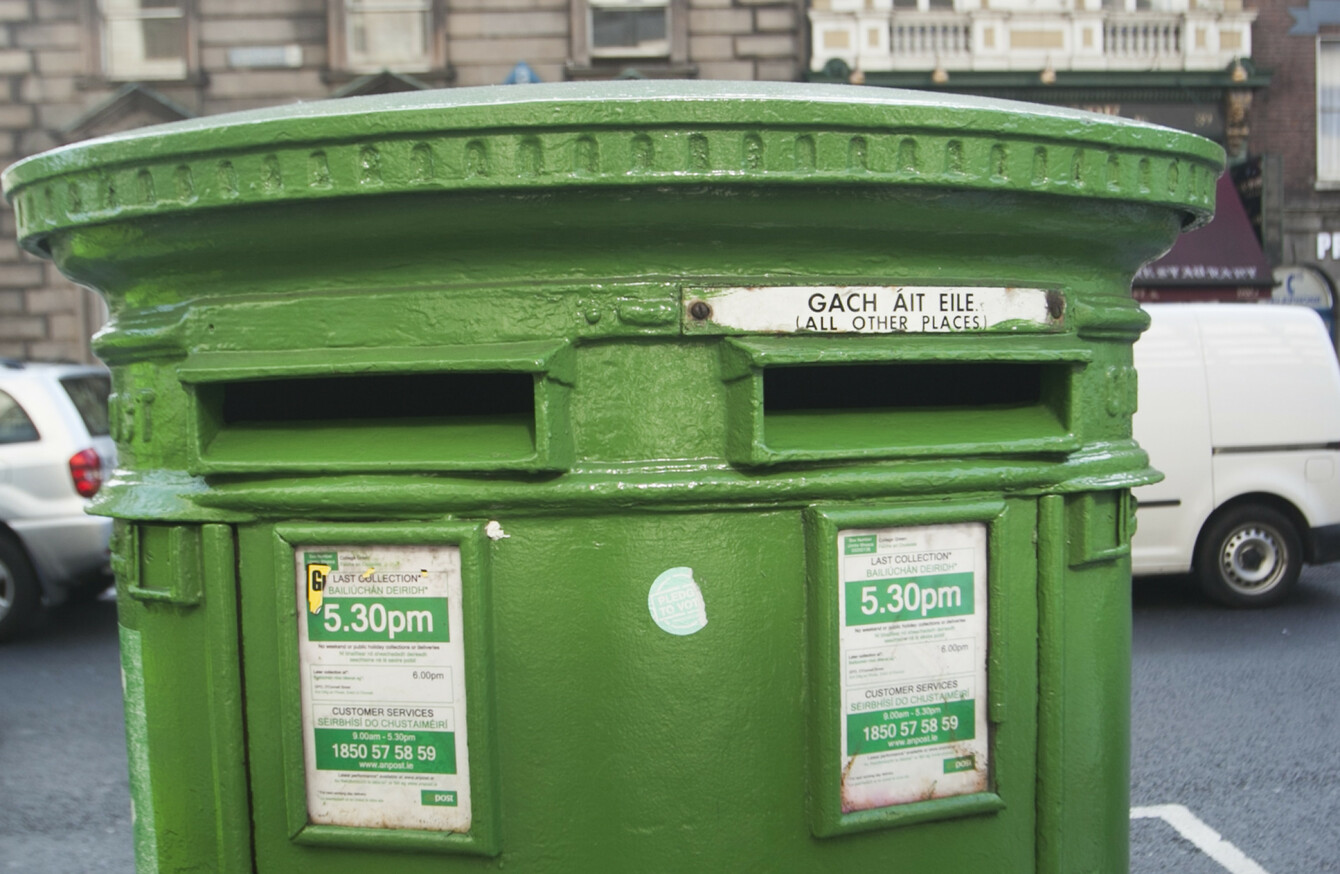 Image: Leah Farrell via Rolling News
Image: Leah Farrell via Rolling News
Updated at 4.35pm
THE MINISTER FOR Communications Denis Naughten has secured government approval to immediately provide €30 million of State funding to protect the future of the postal network.
The funding will allow a continuation of a five-day week postal delivery service to every address in the country.
According to the Department of Communications, the funding will be subject to stringent conditions and key performance indicators, the delivery of which will be monitored on a monthly basis.
The funding will allow An Post to directly respond to the fact that over the last few decades there has been a shift away from the core service the post office has provided for people.
People can now pay bills online, send emails instead of letters and have their welfare payment paid directly into their bank account.
An Post has welcomed the government's decision to provide funding to the company, after it incurred a loss of €15.6 million in 2016. This time last year, PWC forecast a loss of €61 million in 2017 if no action was taken.
This financial struggle has been highlighted in the media throughout the year. While the plight of rural post offices and the risks they faced were well documented, urban postmasters told TheJournal.ie in March that they too may face closure if serious changes are not made.
CEO David McRedmond warned that "the whole system could collapse" if changes are not made and said that the company had to "be real" about its prospects.
In a statement today, An Post said that after decisive initiatives have been understand, the company is on course to break even at the end of the year.
These actions include a cost-reflective pricing of mail in line with European average, downsizing of the management team and advanced negotiations with the Irish Postmasters Union on the future of An Post's network.
In a statement today, An Post CEO David McRedmond said: "The company is facing into extraordinary challenges but by working collaboratively with all stakeholders including government, unions and staff, we have already achieved a very significant turnaround in 2017."
An Post has also announced plans to split the company into two business units – An Post Mails and Parcels and An Post Retail.
Much work remains to be done but with continued momentum and government support, we will see the development of two great companies, An Post Mails & Parcels and An Post Retail.
Announcing the funding, Naughten said: "The main impact of this measure has been to avoid a cash crunch in 2017 and reduce the level of losses expected to be incurred for the year by the company.
"It also allowed the company time to construct a modernised plan. However, without further remedial action, losses for the group will simply keep going."
Rural operations
Naughten said a key importance of this funding is keeping rural post offices operation, as they are an "integral part" of the fabric of local communities.
"The local post office is a defining feature of towns and villages across Ireland. Many people throughout Ireland still heavily rely on their local post office for essential public services," Naughten said.
Along with the new funding, the Department of Communications plans to enhance customer interaction in post offices with the government.
In addition to the existing range of government business such as social welfare payments and passport services, the department said a range of financial and banking services are being developed, such as a community-banking service.
"An Post is entering into a period of significant change but this change is critical to ensuring the long-term success of our national postal service. Doing nothing is not an option," Naughten said.