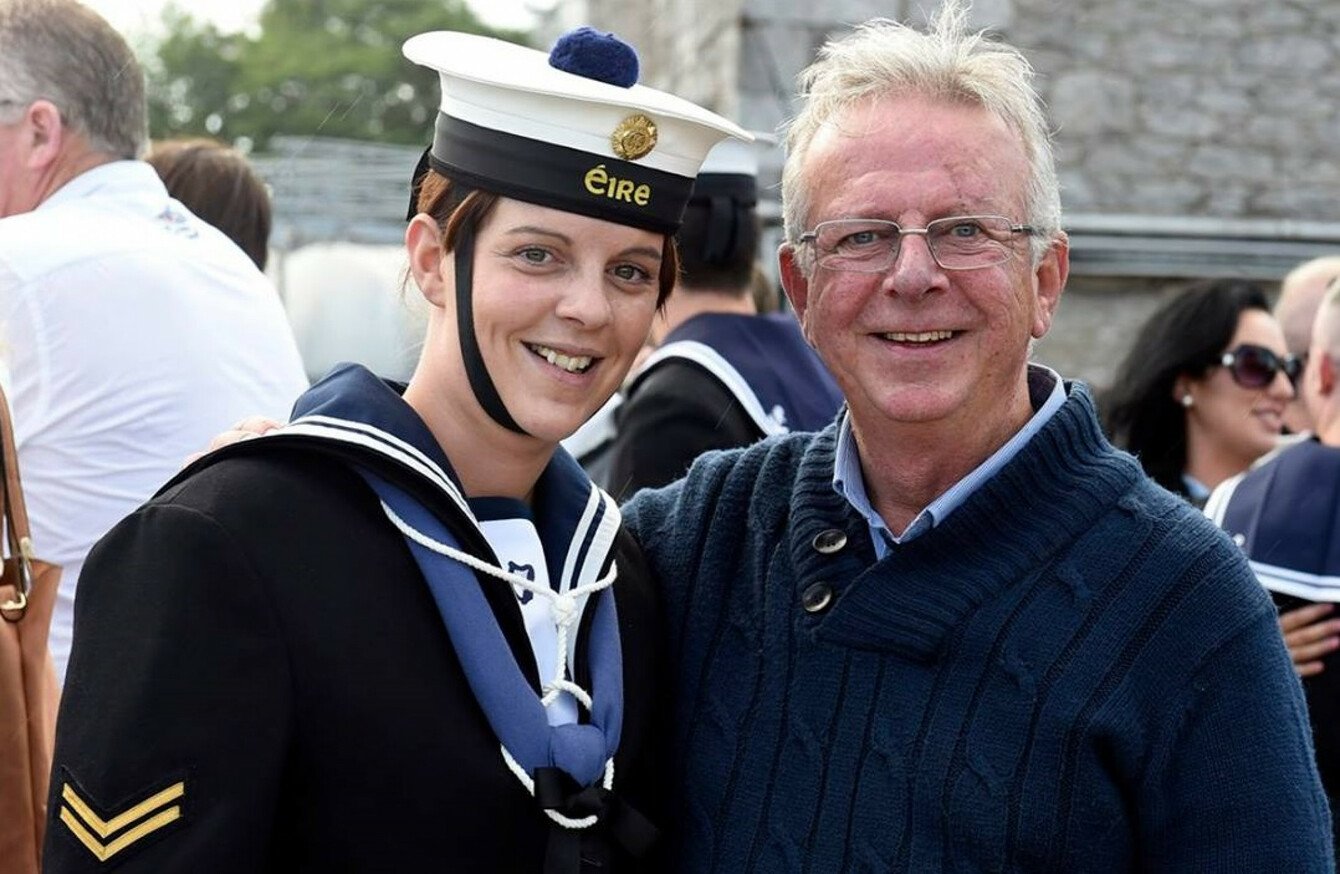 Katie O'Leary, Leading Seaman with the Irish Naval Service, and her father Tony O'Leary.
Image: Katie O'Leary/Irish Naval Service
Katie O'Leary, Leading Seaman with the Irish Naval Service, and her father Tony O'Leary.
Image: Katie O'Leary/Irish Naval Service
WHEN MOST FAMILIES are just waking up on Christmas morning, Katie O'Leary will already be getting stuck into her working day on board an Irish Naval Service vessel.
As a Leading Seaman with the Naval Service, Katie – along with her colleagues – will be taking over duty on Christmas Day at 8am, and working a 24-hour shift right through to St Stephen's Day.
Katie is one of the faces of the An Post Christmas 2018 ad campaign, so her face has been on screens all over the country for the last few weeks, but she won't be seeing her family in person until after the big day.
The chance to speak to her dad, Tony, back home in Cork, will depend on phone reception at sea, which can be spotty at times. "We don't know exactly where we will be yet so it's hard to know," says Katie.
Working Christmas Day is the short straw – Katie's been on duty on December 25 twice before during her 11 years of service – but there's a lot of festive fanfare on the day too:
We have Christmas dinner on board with turkey and ham and everything, there'll be chocolate and Christmas movies playing too. We might do Kris Kringle. The captain of the ship usually comes to visit to say thanks and to wish everyone a happy Christmas, which is always very special.
Source: An Post/YouTube
Life on the water
Katie grew up on Cork's Bere Island – a tiny island with a population of around 180 – and joined the Irish Naval Service when she was 18, twelve years ago this April.
"I grew up around the water," she says. "We had primary school on the island, but secondary school was in Castletownbere and you'd be getting the ferry over and back each day."
Working for the Naval Service is a job that involves a lot of time away from home, especially for new recruits, who spend around a year training on the Naval Base at Haulbowline in Cork.
"On day one, you arrive at the base with your family, they spend about an hour there with you and then they leave," explains Katie. "That part can be hard, but joining is the best decision I ever made." 
The amount of time Katie gets back at her house in Carrigaline and on Bere Island with her dad depends on many variables – including how far away she is from Ireland itself. Katie has completed two three-month deployments on Mediterranean ships, one in 2015 on LÉ Eithne and one in 2016 on LÉ James Joyce.
Checking in with back home
"You could be out at sea for 15 or 16 days at a time," she recalls. When she's at sea closer to home, there's often a chance to visit her dad for a few hours:
"I'm lucky because the ship will often anchor near Bere Island as it's a good place to be anchored in case of bad weather. So I can swap duty for a night and get home, or even bring dad on board the ship for dinner."
Staying in contact with loved ones by post has long been a feature of life in the Naval Service, and Katie says it's no different these days – so taking part in An Post's Christmas ad campaign this year felt like a natural fit.
If we are out on patrol, there are always birthday cards or letters going back and forth. Lots of people do it and it's a lovely way to stay in touch. We receive a lot of mail at sea too, like if my dad knew I was going on patrol on Monday, he'd send a letter so I'd receive it on the ship. 
Katie's ad is one of a series in the Send Love This Christmas campaign, each featuring someone sending a message to loved ones back home. In her case, it was her dad – and the message was particularly poignant for the O'Leary family, given the time of year.
"My mum passed away four years ago. She was born on Christmas Day and would always kill us for forgetting to get her a birthday present as well as a Christmas present. Even since she passed away, we still get her a birthday card and toast to her on the day."
A special message
The ad, which features Katie on board the ship with her colleagues, took "a couple of days" to film, and although Tony knew his daughter was taking part in something for An Post, he didn't know exactly what the ad entailed beyond "the basics".
Dad saw it during the ads on the Late Late Show. I made sure he was watching. He rang me and was just totally taken aback.
With such a small population on Bere Island, Katie's appearance was big news for locals. "People really saw it as something great for the island itself. Everyone knows one another here."
Although Katie's dad and younger brother already have plans to spend Christmas Day together at home, there have been plenty of invites from neighbours. "People were onto him asking him to their own houses for Christmas, "says Katie. "Even when he was in Castletownbere doing shopping, people were coming up to him."
Although she'll be away from home on Christmas Day, Katie will get to see her family on December 26. "Dad likes to keep the presents until we're all at home, so I'll be looking forward to that."
Whether they're around the corner or around the world, make sure your loved ones know you're thinking of them. Send love this Christmas with An Post. The last dates for Christmas posting are December 20 for the Republic Of Ireland and December 19 for Northern Ireland. Find more information here.