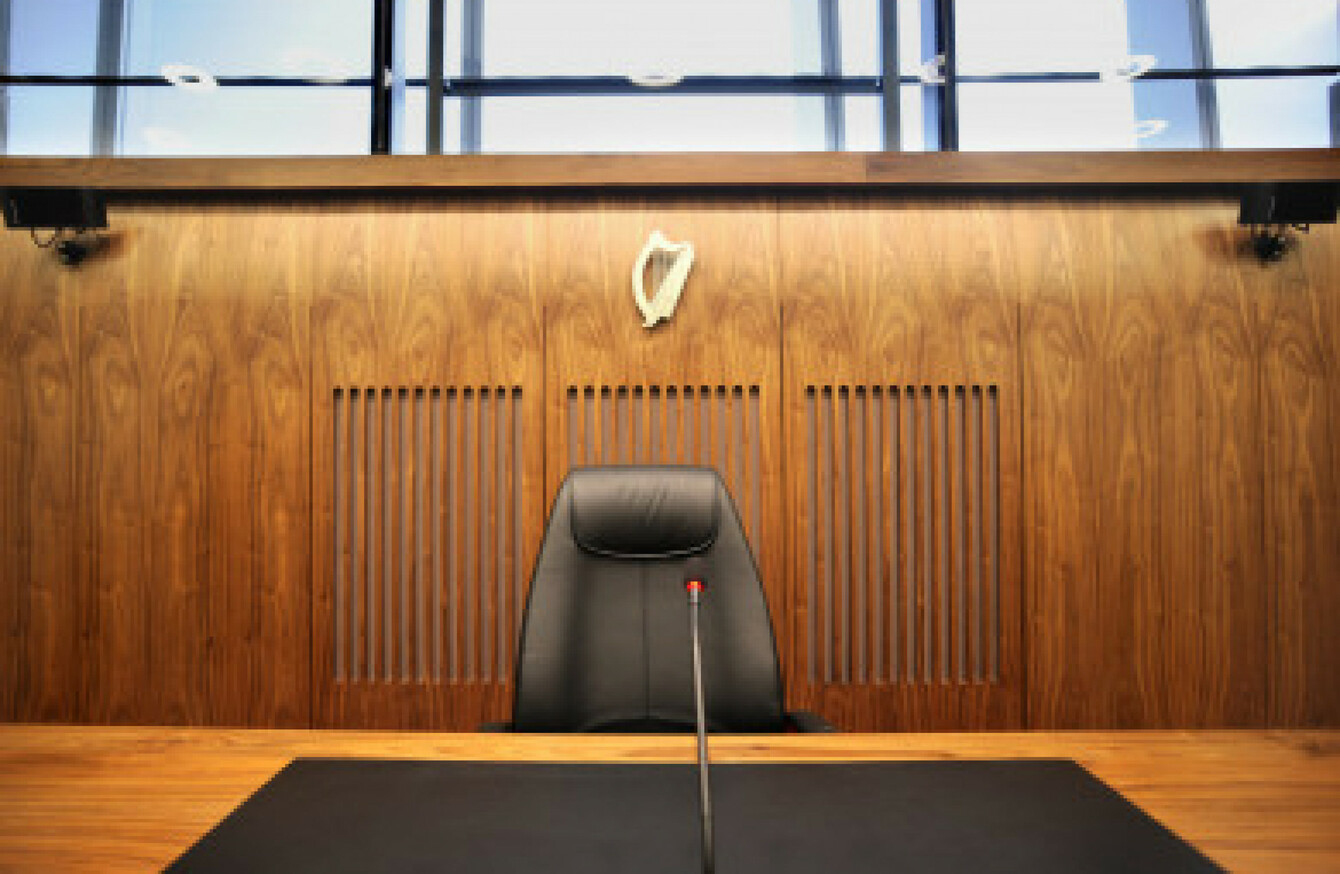 Image: PA
Image: PA
Note to readers: This court report contains detailed descriptions around the discovery of Ana Kriegel's body.
THE JURY IN the Ana Kriegel trial has been shown a number of images taken of the scene where the teenager's body was discovered by gardaí searching for her.
Detective Garda Eoin Conway took a number of photographs in the aftermath of Ana's death. Detective Garda Conway confirmed the details in court of all the photographs. They included images showing that a number of areas of the wall in the room where Ana's body was found were blood-stained.
There were also photographs of bloodied clothing as well as photos of a brick which had hair and blood on it, and a piece of timber which had blood on it.
Clothes found at the scene were also photographed. They included blood-stained underwear, a bra which was torn and bloodied and whose clasp at the back appeared pulled, a black hoody which was discoloured, and a black strapped top which was torn and also carried blood stains, the court heard.
Detective Garda Conway also confirmed to the prosecution that he had taken photographs of a number of items in the room where Ana's body was found.
He said he photographed the tape which was found around the teenager's neck. He said there was blood on it and that there were hairs attached to it. He also said a locket in the shape of a love heart was attached to the tape when he photographed it.
"There was a ligature at her neck – it was a blue tie or a noose for [wont of] a better word," he said.
Pictures of blood-stained objects were also shown to the jury.
A photograph of a blood-stained breeze block was shown to the jury. There was hair attached to the block, the court heard.
A picture showing a piece of a door frame was also shown to the jury. It had blood at the end of it, the jury heard.
Discover of Ana's body
Earlier, a garda sergeant searching for teenager Ana Kriegel described to a court today the circumstances of how he found her body.
Sergeant Declan Birchall was in charge of the divisional search team on the day Ana Kriegel's body was found. He was in control of a team specially trained in searching for missing persons. 
The court heard the Sergeant discovered the teenager's body naked and that it appeared she had been trying to pull a ligature away from her neck.
Two boys have pleaded not guilty to Ana's murder. Boy A has also been charged with aggravated sexual assault – a charge he also denies.
It is being alleged by the prosecution that Boy A murdered Ana and sexually assaulted her. It is the prosecution's case that Boy B assisted the murder and knew what was going to happen.
Search area
Sergeant Birchall said he designated a specific search area on Thursday 17 May – the day Ana's body was found. He told the court he approached a number of derelict properties on his own to ascertain if he needed any breaching equipment to get into any derelict properties. 
He said four garda members were searching derelict buildings when an officer called for Sergeant Birchall as he may have found something. 
Garda Sean White was part of the four garda team which discovered Ana's body. He was the first to go in to the house where he saw what he thought to be a mannequin.
Garda White told the court he said to Sergeant Birchall that it's "either a mannequin or something terrible".
The sergeant entered the house with a colleague and searched a number of rooms which were empty. The court heard that the house was in very poor condition and there was debris in many of the rooms. Some of the roofing had collapsed in places, he said.
Sergeant Birchall said after searching a number of rooms, he then saw a naked body in the house. 
He said: "I stood at the door and saw the body of a naked female lying on the floor of the room. She was naked completely except for socks. I entered the room – I could not see her face at that time. There was something covering her face."
He said he could see blood coming from her nose and mouth and her head was tilted backwards. He said there was a ligature around her neck and three of her fingers were inside the ligature, like she had been pulling it away.
The court also heard from Detective Garda Eoin Conway of the Garda Technical Bureau.
He said when he photographed the scene, he saw that one of Ana's arms was outstretched. 
He said he saw a black hoody-type top with white lettering on it, a pair of black hot pants and a black boot. He also photographed a piece of timber and a concrete block which had blood staining on them. Other photos shown to the jury show blood spatter on the walls, the court heard.
Detective Garda Seamus O'Donnell attended the scene where Ana was found. He said she was naked except for black socks. She was wearing fake nails but these were only present on three of her 10 fingers.
There was a long length of adhesive tape wrapped around her neck. The court heard this type of tape is used to secure sheets of insulation together. There was a long silver-coloured necklace stuck to the tape, he added.
Detective Garda Seamus O'Donnell told the court there were small cuts and abrasions all over the body of the deceased. He said there was a lot of damage to the rear of her scalp. Her face was heavily blood-stained and her hair was matted.
The court also heard there were a number of short brown hairs resting on the chest of the deceased.
Doctor's evidence
Doctor Muhammad Ghaffar told the jury he was called to officially pronounce Ana dead.
He was handed a white crime scene suit, which he put over his clothes. He said he was led inside the abandoned house by Inspector Mark O'Neill.
Dr Ghaffar said he saw the naked body of a young girl – she was on her back and her face was facing the ceiling. He said she was completely naked and had a small cloth or something wrapped around the neck. He said she was not breathing and had no signs of life.
The ligature around her neck was loose, he told the court.
Dr Ghaffar confirmed when asked by prosecution counsel Brendan Grehan that Ana's face was covered in blood. The doctor said she had multiple bruises around her thighs and there was an obvious injury to her shoulder. Her mouth was open and filled with blood, he said.
He said that he believed she may have been dragged around by the ligature as it was loose and Ana's head was bent backwards.
The doctor pronounced the teenager dead at 2.19pm on 17 May 2018.
The trial continues.