Enda Kenny in Castlebar on election night four years ago
Image: PA Wire/Press Association Images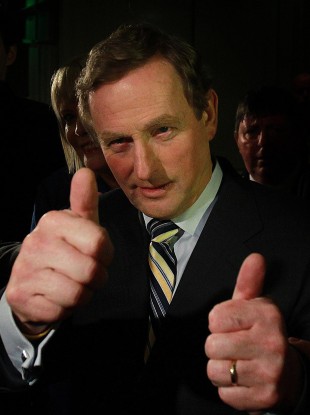 Enda Kenny in Castlebar on election night four years ago
Image: PA Wire/Press Association Images
ALMOST FOUR YEARS ago to the day, Enda Kenny left the Castlebar count centre as a local hero, overseeing a historic election victory for his party with four Fine Gael TDs, including himself, elected in Mayo alone.
The Taoiseach-elect departed his hometown bound for Dublin and the RTÉ studios where Richard Crowley's grilling prompted Kenny to drop his now infamous "Paddy likes to know what the story is… " line, a sentence that he has often been reminded of and not usually in a positive way.
Tonight, Kenny brings his party back to his constituency as he opens the Fine Gael national conference, kicking off the conference/ard fheiseanna season that will dominate the political news cycle in the weeks ahead.
All parties are on an election footing now so expect to hear lots of high rhetoric not least from a party and a leader desperate to do something it has never done before: win a second term.
Ahead of all that, the Fine Gael leader was back in RTÉ last night for his first time Prime Time interview since becoming Taoiseach. That it was actually happening was news in itself and indicative of his now reluctance to engage in meaningful and forensic one-on-one broadcast interviews. Kenny has been more willing in recent months though that hasn't necessarily helped to change the perception of him.
Even one of Kenny's own backbenchers remarked privately to us this morning that their party leader had been less than impressive as Miriam O'Callaghan sought answers last night.
If that's the view inside the tent, one wonders what the public thought of it all.
Not popular
The truth is that Enda Kenny has become increasingly disliked across the country in recent months. Those reporting back from the doorsteps say he has become a lightning rod for criticism over everything from water charges to specific budget cuts.
People feel like he's led a government which has broken promises and inflicted harsh austerity that has crippled living standards. It's all a far cry from this time four years ago when in its first few months the coalition, and Kenny particularly, basked in the glow of Queen Elizabeth and Barack Obama's historic visits.
The coalition and its leader could do no wrong. They secured a bailout interest rate reduction on the coat-tails of Greece. While the decision to reduce their own salaries and scrap ministerial cars and drivers led to it being hailed as a government that was in touch with its citizens' struggle.
All that has changed utterly as the months and years have rolled on and the government and Kenny in particular are perceived as increasingly out of touch. Much of that has to do with what happened last year, where a series of controversies did untold damage to Fine Gael, Labour and mainstream politics in general.
There was the botched medical card review, the disaster that was Irish Water and the numerous garda scandals. Fine Gael paid for some of those controversies at the polls where its local election strategy was, in the words of Frank Flannery, "one of the worst". Only Europe and the retention of its four MEPs provided a saving grace.
Kenny sought to get to grips with it all throughout the year. The medical card review was swiftly halted and the bumbling James Reilly was replaced with the more assured Leo Varadkar. Meanwhile, the architect of Irish Water, Phil Hogan, was dispatched to Europe and Alan Shatter was practically told he had to go from the Department of Justice.
But of all the controversies that damaged Kenny the most perhaps McNulty-gate was the worst. This obscure 'inside baseball' story gripped Leinster House for weeks and to the watching public it reeked of stroke politics and cronyism that Fine Gael had explicitly pledged to get rid of.
#Open journalism No news is bad news Support The Journal

Your contributions will help us continue to deliver the stories that are important to you

Support us now
It typified the extent to which the coalition had lost it way since the departure of the Troika in December 2013. Kenny's reputation rightfully took a battering from the controversy and his apology "for the perception between politics and appointments" remains unsatisfactory.
Keep it quiet
So far the buzzword for 2015 has been "quiet" and that's the way Fine Gael and Kenny like it. There has been nothing major that has derailed the coalition from its relentless focus on jobs and the growing economy.
Still there are potentially explosive landmines ahead, not least the Fennelly Commission and its investigation into the circumstances surrounding the departure of Garda Commissioner Martin Callinan. That Kenny refuses to disclose whether he was one of three people recalled to give evidence to the commission only adds to the concerns about his actions.
Despite all that, he has avoided any serious talk of a potential heave. Varadkar, Simon Coveney and lately, Frances Fitzgerald, have emerged as potential successors but none of them are likely to mount a challenge before the election. 
All of which means Kenny leads his battered party back home this evening to what is sure to be a warm reception (anti-water charge protesters aside) from the Fine Gael faithful. It will not be as rapturous as four years ago but then after the events of recent years that was never likely.
Follow @oconnellhugh and @TJ_Politics for coverage of the Fine Gael national conference in Castlebar this weekend.