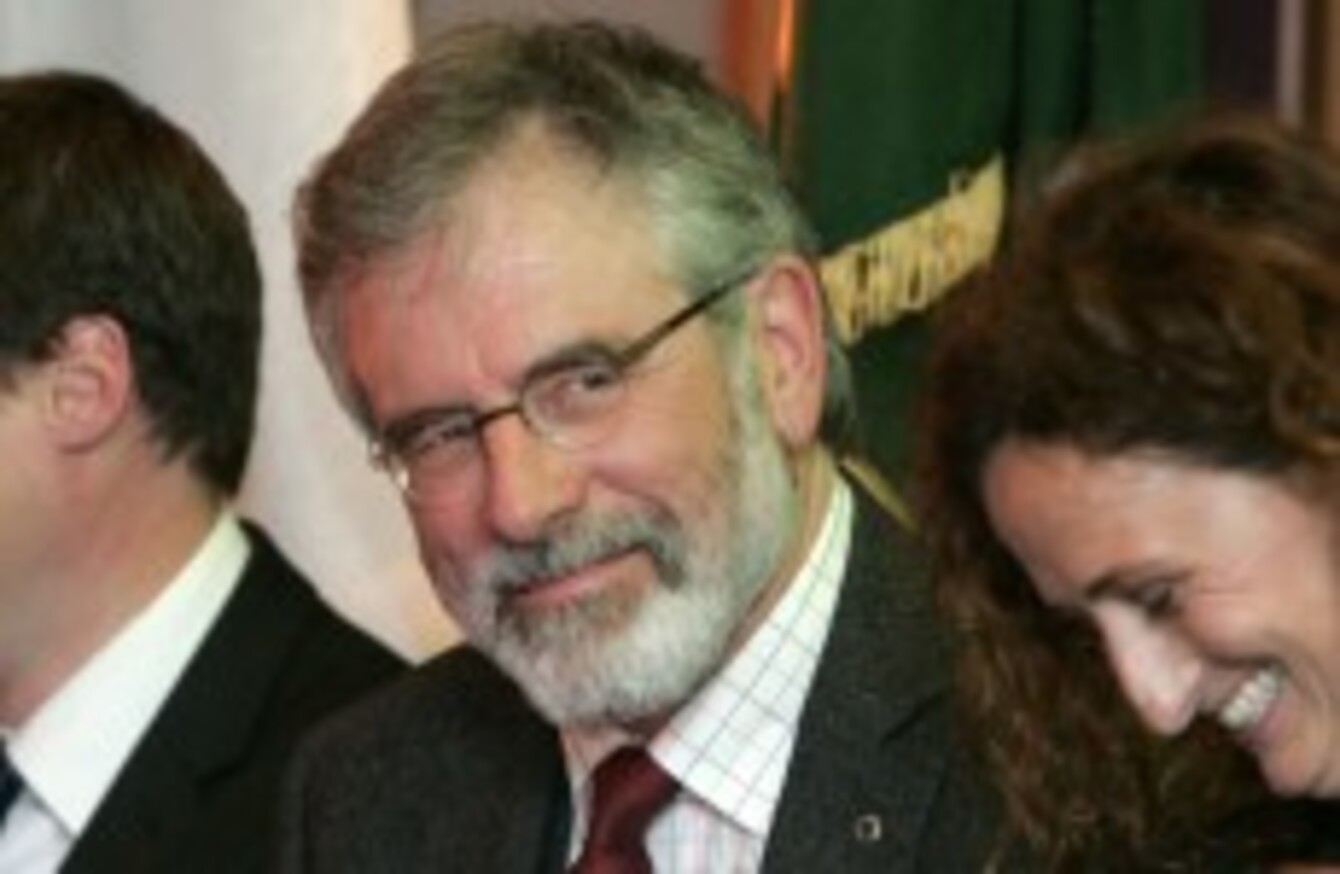 Image: Mark Stedman/Photocall Ireland
Image: Mark Stedman/Photocall Ireland
JOAN BURTON TOOK a novel approach to questions about Labour's flagging popularity on RTÉ's The Week In Politics yesterday — insisting to host Aine Lawlor that, in effect, the European elections campaign hadn't really started properly as the televised debates had yet to begin.
The national broadcaster ran the first of its three Euro Prime Time specials last night — with two more set to air, tonight and tomorrow. However, after a raft of opinion polls in the last few days the writing appears to be on the wall for Gilmore, Burton and co — the party looks on course for an electoral wipeout. With just days to go before we cast our ballots for real, the Labour candidates appear unlikely to claim a seat in any of the country's three constituencies.
If one other major message is clear from the polls published on Saturday, yesterday and today — it's that the arrest and questioning of Gerry Adams by the PSNI last month doesn't appear to have hampered Sinn Féin. The party looks set to top the poll in Dublin, with its candidates also on course for victory in Midlands-North West and Ireland South.
Dublin
The situation in Dublin gives a good illustration of the two parties' contrasting fortunes —but the ballot in the capital also provides Labour with its only slight hope of holding on to a European spot…
While Sinn Féin's Lynn Boylan came out on top in all three of the recent surveys, sitting Labour MEP Emer Costello is polling at between 7 and 10 per cent. Yesterday's poll in The Sunday Times showed her four points behind her former party colleague turned Labour rebel Nessa Childers in what looks like being an incredibly tight battle for the third seat.
In the four-seater Ireland South, Labour MEP Phil Prendergast's decision to 'go nuclear' and call for her party leader to step down doesn't appear to have done her any favours. In spite of a boost in support in the weeks following that announcement, the former midwife is now polling at between 5 and 6 per cent and well out of contention. Liadh Ní Riada, a first time candidate and former TV producer, looks well on course to take a seat for Sinn Féin in the ten-county constituency.
The Adams Factor
It's a similar scenario up the road in Midlands-North West, where Labour's Lorraine Higgins looks well out of the running — hovering at between 5 and 8 per cent. SF candidate Matt Carthy's been polling very strongly in the four-seater, meanwhile — Saturday's survey in the Independent even put him top of the pile, in spite of a headline in the same paper telling us almost 50 per cent of voters believe Gerry Adams was involved in the 1972 abduction and killing of Jean McConville (charges he has always denied).
Adams himself was seen writing notes to his MEP candidates at an event earlier this month, telling them "don't say it's not coming up on the doorsteps".
However, yesterday, finance spokesperson Pearse Doherty was effectively insisting that no, it wasn't an issue on the canvass — pointing out that voters had been flocking to shake Adams' hand on recent campaign stops around the country.
Soldiers of Destiny
While a breakthrough performance from Sinn Féin appears almost certain on Friday, the fate of Fianna Fáil appears a little less clear.
While Brian Crowley, the country's longest-serving MEP, looks set to romp home once again in Ireland South, Councillor Mary Fitzpatrick is in a battle for the third Dublin seat among that tight group of candidates, which also includes the Greens' Eamon Ryan.
Saturday's Indo poll raised the prospect of the party failing to secure any seat in MNW, with Pat 'the Cope' Gallagher and Senator Thomas Byrne dividing the FF vote. This morning's Times findings had Gallagher, a sitting MEP, pulling ahead. The scenario remains a possibility, however, and there'll be more headaches for party leader Micheál Martin should it come to pass.
#Open journalism No news is bad news Support The Journal

Your contributions will help us continue to deliver the stories that are important to you

Support us now
Re-election
And what of Fine Gael's fortunes?
Well, in spite of the recent controversy surrounding water charges, Enda Kenny's party appear on course to retain four seats.
Brian Hayes' well-established media profile is helping him to a secure-looking second placing in the capital. And while the situation in Ireland South had seemed a little more precarious, a pattern is now emerging — Sean Kelly appears on course for a return to Brussels, with either Deirdre Clune or Simon Harris likely to sweep in on his coattails.
Mairead McGuinness also looks sure of re-election in MNW, where another sitting MEP, Jim Higgins, could lose out.
A 'poll of polls' to be published by RTÉ on Wednesday should give further indications of the country's voting intentions.