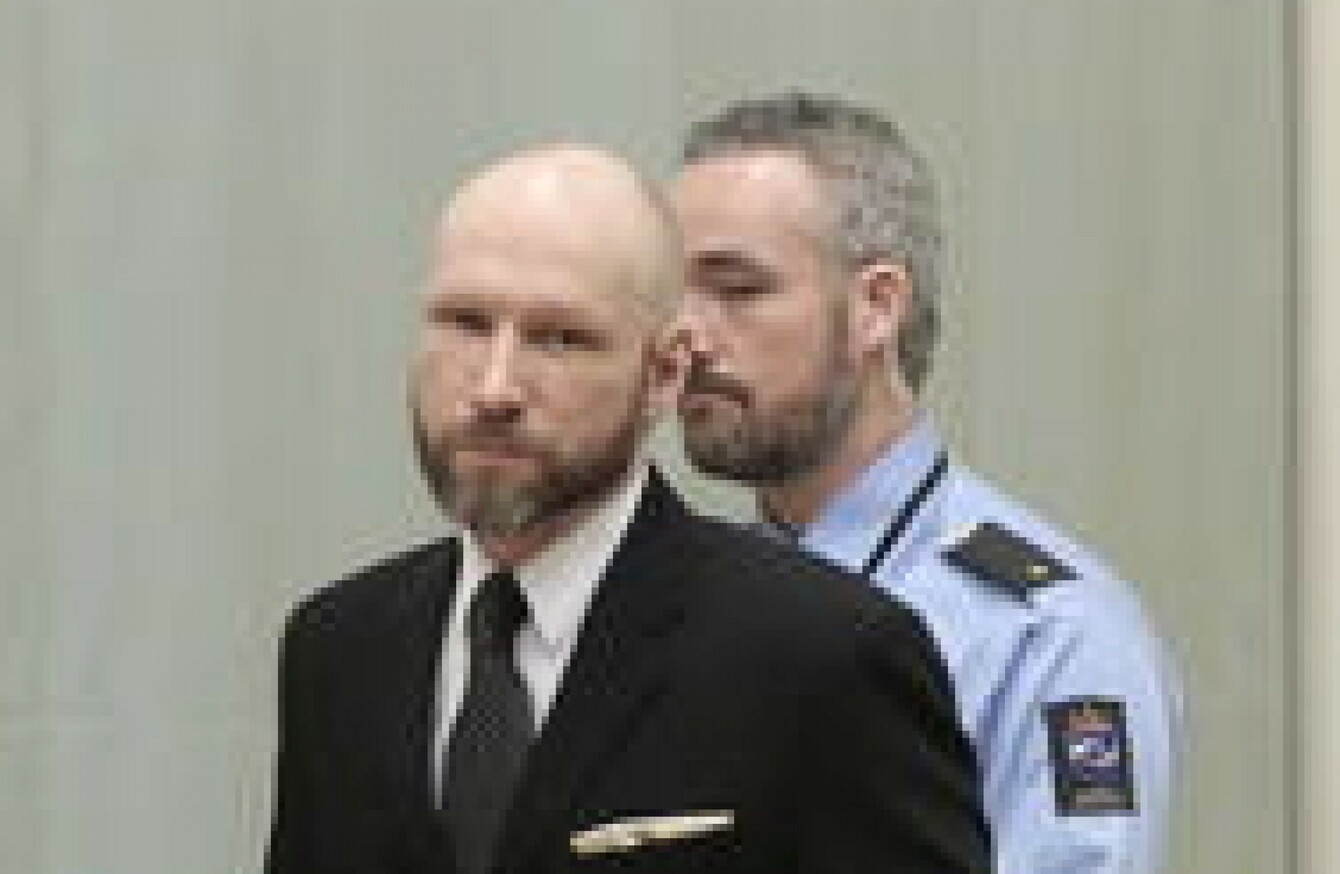 Image: AP
Image: AP
NORWEGIAN MASS MURDERER Anders Behring Breivik made a Nazi salute at the opening of an appeal case on his prison conditions today, repeating the provocative gesture he made in a lower court hearing.
The extended arm gesture earned Breivik a reprimand from Judge Oystein Hermansen, who described it as "offensive to the dignity of the court" and "disturbing."
Breivik (37) killed 77 people in an attack in 2011. He agreed not to repeat the salute.
The appeals court is examining Breivik's case after a lower court in Oslo ruled in April that his rights had been violated and he was subjected to "inhumane" and "degrading" treatment in prison, in breach of the European Convention on Human Rights.
The legal defeat stunned the Norwegian state, which has prided itself on scrupulously respecting the rule of law after the bloodiest attack on its soil since the end of World War II.
In prison, Breivik has a three-cell complex where he can play video games and watch television on two sets. He also has a computer without internet access, gym machines, books and newspapers.
On 22 July 2011, Breivik, disguised as a policeman, gunned down 69 people, most of them teenagers, at a Labour Party youth camp on the small island of Utoya, tracking them down for more than an hour as they were trapped by the chilly waters of the lake.
Earlier that day, he killed eight people with a bomb he detonated at the foot of a government building in Oslo.
While Norway attempts to turn the page on this traumatic episode in its history, the families of the victims have largely remained silent ahead of the appeals case.
None of their representatives were present at today's hearing, which concluded after more than three hours.
Far from 'human rights violations' 
In the lower court's ruling, the judge had pointed to Breivik's prolonged isolation — he has been held apart from other inmates for five-and-a-half years for security reasons — and a lack of measures to compensate for the severe regime.
Since 2011, the killer has only been allowed contact with guards and other professionals such as lawyers and doctors, behind a glass pane, with the exception of one brief visit from his mother just before she died.
The lower court ruling also questioned the many potentially "humiliating" strip searches, the systematic use of handcuffs, and frequent awakenings at night, especially in the early days of his imprisonment.
Breivik's state of mind is expected to be at the centre of the six-day hearing. His lawyer Oystein Storrvik has said the killer is "mentally vulnerable" because of his prison conditions.
But the lawyer defending the state, Fredrik Sejersted, today vehemently contested that Breivik was being treated inhumanely, noting his frequent contacts with guards, medical staff, his lawyer and a pastor.
"In many regards, he is incarcerated in better conditions than other prisoners, to compensate for the fact that he does not have any contact with the other inmates," he said in his preliminary remarks.
"We're very far from human rights violations," he said, repeatedly noting the strict regime was justified by the fact that Breivik was a highly dangerous man.
In August 2012, Breivik was sentenced to 21 years in prison, which can be extended indefinitely as long as he is considered a threat.
The three appeals court judges are also to rule on another point raised by Breivik himself.
In April, the lower court ruled the state was within its rights to closely monitor and filter the prisoner's correspondence to prevent him from forming a network capable of carrying out new attacks.
Breivik claims this violates his right to privacy, as guaranteed by Article 8 of the European Convention.
He is scheduled to address the court on Thursday, and the verdict is due in February.