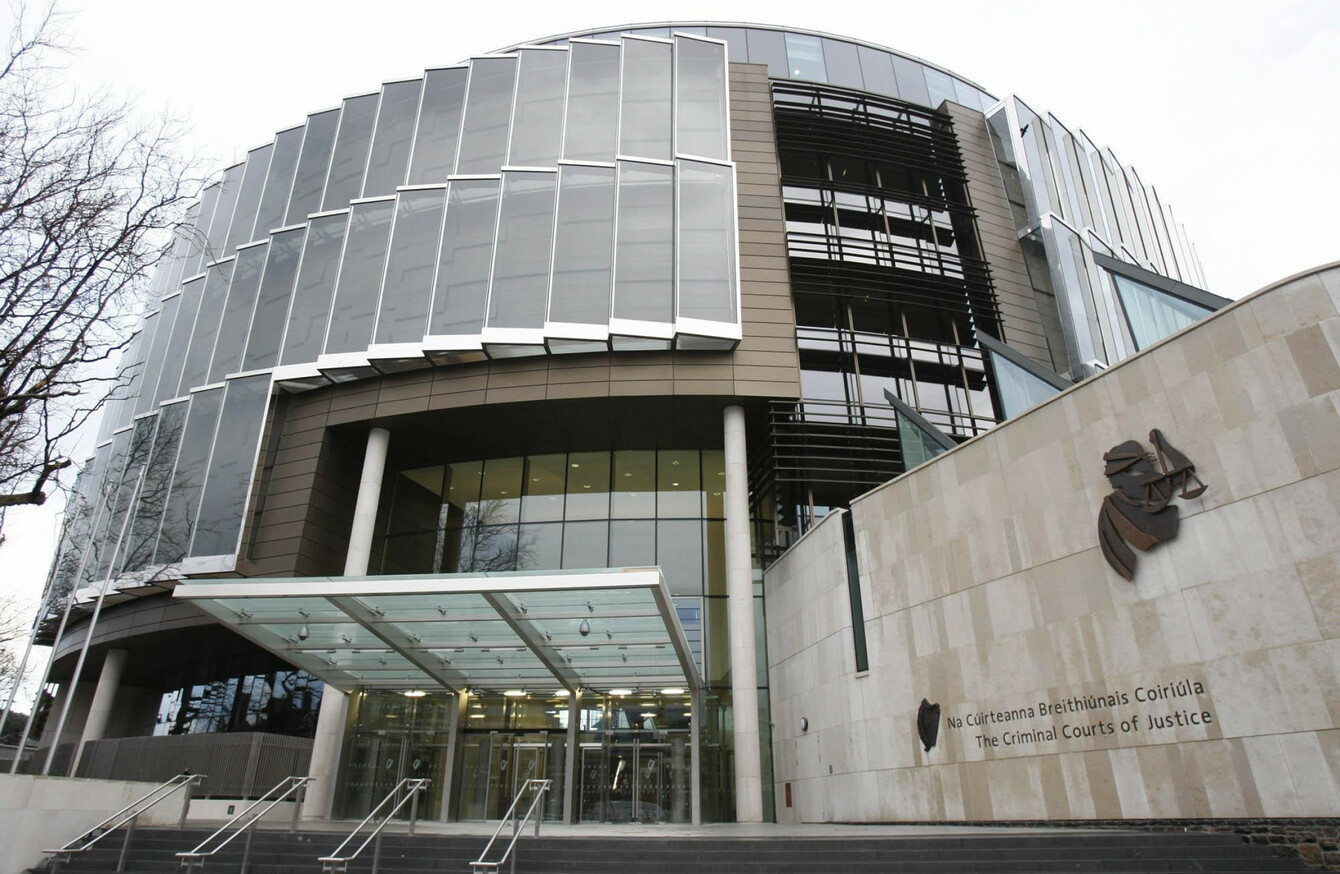 The Criminal Courts of Justice
Image: PA Archive/PA Images
The Criminal Courts of Justice
Image: PA Archive/PA Images
TWO DUBLINERS ARE will be sentenced to life in prison for murdering the cousin of one, whose body was found with 20 stab wounds on a roadside in the south of the county.
Stephen Tynan, 41, of Deerpark Lodge, Kiltipper, Tallaght, and Raymond Fitzgerald, 37, of Knockmore Grove, Killinarden, also in Tallaght both pleaded not guilty to murdering Mr Tynan's cousin, Andrew Guerrine, at an unknown place between 22 May and 23 May, 2015.
The Central Criminal Court trial heard that Mr Guerrine's body was found in the early hours of 23 May on Steelstown Lane in Rathcoole, 10km from where he was last seen alive in Tallaght.
The deceased, who was from New Street in the city, had sustained 20 stab wounds, including two that penetrated his skull and spine.
A Knockmore man, Darren Finnegan, testified that Tynan and another man had arrived at his door some time before midnight that 22 May.
They'd wanted to buy his black Peugeot 307, which he said was 'for sale' in his driveway.
He said he eventually took some cash and threw the other man his keys, with Tynan telling him he'd get the rest the following day.
He said he later realised that his child's jacket and car seat were still in the car. He rang Tynan a number of times the following day and the car seat was returned to him.
Waited in taxi
An associate of the deceased stated that Mr Guerrine had arrived at the entrance to Knockmore some time after 11.30pm that night in order to sell diazepam tablets to an unnamed person.
Luigi Forte told gardai that he had supplied the tablets to the deceased and had accompanied him to the deal's location in a taxi.
Both he and the taxi driver said that they waited in the taxi while Mr Guerrine went to an entrance into the estate.
However, they left when the deceased went out of view, with Mr Forte saying he thought Mr Guerrine had 'ripped him off'.
However, Mr Guerrine was stabbed to death some time after disappearing out of view and his body dumped on Steelstown Lane, 10km away.
It was found by a passerby in the early hours of the morning. When gardai arrived, they found a toddler's jacket entangled in his feet.
A salvage operator noticed a car on fire in a Tallaght field about 24 hours later.
He returned with his truck the next day and moved the Peugeot to his yard before taking it with other cars to be scrapped.
Sleeves over hands
However, the engine had fallen out of the Peugeot and he was able to pass this on to gardai when they arrived to speak to him.
The engine number matched that of the Peugeot that Mr Finnegan had sold to Tynan and his associate.
Through CCTV footage, gardai traced the Peugeot's movements from shortly after its purchase from Mr Finnegan
Its defective lights made it easier to recognise travelling up and down Steelstown Lane about 45 minutes later.
It was daylight by 5.20am the following day, when the two accused were captured pushing the car into a petrol station on Fortunestown Road in Tallaght.
Fitzgerald could clearly be seen holding his sleeves down over his hands and wiping the car door, in what his barrister conceded was shifty and guilty looking.
Both killers had got new phones by the time they made their statements to gardai, but detectives secured the records for their old phones.
These showed that Stephen Tynan's phone had not operated from when Andrew Guerrine was last seen alive until his body had been found.
Ray Fitzgerald's phone had been almost continuously using data throughout 22 May, but its last ever activity was shortly before 1am on 23 May.
'Hardly typical'
The phones of all three men had used the same mast on the Blessington Road shortly before midnight.
Fitzgerald's phone continued to use masts after this time, pinging off a mast in Rathcoole, about three kilometres from Steelstown Lane.
The prosecutor described the killing as pre-planned in his closing speech.
Brendan Grehan said that although there was no DNA evidence, murder weapon or eyewitness testimony to connect the accused men to the killing, the circumstantial evidence proved their guilt.
However, Sean Guerin SC, defending Fitzgerald, said that all the suspicious circumstances that the State said were attributable to his guilt could be explained by him being an accessory after the fact.
Tynan's barrister, Seamus Clarke SC, said that his client was "hardly the typical candidate for the gruesome attack" on his own cousin, but might have stupidly got involved in the aftermath.
Both lawyers asked for an acquittal.
Common design
Mr Justice Michael White told the jury that there was an alternative verdict available: being an accessory after the fact.
He read out Section 7 (2) of the Criminal Law Act 1997, which states that it is an offence to impede the apprehension or prosecution of someone who has committed an arrestable offence.
The five women and seven men of the jury began considering their verdict on Wednesday and were given the option of reaching a majority verdict on Friday morning.
They returned with a question later in the morning: "If someone has prior knowledge that harm is going to be inflicted on another person and the person dies of a result of that harm, are they guilty of murder on accessory before the fact?"
Mr Justice White said that their question specifically related to knowledge or 'mens rea', but that it also related to another legal principle, joint enterprise or common design.
"Guilty knowledge is a prerequisite of murder," he said, before reading out the legal definition of murder.
He also defined joint enterprise or common design for them, explaining that where two people embarked on a joint enterprise, all parties to that agreement were criminally liable.
He said he was placing an emphasis on the word 'embark'.
No reaction
The jurors returned to the jury room and had deliberated for a total of 10 and a half hours before reaching their verdicts.
They found both men guilty by a majority of 10 to two.
Neither accused gave any reaction when the verdicts were read out, but a number of their supporters sobbed quietly.
Mr Justice White thanked the jurors for their service and patience in the "very difficult case" and excused them from jury service for life.
He adjourned sentencing until 19 December to give the Guerrine family a chance to prepare a victim impact statement.
Comments have been closed as sentencing has not taken place.