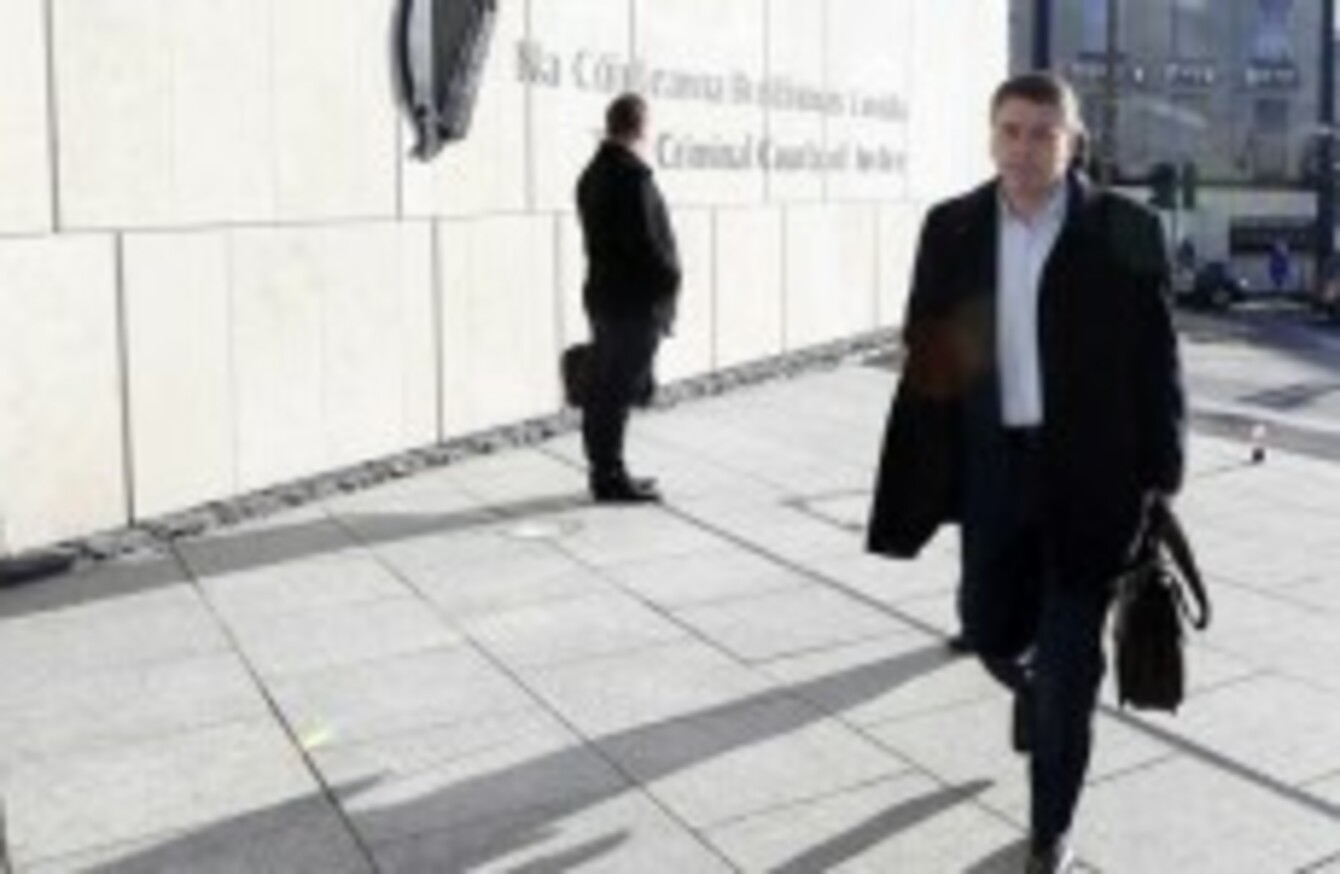 Pat Whelan arriving at the Dublin Circuit Criminal Court.
Image: Sam Boal/Photocall Ireland
Pat Whelan arriving at the Dublin Circuit Criminal Court.
Image: Sam Boal/Photocall Ireland
AN EMAIL FROM former Anglo CEO David Drumm to the head of Anglo UK Declan Quilligan about the Maple 10 plan simply said 'Regulator squared' in the subject bar.
The trial of three former Anglo executives was shown the email correspondence today with Drumm's initial email having nothing in the body of the email.
In the 9 July 2008 correspondence, Quilligan replied, "Excellent, hope he was grateful", followed by the response from Drumm:
Excited I would say – I'd say he's lying awake at night like the rest of us.
Quilligan was continuing his evidence in the Anglo Trial today and gave details of the problems the bank was experiencing in raising capital to replace Seán Quinn's shareholding.
He said that although at least four other options were explored, the 'Maple 10′ deal to lend to investors to buy shares became the only viable one.
"We ran out of options, to do nothing wasn't an option," he told the Dublin Circuit Criminal Court.
"Quinn' s CFD holding would have had to be wound down in another way and that could have been catastrophic."
Quilligan said that he was asked by Drumm to investigate if there would be any current Anglo investors in the UK interested in investing further.
He said that he felt there would not, describing the attitude of investors in the UK as "more clinical" who had less of a personal connection to Anglo as Irish investors.
"The relationship we had with clients in England wasn't as great as it was in Ireland," he said.
"Clients we banked for in the UK might have five other banks, in Ireland they might have one other bank."
Other options explored at the time included a deal with Rabobank to purchase ACC Bank  as well as securing investment from Bain Capital. Although there were meetings with parties on both these options, neither came to anything.
"I think we approached Rabobank about taking ACC off their hands," said Quilligan.
The benefit for Anglo would've been that it would  have given us great capital, reduced the Quinn issue and given us AAA rating.
Raising capital
Quilligan, who was head of lending in Ireland until 2005,  said that securing investment in 2008 was proving very difficult because of the global financial crash:
"It wasn't personal to Anglo. Because of the uncertainly at the time investors were reluctant to invest in banks," he said.
He described how even discussing the prospect of securing funding from investors at that time raised suspicions about the health of a bank's balance sheet.
"You'd go meet with an investor at the time and they're hearing these rumours, they might be rattled."
"If you met them you were almost showing weakness," he added.
Issuing a statement about the bank's health also wasn't an option:
It's a dilemma, if you come out and make a statement and say that our funding is strong, people would begin asking 'why are you making a statement, why don't you  just ride it out?'.
Counsel for Pat Wheln, Lorcan Staines, described that doing so would be, "a little bit like a vote of confidence in a Premier League manager." Quilligan agreed.
Quilligan said didn't get confirmation of the final 'Maple 10′ deal until September 2008 and that he felt it was a good deal for not only Anglo, but for the country.
"The first I ever heard any discomfort with it was after the bank was nationalised, from media reports….I just felt that the entire story wasn't being told."
"Everybody was aware of it and felt it was good for the Irish banking system."
"Six months later it was held up as an example of bad governance, I never felt that."
The trial of former executives Seán Fitzpatrick, Pat Whelan and Willie McAteer continues.