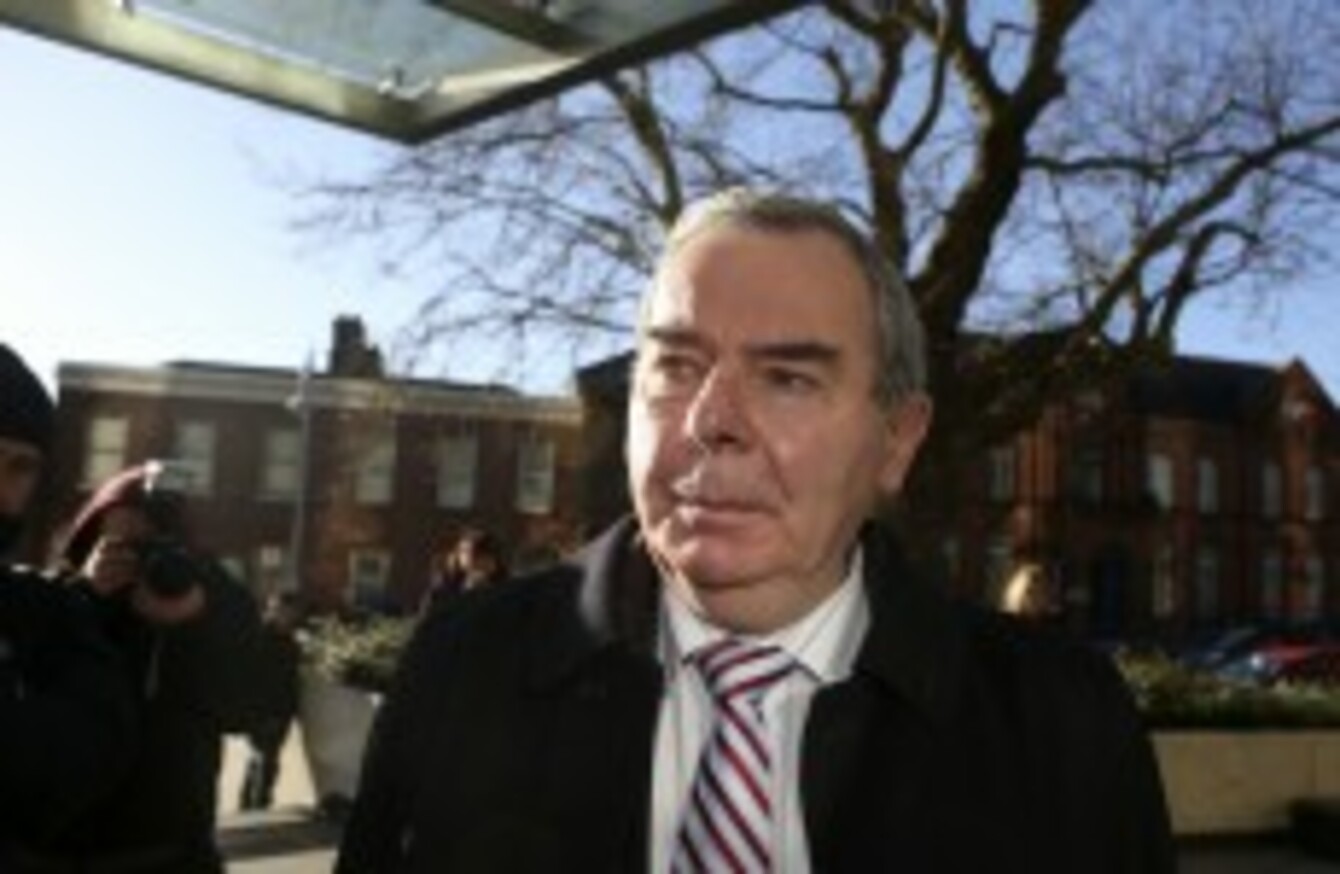 Sean Quinn arriving at the Dublin Circuit Criminal Court today
Image: Photocall Ireland
Sean Quinn arriving at the Dublin Circuit Criminal Court today
Image: Photocall Ireland
SEAN QUINN, ONCE the richest man in Ireland, lost at least €2.4 billion through his investment in shares in Anglo Irish Bank, the court at the Anglo trial has heard.
Quinn's former CEO Liam McCaffrey said that Quinn had "paid a very high price for investing in that bank".
"In fairness, he paid a very high price for investing in CfDs [Contracts for Difference], if that can be called investing," responded Brendan Grehan, the barrister for Pat Whelan, one of the accused.
"It's a matter of terminology," said McCaffrey.
The entire third day of the trial of three former senior Anglo executives was taken up with cross-examination of McCaffrey, who was the CEO of the Quinn Group at the time of 2007 and 2008. Sean Quinn, who is due to be called as a witness, was in court for the whole day, sitting beside the jury box.
Asked if Quinn had lost €2.4 billion in a "spectacular punt", McCaffrey replied: "At least".
Winding up
When asked if he had had any concerns about the legality of the transaction to wind up Sean Quinn's holding in the bank, McCaffrey said he hadn't.
McCaffrey told the court that he had been told by Anglo that their lawyers Matheson Ormsby Prentice, the Financial Regulator, and Morgan Stanley had all known about the transaction.
The court saw a copy of a press release issued by the Quinn family on  15 July 2008 to say they were unwinding the interests held in Anglo through CfDs. The press release quoted Sean Quinn as praising the bank, saying:
In recent years, we have been highly impressed with Anglo's ability to outperform the banking sector in terms of profit growth and we are confident that this trend  can be maintained over the longer term, notwithstanding the current difficulties being experienced in international banking.
In a graph shown on the large-screen televisions in the courtroom, Brendan Grehan SC noted that the share price of Anglo had risen immediately after the transaction in July but fell again by the end of the month. It rose again briefly but then continued to 'inexorably' fall through 2008 until, Grehan noted , "just like one of those lines in a hospital monitor, it goes flat".
David Drumm letter
The court was shown a letter sent by Sean Quinn to Anglo CEO David Drumm in July 2008 in which Quinn said he wished to "express [his] concerns around the events which took place between 9 July and the evening of 14th July when we completed the transaction on the Anglo shares".
Quinn says he appreciates Anglo's support during what was a "difficult period" for the Group. "However," he writes "I am not sure that we were treated fairly during this period which represented a five year low in the Anglo share price".
#Open journalism No news is bad news Support The Journal

Your contributions will help us continue to deliver the stories that are important to you

Support us now
Quinn said he had put forward an alternative proposal to sell enough shares to provide €100 million in cash, which Brendan Grehan said would have been "a drop in the ocean" in terms of the debt.
Quinn had been adamant that he had not wished to wind-up his holding in the bank and had been optimistic that the share price would improve, McCaffrey said. The court had previously heard that just hours before the transaction began, Quinn had held a conference call with Anglo during which he had asked for the deal not to go ahead.
"I am writing this letter to you personally without the benefit of advice from my colleagues or legal advice," he wrote in the letter to David Drumm. "I strongly believe the actions of the bank were ill-advised and will have a considerable impact on our wider Group for many years".
Quinn was expected to be called as a witness today; however Judge Martin Nolan ruled that he will instead be called on Monday morning as the court had only fifteen minutes of hearing time left when the prosecution called Quinn.
The trial at Court 19 of the Dublin Circuit Criminal Court will resume at 10.30am on Monday morning.
Three former executives of Anglo Irish Bank – one-time chairman and CEO Sean FitzPatrick of Greystones, William McAteer of Auburn Villas, Dublin 6, and Pat Whelan of Malahide – have pleaded not guilty to 16 counts of unlawfully providing financial assistance to individuals to buy shares in the bank.