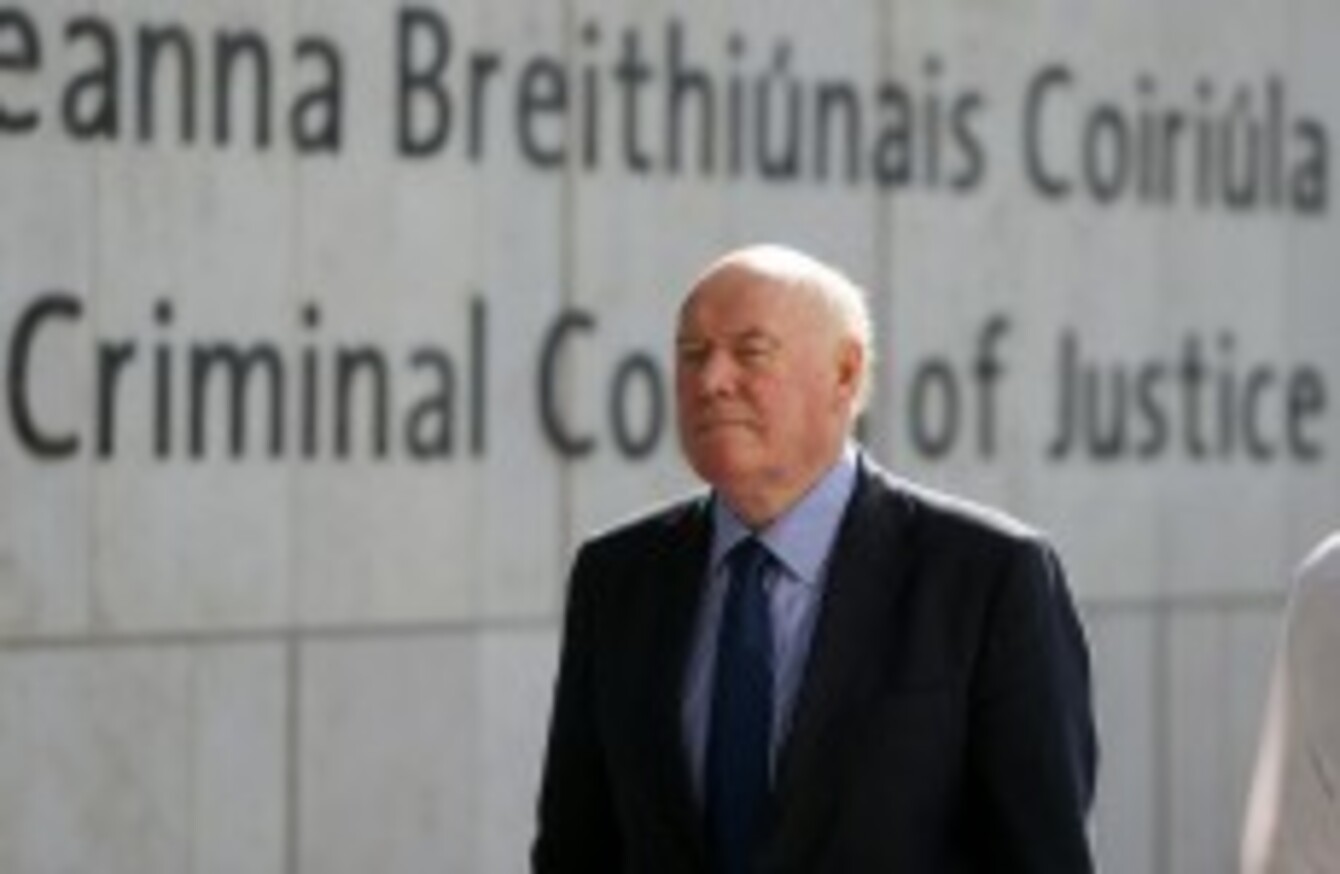 Pictured arriving at the Central Criminal Courts of Justice in Dublin is Bernard Daly (65)
Image: Sam Boal
Pictured arriving at the Central Criminal Courts of Justice in Dublin is Bernard Daly (65)
Image: Sam Boal
THREE FORMER ANGLO Irish Bank officials have been convicted of conspiring to conceal or alter bank accounts connected to chairman Sean FitzPatrick from Revenue.
Former chief Operations Officer Tiarnan O'Mahoney, former company secretary Bernard Daly and former assistant manager Aoife Maguire were found guilty on all charges by the jury after nearly seven hours deliberations and a two month trial.
The returning of the verdict was delayed due to an anonymous claim that the foreman's wife was good friends with Maguire.
Verdict reached
The signal came just before 1pm today that a verdict had been reached but when the court sat minutes later prosecuting counsel Dominic McGinn SC said an issue had arisen.
He said in the past 10 or 15 minutes the office of the DPP had received a phonecall from someone who said the jury was not "wholly independent".
The caller said there had been some contact with the jurors. He would only give his first name and refused to give any other details.
The court heard the caller stated that Ms Maguire and the foreman's wife knew each other.
Mr McGinn asked the judge to delay taking the verdict because "if there is some indication of jury tampering or irregularity" nothing can be done once the verdict is returned.
Investigating the matter
Counsel asked for the jury to be sent to lunch while the prosecution investigated the matter. Judge McCartan agreed to send jurors away until 2pm.
After lunch the prosecution said the caller had gotten some facts wrong and that this indicated they were not telling the truth. Mr McGinn said his instructions were for the court to take a verdict.
Brendan Grehan SC, for O'Mahoney, objected and said he wanted the jury discharged. He said the sanctity of the jury deliberations were breached and that there was a suggestion that there was undue influence on jurors.
Judge McCartan refused and ordered that the verdicts be taken. The judge asked the jury foreman if he was married and if his wife was friendly with Maguire. The foreman said she wasn't and this was accepted by the judge.
Sentences
Daly and O'Mahoney face five-year terms for supplying incorrect information to Revenue. All three face indeterminate sentences for the charges of conspiracy.
Maguire began to weep as the verdicts were read out while Mr Daly and Mr O'Mahoney remained expressionless.
Judge Patrick McCartan said he was very concerned about what happened over lunch and that he "regretfully" was going to remand the three in custody until sentencing.
He said the events over lunch were indicative of the mischief that can be created although he wasn't blaming it on any of the accused.
He set a sentencing date of August 28th.
Daly (65) of Collins Avenue West, Whitehall, Dublin, O'Mahoney (54) of Glen Pines, Enniskerry, Co. Wicklow and Maguire (60) of Rothe Abbey, South Circular Road, Kilmainham, Dublin had pleaded not guilty to seven alleged offences committed in 2003 and 2004.
They conspired to hide or omit accounts, connected to Mr FitzPatrick from Anglo's Core Banking System (CBS) or from documentation provided to Revenue, who were conducting an investigation into bogus non-resident accounts which may have been liable for Deposit Interest Retention Tax (DIRT).
Allegations about concealing information
The case against O'Mahoney was that he asked employees to conceal bank accounts from Revenue which was investigating the bank in 2003 and 2004. He was alleged to have asked one staff member if she would omit an account from a list being given to Revenue. The court heard she was reassigned when she refused.
Daly was alleged to have been directing a team which was providing information to Revenue during the audit. Jurors were told that all information went to him on a daily basis. He was also accused of asking a staff member if they would conceal account information.
The court heard Maguire was assigned to the team working with Revenue but worked in a different office to the others. It was alleged she acted as a mole in the team and that she alone reported directly to O'Mahoney.
She was also accused of telling the IT department to delete a list of accounts connected to Mr FitzPatrick.
Judge McCartan told the jurors that the bank itself was not on trial and that they must only judge the guilt or innocence of the three accused. The accused's barristers asked the jury not to treat their clients as proxies for the defunct bank and to leave any animosity towards Anglo at the door.
The accounts concerned were connected to Mr FitzPatrick in various ways. One was in the name of his brother-in-law John Peter O'Toole who lived in Australia. Bank records showed numerous transactions made on the account by Mr FitzPatrick in Dublin.
The jury heard that Revenue did eventually receive the O'Toole account which was a genuine off-shore account and not liable for DIRT.
However Judge McCartan told the jury that the offence of conspiracy occurs when there is an agreement to commit a crime. It does not matter if that crime was successfully completed.