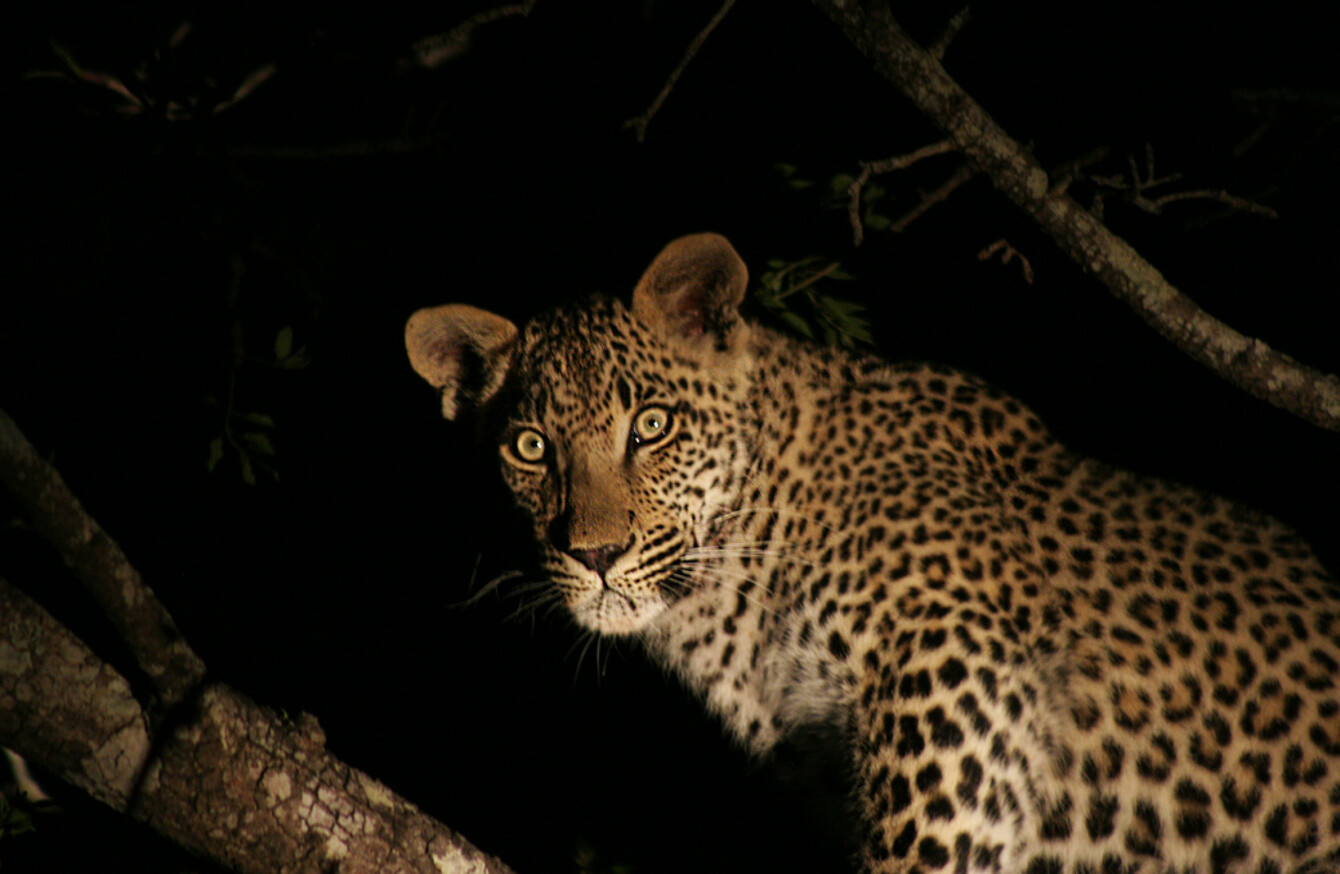 A leopard at night
Image: Shutterstock/Daniel Benda
A leopard at night
Image: Shutterstock/Daniel Benda
ANIMAL ARE BECOMING more active at night in a bid to avoid contact with humans, researchers have said.
A new study explores the impact animals changing their behaviour for this reason has on their own physiology and fitness, and how it can alter food chains.
To more fully understand the impact of humans on the daily activity patterns of mammals, Kaitlyn Gaynor from UC Berkeley and other researchers have conducted a large-scale analysis of 76 studies of 62 species from six continents.
These studies monitored animal activity using tools such as GPS trackers and motion-activated cameras. The researchers used this information to compare the nighttime activity of each species during seasons of high and low human disturbance.
Lethal and nonlethal risks 
The analysis spanned a wide range of human disturbances associated with different levels of risk to wildlife, including lethal activities such as hunting, and nonlethal activities such as hiking, urban development, road construction and agriculture.
"There was a significant increase in nocturnality in response to all forms of human presence," the paper notes, adding that animals changed their behaviour when dealing with both lethal and nonlethal risks, suggesting they "perceive and respond to humans as threats even when they pose no direct risk".
Researchers said they found a "marked increase in nocturnal activity" among mammals living alongside people.
"Overall, mammal nocturnality increased by a factor of 1.36 in areas or time periods of high human disturbance relative to nocturnality under low-disturbance conditions.
"For example, an animal that typically split its activity evenly between the day and night would increase its proportion of nocturnal activity to 68% of total activity near human disturbance," they wrote.
#Open journalism No news is bad news Support The Journal

Your contributions will help us continue to deliver the stories that are important to you

Support us now
Impact on fitness and reproduction
The authors of the research, which was published in the journal Science, said these shifts in animal behaviour may help humans and animals coexist. However, they will likely also have negative implications.
The separation of humans and wildlife in time, if not space, may also limit contact rates between people and dangerous animals and therefore reduce some forms of negative encounters between the two, such as disease transmission and attacks on people.
"In situations where humans pose a lethal threat to wildlife, increased nocturnality may be advantageous to individual animals and has been linked to increased probability of survival," the study's authors note.
However, they can have "negative and far-reaching ecological consequences", affecting the animal's fitness and reproduction. The authors note that the "nonlethal effects of humans may have an even stronger influence on fitness and evolutionary trajectories".