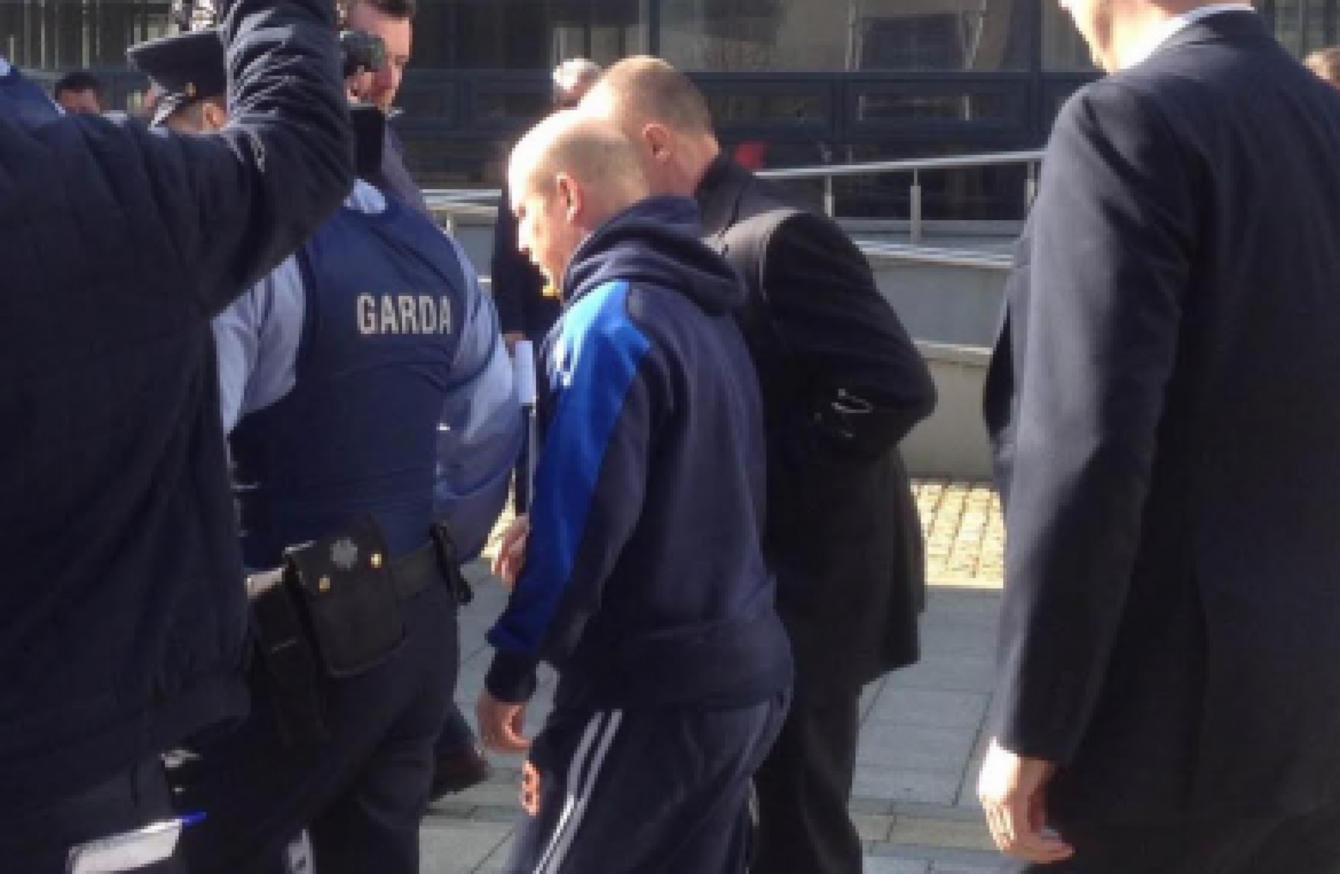 Roy Webster leaving court in 2015
Image: Rónán Duffy/TheJournal.ie
Roy Webster leaving court in 2015
Image: Rónán Duffy/TheJournal.ie
A MURDER ACCUSED told gardaí he went home for dinner and fell asleep in front of his TV after beating a woman to death with a hammer, his trial heard today.
The jury has heard evidence that Anne Shortall told Roy Webster she was pregnant with his child and wanted money for an abortion, but it emerged today that a pathologist's report showed she was not pregnant.
Roy Webster (40) from Ashbree, Ashford, Co Wicklow has pleaded not guilty to murder but guilty to the manslaughter of Anne Shortall (47) on Good Friday, 3 April, 2015 at the Murrough, Co Wicklow. His plea was not accepted by the State.
Detective Sergeant Fergus O'Brien told prosecuting counsel Paul Greene SC he interviewed Webster at Wicklow Garda Station on 7 April, 2015. During that interview Webster told gardaí he hit Shortall on the head with a hammer "three or four times" after she threatened to tell his wife about their affair.
He said he felt like he was having an out of body experience, watching himself attack her, but once it was done "it was like I was back in my own skin". He said he drove to a Centra shop, called his wife, returned home, had a cup of coffee, ate dinner and fell asleep on the couch in front of the television. "It was like everything was back to normal, like I was myself again," he said.
'Like watching a horror movie'
Detailing the build-up to the attack, he said he and Shortall met in Wicklow town and she got into his van. She told him she was pregnant from the sexual encounter they had the previous Christmas and wanted £6,500 (about €7,400) to travel to England for an abortion. He told her he wanted proof that she was pregnant, but she told him it was true and she didn't need to prove it.
He said she "started to go off" and threatened to ring his wife. "I was thinking to myself, 'This can't be happening'," he said, but she kept telling him she knew where he lived and was going to "blow the lid" if he didn't give her the money.
He told gardaí he begged her: 'Please don't, please don't. I have a wife and child. Don't ruin that for me.' He said his head was spinning. "I could see my whole world coming down," he said.
By now he was out of the van and was standing beside her at the passenger side door. He wanted to reason with her, he said, but then he swung the van door open and took the first thing he saw, a hammer. "I hit her a belt with the hammer and she fell back in the van," he said.
Webster told gardai she was still conscious and said to him 'You fucking prick. I will fucking ruin you.'
He said he hit her four or five times. It felt like he was looking at someone else doing it, "like watching a horror movie," he said. Afterwards, he couldn't believe what had happened. "I was petrified," he said. "It was like she had me against a wall."
He said he then taped up her head, thinking the tape might stop the bleeding, and taped her hands "to stop her flailing around". He said he didn't know she was dead and that it was "like I was out of my mind". He described his feelings as a mixture of "fear and panic" and said he had not intended to kill her.
'Pyjama day'
With her bloodied body still in the van he drove to a nearby Centra "on autopilot". At the shop he rang his wife and asked her if she needed anything. "It was like I was back in my own skin," he said. He then went home and went inside with Anne's body still in the van.
He had a cup of coffee, describing the feeling as like a switch had been turned off. "I didn't think about it any more," he said, adding that he got into his routine. He had dinner, watched television and fell asleep on the couch. "It was like I blanked it," he added.
The following day he went to Arklow with his wife to do some shopping. Later that day he was getting logs for the fire and needed something from the van. When he opened the van door he saw Anne's body and thought, 'I will have to get her out'.
He put her in his workshop, but was surprised she was so stiff so quickly. The next day, Easter Sunday, he had a "pyjama day".
When gardaí asked him why he taped her up, the accused said he didn't know and he wasn't thinking straight. "I wasn't really thinking at all," he added.
Gardaí asked him if he knew she was going to die in his van and he said: "I'm not a doctor. I wouldn't know how much blood you would have to lose before you die."
When gardaí told him that the pathologist's report showed she had been struck on the head nine times he said he didn't remember hitting her that many times. When they said she had bruising on her neck he said he had no recollection of manhandling her.
Gardaí asked: 'Why did you kill her?' and he responded: "I hit her because she was threatening my family and my livelihood."
As the interview continued the pathology report by State Pathologist Marie Cassidy confirmed that Shortall was not pregnant. When he heard this Webster said: "I fucking knew it."
The trial continues tomorrow in front of Justice Patrick McCarthy and a jury of seven men and four women.
Comments are closed as legal proceedings are ongoing.