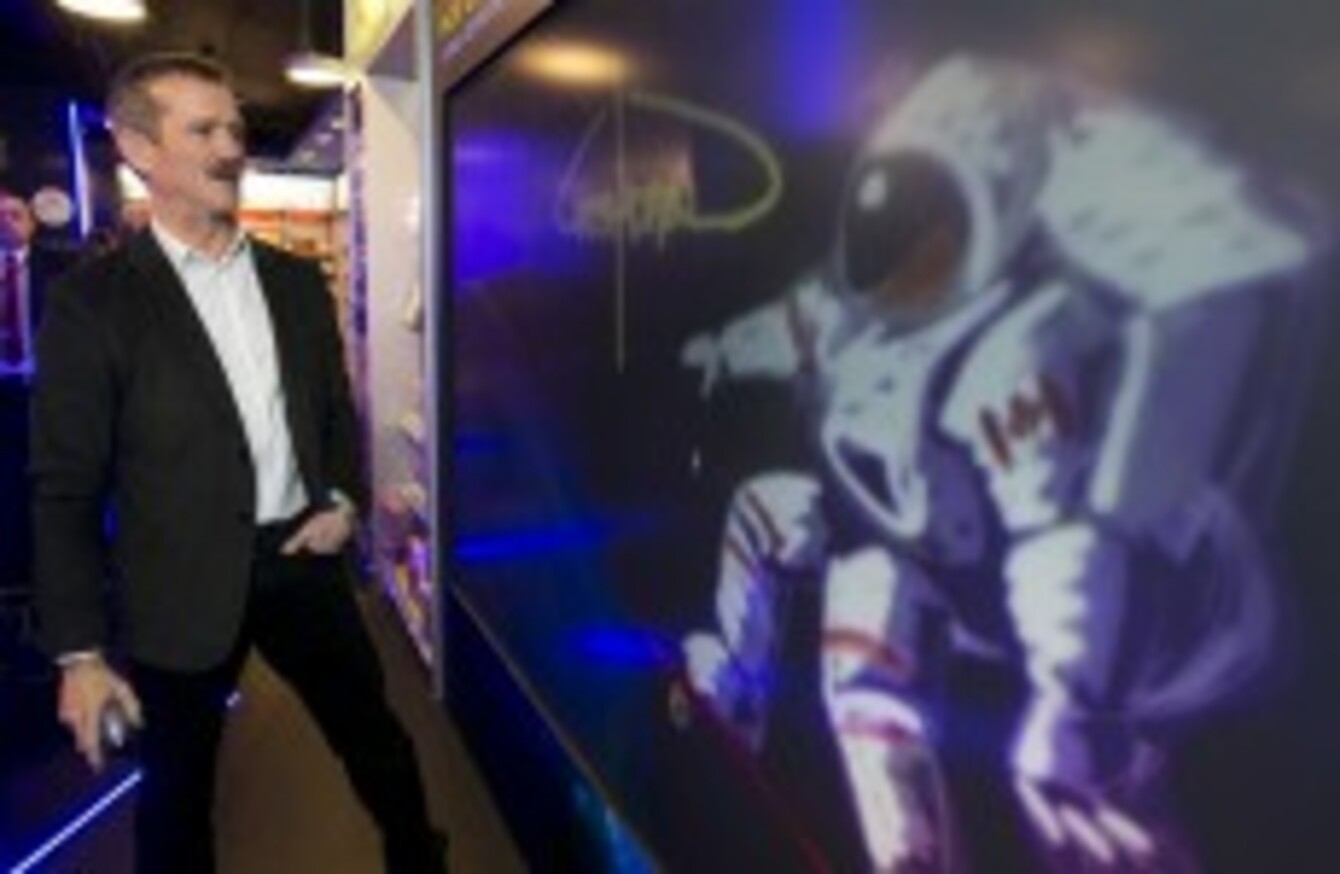 BOIL THE KETTLE, rustle out the last of those Chrismas cookies, find a comfortable chair and settle down to test your 2013 news knowledge.
One proviso before we begin — you'll need to make a pact with yourself not to cheat! It's just for fun, so if you decide to just Google everything — well, you're only fooling yourself!
We're taking it month by month, so it may well get easier as we go along.
For the moment though, we cast our minds back to a time when Lucinda Creighton was still a high-flying junior minister, and your grandmother was blissfully unaware that 'twerking' was a thing…
Oh, and you may need a pen and paper!
JANUARY
[Photocall]
1. "Yes, standard orbit captain, and we're detecting signs of life on the surface". Commander Chris Hadfield sent this message from space via Twitter. But who was he talking to? William Shatner (aka 'Captain Kirk')
2. "A businessman and friend". That's how Vladimir Putin described this well-known Frenchman before granting him Russian citizenship. Who are we talking about? Gérard Depardieu
3. "100 per cent" of prison inmates thought he shouldn't have been behind bars, according to this Irish businessman who spent some time in jail. Who? Seán Quinn
4. "Collusion at senior levels" took place in the misappropriation of €4 million in Irish aid by which nation? The cash was handed back in January. Uganda
5. Villagers "exploded with joy" as children received a kilo of candy each to mark the birthday of which Asian head of state? Kim Jong Un
6. "President Obama has officially decided I am NOT being deported". Which TV interviewer said this on Twitter, after some Americans took issue with his comments on gun control? Piers Morgan
7. "Under no circumstances will I step down". Which ex-Labour TD said this about his elected role within the party? Colm Keaveney
8. Regularly asked "what you talkin' about" over the eight-year run of 'Diff'rent Strokes', one of the most popular US sitcoms of the 70s and 80s, actor Conrad Baines died in January, aged 89. What character did he portray in the show? Mr Drummond
9. "He paid for the course entirely out of his own resources and no public funding at all was involved": The Irish Mail apologised to which Irish ex-politician, after publishing pictures of him attending Stanford University. Brian Cowen
10. The White House officially rejected a petition to build a real-life version of which fictional space station because of a "fundamental flaw that can be exploited by a one-man starship"? The Death Star
FEBRUARY
1. Picture clue! Pictured above are members of the Norwegian Army, engaging in an internet dance craze that swept the world back in February. What was it called? The Harlem Shake
2. Two RTÉ current affairs veterans joined forces for the new line up of Prime Time, alongside younger anchor Claire Byrne. Their names please. Miriam O'Callaghan & Pat Kenny
3. Michael D. Higgins had to cut short a visit to Italy to sign emergency legislation, approved after a dramatic overnight Dáil sitting. What was the aim of the Bill? Enabling the liquidation of the IBRC, the former Anglo Irish Bank
4. "Wud climb back in window but drainpipe broken". Which high-profile TD and social media aficionado got locked out of his home and live tweeted the entire  ordeal? Gerry Adams
5. Which practice was formally outlawed in Mississippi — 150 years after it was abolished in the rest of the US? Slavery
6. There was a daring €37 million heist at Brussels Airport. Of what? Diamonds
7. He starred in The Good Life, and had a role opposite Robert De Niro in Kenneth Brannagh's Frankenstein, and he died aged 79 in February. His name, please… Richard Briers
8. Enda Kenny issued a formal State apology. To whom? The women committed to the Magdalene Laundries
9. Which political party announced legislation aimed at creating a new national holiday on the anniversary of the Easter Rising, to be called 'Lá na Poblachta'. Sinn Féin
10. Which former muse of Woody Allen Tweeted that "you can tell who's doing coke" during the Oscars? Mia Farrow
MARCH
1. 2013 was a big year for both Morrissey and Robbie Keane [pictured above] with the singer releasing his much anticipated autobiography and the Republic Of Ireland striker (amongst other achievements) making this child's day on the Late Late Toy Show. News also emerged of a bizarre connection between the two. What is it? They're distant cousins
2. President Higgins said he was "very sorry" hear of this world leader's death aged 58, while Eamon Gilmore said he had been "an important figure on the world stage". Who? Hugo Chavez
3. "The five of us are determined to be back on air together as soon as possible" read their statement after the broadcast team formerly known as 'Off the Ball' left Newstalk. They now trade under a different name. What is it? Second Captains
4. Keith O'Brien admitted after stepping down from his role in the Catholic Church that his sexual conduct had "fallen below the standards expected of me". What was the position he resigned from? Cardinal/Archbishop of St. Andrews & Edinburgh
5. Which Irish politician displayed a unique interpretation of the social media term 'fraping' in an Oireachtas commitee meeting? Senator Fidelma Healy Eames
6. Which outspoken TD effectively blew the whistle on himself and revealed in the Dáil that he had had penalty points quashed on two separate occasions? Luke 'Ming' Flanagan
7. Who won the Meath East by-election? Helen McEntee
8. Fans of 'Withnail & I' knew him as 'Uncle Monty'. This well-loved British actor died in March, aged 65. His name, please? Richard Griffiths
9. Youth advice website Spunout.ie was forced to defend itself from criticism from Fine Gael's Michelle Mulherin over an article on which sexual practice? Threesomes
10. "The greatest guitarist in the history of sound," is how Slash was described when introduced on stage in Dublin by which US actor said to draw his power from the blood of tigers. Charlie Sheen
APRIL
1. "Did you throw it away right afterwards or did you wait until you got back to the hotel?": Graham Norton's question to Tom Cruise, after the movie star was presented with which honour by Tánaiste Eamon Gilmore during a promotional visit to Dublin? A Certificate of Irishness
2. Releasing a statement, saying she no longer wanted to support a Government that is "actually hurting people," which Labour MEP confirmed she was leaving the parliamentary party? Nessa Childers
3. "Her role in international affairs was equally belligerent whether in support of the Chilean dictator Pinochet, her opposition to sanctions against apartheid South Africa; and her support for the Khmer Rouge." Who was Gerry Adams talking about? Margaret Thatcher
4. Announcing he would be waiving a €100,000 bonus, and citing plans to return home to London to pursue other interests, this man announced he would be stepping down from his role as Irish Financial Regulator. His name… Matthew Elderfield
5. Actor Wesley Snipes was released from prison in the US after serving a three year sentence. What for? Tax evasion
6. Several animal artefacts were stolen from the National Museum Archive in Swords, Co. Dublin. What were they? Rhino heads & horns
7. "The costs are not small but, given the level of public interest and the international significance, are justifiable," RTÉ head of news Kevin Pankhurst was speaking about the broadcaster's €167,000 spend on coverage of which international event? The selection of the new Pope
8. A surprising twist: In the wake of the horse-meat scandal, Ikea pulled its moose lasagne from the the shelves after it was found to contain traces of which meat? Pork
9. Famous for his trademark phrase "two thumbs up," this renowned American film critic and Pulitzer Prize winning journalist passed away in April. His name, please… Roger Ebert
10. It was announced that Jay Leno is to leave US TV institution The Tonight Show (again). Which former Saturday Night Live star, known for his inability to keep a straight face alongside Will Ferrell, is to take over as host in February? Jimmy Fallon
MAY
1. A German current affairs TV crew arrived in rural Kerry to interview the gentleman pictured above for a segment about drink driving. Who is he? Danny Healy-Rae
2. His take on Europe's austerity policies in a newspaper interview led to criticism from some quarters that this Irish office-holder had overstepped the remit of his role. Who are we talking about? President Higgins
3. Thin Lizzy fans in Dublin and around the world were said to be 'outraged'. Why? The statue of Phil Lynott was knocked over and damaged
4. Boston Cardinal Seán O'Malley refused to attend an event in the city due to the planned presence of which Irish politician? Enda Kenny
5. He gained worldwide media attention during Hurricane Sandy, and in May this  portly US Republican politician revealed he had undergone gastric band surgery? His name, please… Governor Chris Christie
6. A row erupted between Alan Shatter and Independent TD Mick Wallace over a comment made by the Justice Minister when the two appeared on Prime Time. What was the issue? Shatter said that Wallace had received a garda warning for using a phone while driving
7. A Fine Gael TD's assistant was accused of taking a bizarre course of action to protect his boss from negative publicity. What was he said to have done? Taking hundreds of copies of a free newspaper from local shops
8. Alex Ferguson's resignation as Manchester United manager made headlines worldwide. How many years was he in charge at Old Trafford? 27
9. Founding member and keyboardist of The Doors and the man responsible for the immortal organ solo on 'Light My Fire', this musician died on 20 May aged 74… Ray Manzarek
10. This Cork radio personality, who last made the headlines over an incident on board an airplane, was criticised over a scripted on-air lecture criticising Irish society for, amongst other things, providing 'medical cards to Africans while Irish children go sick'. What's his name? Neil Prendeville
JUNE
[Peter Morrison/AP/Press Association Images]
1. A movie about the murals in Belfast was released on Netflix on 1 June. It was produced by which Hollywood actor, better known for his comedy roles alongside the likes of Owen Wilson and Ben Stiller? Vince Vaughan
2. The Editor of the Irish Examiner said the people of Limerick were "jumping to the wrong conclusion". Why were the residents of the Treaty City upset at the newspaper? They were complaining over the erection of a billboard depicting the city as a 'crime scene'
3. A Dublin-born academic was named by the White House as the new US ambassador to the UN. Her name? Samantha Power
4. "Someone who wants to be pope does not really like themselves". Who said this? Pope Francis
5. Describing herself as a "wife" and "mom" as well as a "pantsuit aficionado", this world figure joined Twitter in June. Who? Hillary Clinton
6. The country marked the 25th anniversary of one of the country's most notable sporting moments on 12 June.  What were we celebrating? Ray Houghton's goal against England
7. A high-profile Fianna Fáil TD drew criticism over his comment that, in certain circumstances, the State should pay for ministers' partners or spouses to travel with them on official overseas trips. His name, please. John McGuinness
8. Author of the The Wasp Factory, Complicity and The Crow Road, this Scottish writer died on 9 June at the age of 59… Iain Banks
9. He would hold an historic phone conversation with President Barack Obama later in the year, but this moderate cleric was elected as the 7th President of Iran on 15 June. His name? Hassan Rouhani
10. "You showcased us as a nation of pimps – prostituting ourselves in return for a pat on the head": Which left-wing TD said this to the Taoiseach, in the wake of the Obama family's visit to Ireland? Clare Daly