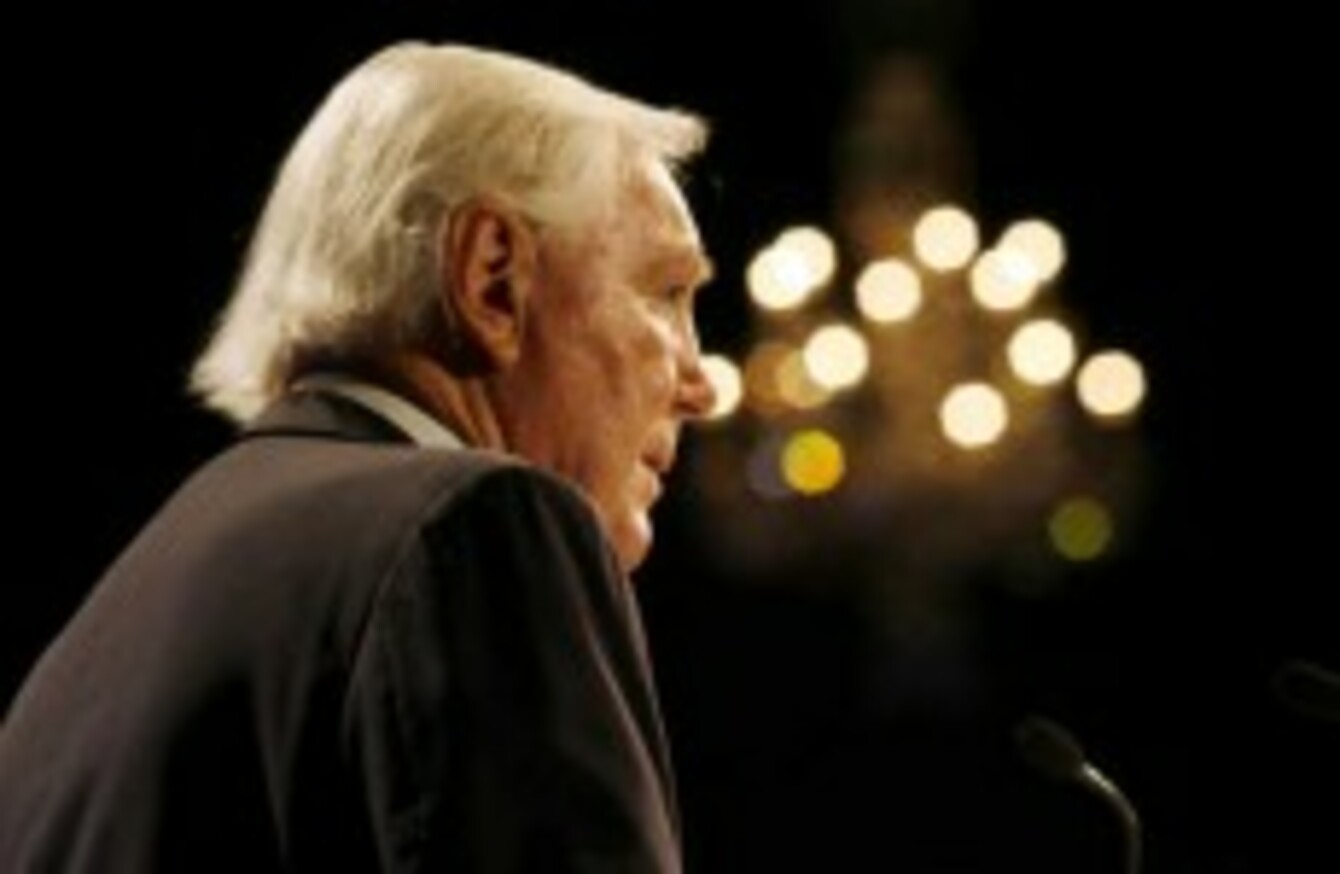 Sir Anthony O'Reilly pictured in 2007 at the Waterford Wedgewood AGM
Image: Photocall Ireland!
Sir Anthony O'Reilly pictured in 2007 at the Waterford Wedgewood AGM
Image: Photocall Ireland!
FORMERLY THE RICHEST man in Ireland – for almost sixty years Tony O'Reilly sat at the top of a business empire he had built from the ground up.
This all changed with the economic crash of 2008 and the subsequent downturn. O'Reilly became one of the biggest casualties of the recession – a process that was completed this summer when he was declared insolvent before the High Court. 
A new documentary called 'Tony O'Reilly – The Read Deal' is set to be broadcast at 9.45pm this evening on RTE One.
Source: RTÉ - Ireland's National Television and Radio Broadcaster/YouTube
The programme will cover O'Reilly's life from his upbringing in Co Wicklow – where he was raised without knowledge of his father's second family – up through his time as an international rugby player and onto his prominence as a businessman. 
Insolvency
A focus of the programme will be the former tycoon's attempts to save Waterford Wedgwood in 2008 – an endevour which saw him invest a large amount of his personal wealth in the company.
The crisis at Waterford Wedgwood coincided with a downturn in the share price of Independent News and Media (INM), an organisation in which O'Reilly had been a longtime controlling stakeholder.
Gavin O'Reilly, son of Tony, stepped down as chief executive of INM in April 2012, a role that had been held by his father up until 2009.
The documentary also covers O'Reilly's involvement in philanthropic endevours in Northern Ireland which saw him, along with former US ambassador Dan Rooney, establish the Ireland Fund.
Northern Ireland 
As part of this, funds were raised in the United States among Irish-Americans – something that drew financing away from Republican paramilitaries and saw the businessman receive death threats from these groups.
Speaking about his efforts, former deputy First Minister of Northern Ireland Seamus Mallon, says:
By setting up the Ireland fund they gave a focal point to Irish Americans and people in America who wanted to help in Northern Ireland but didn't want to be involved in supporting violence.
In the documentary O'Reilly's son, Tony Junior, speaks about the regret that his father has for the collapse of Waterford Wedgwood, and the effect that it had on company's workers.
"He is very upset and particularly anguished that, you know, ultimately when the business went into administration it meant that some of the pensions and the benefits that the workers would have had would have been lost. And he wasn't there in the end to be able to stop it," said O'Reilly Jr.