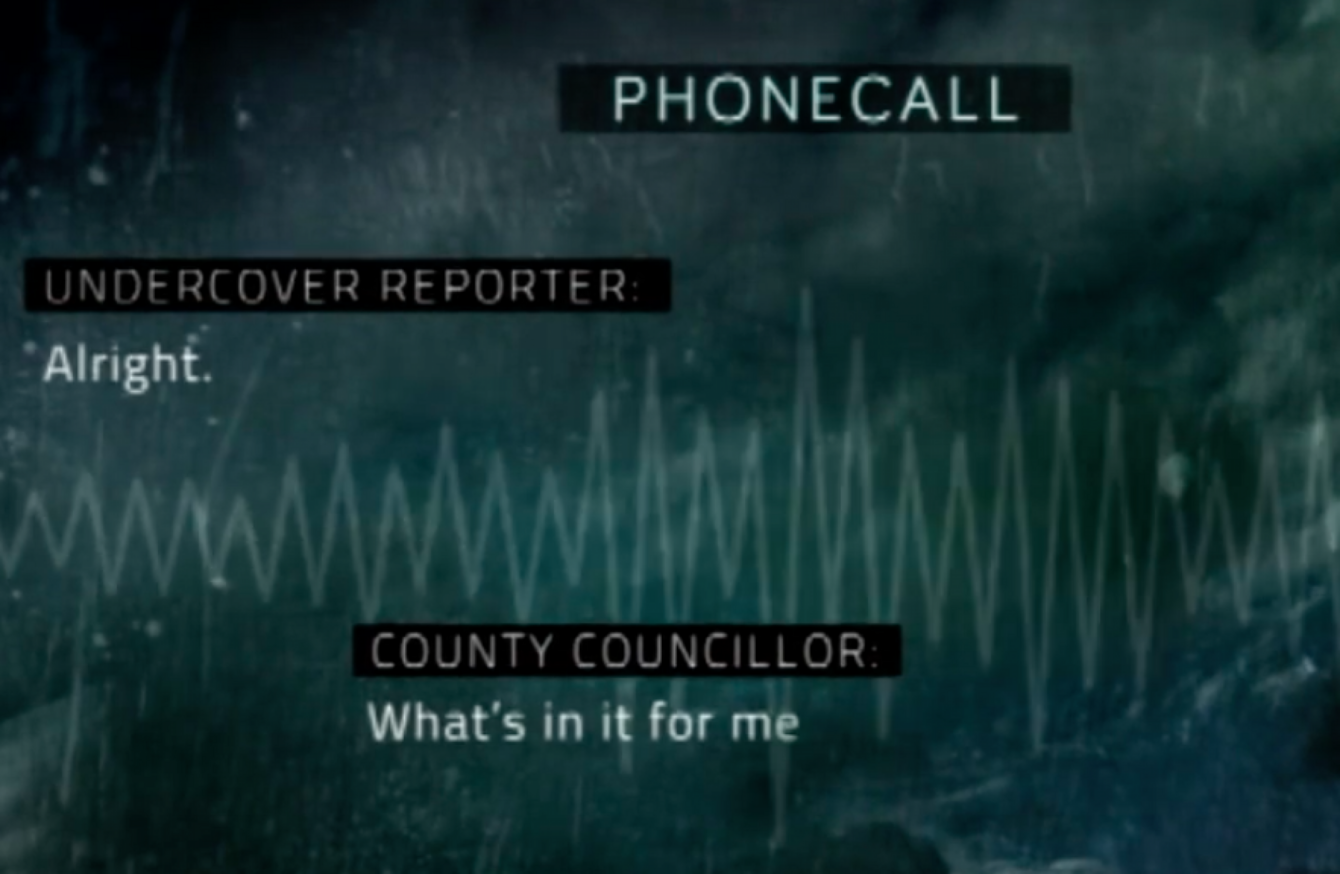 Last night's RTÉ Investigates
Image: Screengrab via RTÉ
Last night's RTÉ Investigates
Image: Screengrab via RTÉ
Updated 5.50pm
THE DÁIL WILL this week have a chance to vote for a new wide-ranging anti-corruption agency which the Social Democrats claim could stop the sort of wrongdoing uncovered by RTÉ Investigates last night.
The SocDems have a private members' motion before the Dáil tonight and tomorrow which calls on the government to implement its plan for a new Independent Anti-Corruption Agency.
However the plan, which has the support of Sinn Féin, is likely to be opposed by the government when a vote is called tomorrow night.
SocDem TD Catherine Murphy raised her party's proposals at Leaders' Questions saying the lack of consequences for politicians who commit wrongdoing "absolutely drives people nuts". She said of last night's revelations:
It sickened me but I can't honestly say I am hugely surprised.
In response Taoiseach Enda Kenny listed off several pieces of legislation the government has passed in office that deal with improving standards in public office.
He also said that legislation to establish a new Public Sector Standards Commissioner will be considered by cabinet next week. However, a government spokesperson later admitted that it would be "ambitious" to expect the new law to be enacted in the lifetime of this government.
Responding to last night's RTÉ programme, Kenny said:
It is utterly unacceptable for any public official to use their position for personal or financial gain.
Sinn Féin leader Gerry Adams called on the government to implement his party's Planning and Development Bill, which would establish an independent planning regulator as envisaged by the Mahon Report.
But Kenny said that the government's Planning Reform and Regulator Bill would "ensure proper independent oversight over systems and procedures" of planning authorities.
The SocDem plan
Earlier, SocDem TD Róisín Shortall said the motion tonight is "particularly timely" given the RTÉ programme, which showed the failure of some politicians to declare interests and some councillors soliciting payment in exchange for support for a wind energy project.
"In Ireland we have no effective means of preventing, investigating or prosecuting corruption in Irish society," Shortall told reporters at Leinster House today.
She said the motion tonight was giving TDs an opportunity to vote for an agency that would end the sort of behaviours uncovered by RTÉ.
"There is no effective means of tackling the kind of stuff we saw in that programme last night and dealing with it. Responsibility is spread over various different agencies, it's far too convoluted," Shortall said.
The law is spread across numerous pieces of legislation and that's why we're saying a single agency, with full powers and strong legislative basis, is the only solution to tackling this problem.
Powers
The agency would subsume the functions of the Standards in Public Office Commission, the Office of the Director of Corporate Enforcement, the Registrar of Lobbyists and the Competition Authority.
It would have wide-ranging powers including to power to initiate investigations into alleged wrongdoing in office, the power of compellability, court-authorised search and seizure, access to bank records, the power to arrest and the power to prosecute at District and Circuit court levels.
Shortall said it would be a dedicated agency that would have "a lot of business expertise" and would be a standing commission of investigation so that we would "move away from this ad-hoc approach to dealing with issues".
The agency would also act in an advisory role to bodies such as the Garda Ombudsman, the Comptroller and Auditor General, and the Garda Bureau of Fraud Investigation.
SocDem TD Catherine Murphy said the establishment of such an agency would "have to be a bottom line for us" in any coalition negotiations after the next election.