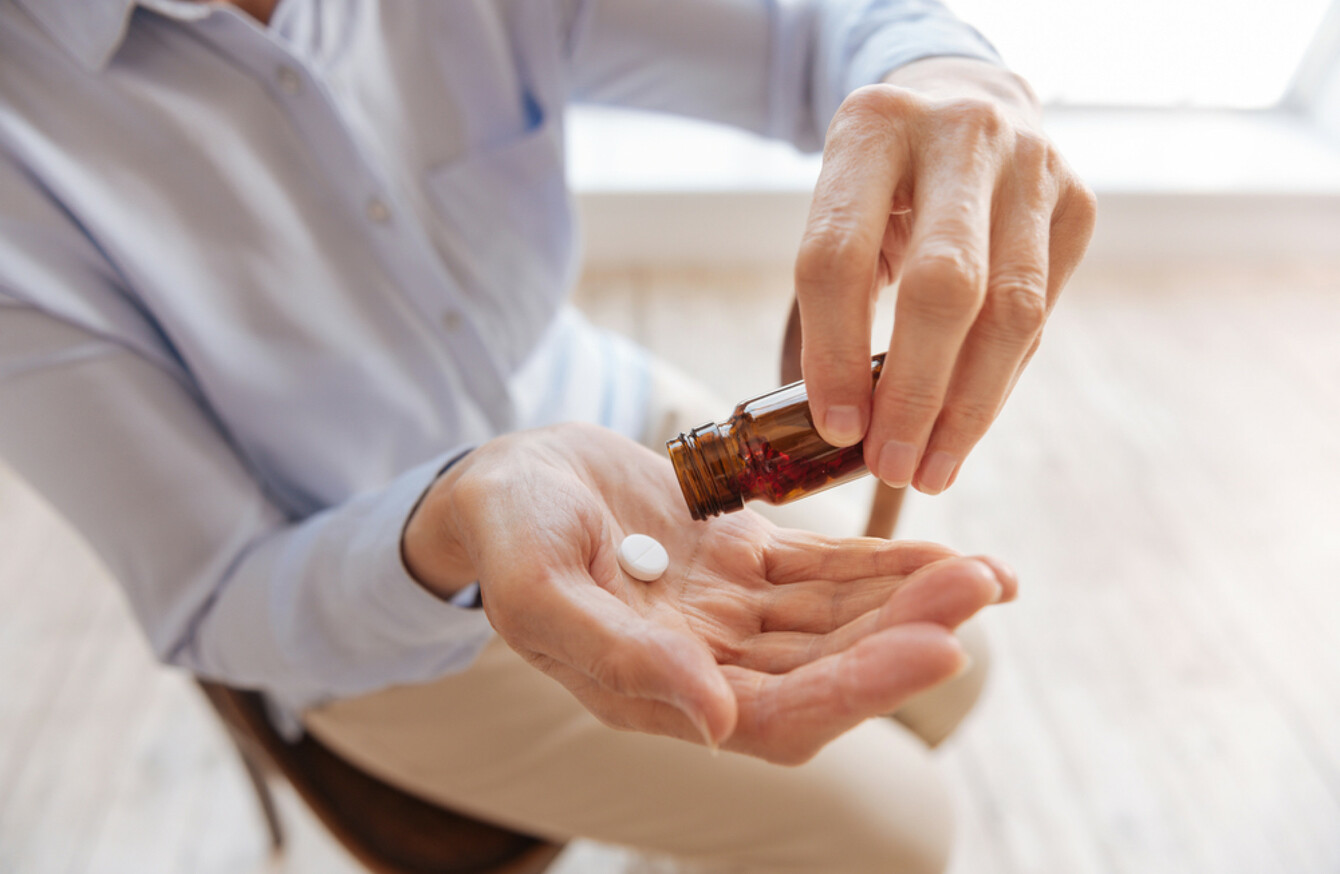 Image: Shutterstock/YAKOBCHUK VIACHESLAV
Image: Shutterstock/YAKOBCHUK VIACHESLAV
NEW FIGURES RELEASED this week have shown that the number of people on medical cards who were prescribed anti-depressants increased by 50,000 in the space of five years.
The stats were released to Fianna Fáil spokesperson for mental health James Browne, and showed that 391,603 medical card holders were prescribed anti-depressants in 2016.
The Wexford TD said he had concerns that doctors "feel compelled to rely on medicated solutions to treating illness" instead of using other options such as counselling, but is the situation a bit more nuanced than that?
TheJournal.ie spoke to some people working in areas of mental health every day in Ireland to find out more.
"People have to wait months. For someone in crisis, that's not good enough"
Speaking to TheJournal.ie, Irish Medical Organisation council member Dr Ray Walley said that these figures rising are not necessarily a bad thing.
"This is not a bad news story," he said. "This is an international phenomenon that is not unique to Ireland.
I think it reflects that we've had a significant financial difficulty in this country, and that has had a negative impact on a lot of people's mental health, from unemployment, housing pressures and similar issues.
Dr Walley said that it was certainly the case that people, particularly men, are presenting earlier for mental health issues and that there had been an increased awareness on highlighting these issues in recent years.
He said that prescribing an anti-depressant was not usually the first port of call for a doctor or GP. "In a majority of people you wouldn't initiate treatment with anti-depressants on the first occasion they present," Dr Walley said.
The doctor did say that the increase of 50,000 medical card holders being prescribed anti-depressants was something of a wake-up call.
Obviously medication has to be prescribed in certain criteria, but it is often the only recourse [GPs] can go to. The waiting list for public primary counselling services can stretch to many months. For someone in crisis that's just not good enough.
Although, Dr Walley did point out that anti-depressants can be prescribed for other conditions such as chronic pain, the rise in prescriptions was indicative of a system that needs to change.
"We still want people to go to GPs to get the support they need, but we need our mental health services improved and we need it now," he said.
"Part of the solution but not the solution"
Martin Rogan is CEO of Mental Health Ireland. The organisation promotes positive mental health and provides supports for people with significant mental illnesses.
He told TheJournal.ie that while anti-depressants can be "part of the solution" in treating a person suffering from a mental health issue, it shouldn't be used as the "sole solution".
"Depression is much more common than people expect," he said. "But luckily it's becoming more common for people to recognise that they have depression and treat it."
Rogan said that anti-depressants can go hand-in-hand with other forms of treatment, such as counselling or psychotherapy, and can really make a difference to people suffering from a mental illness.
He also cited the CIPC programme – HSE's primary care counselling service – and said that, since its introduction in 2013, it was making a difference to how depression is treated for people with medical cards.
"Our organisation would support it," he said. "Adults with a medical card can access up to six sessions of psychotherapy, and more if they need it.
If they need an anti-depressant as well, they get it alongside good guidance in relation to their lifestyle.
Rogan said that doctors would feel more comfortable prescribing anti-depressants today, than they used to be, because the medicines on the market in the 1960s and 1970s would often have toxic side effects.
"The ones today do not," he said.
In milder cases, people can respond well to them with good community and lifestyle support. For people with more severe depression, treatment may not be possible without an anti-depressant. It's a really good part of a doctor's arsenal.
He said that, currently, around 13,000 patients a year receive support through CIPC and this had helped to solidify the view that anti-depressants should go hand-in-hand with other treatments.
Sláintecare, the long-awaited report on the future of healthcare in Ireland, published earlier this year, backed expanding the CIPC programme within mental health services.
"There is a recognition that this works," Rogan added. "We need to make sure we do all we can to make a difference for people, incorporating the best treatments and practice available."
"That is a phenomenal increase"
Naoise Kavanagh works as head of digital and communications for ReachOut Ireland, which offers supports for young people aged 12-25.
She told TheJournal.ie that 50,000 more medical card holders being prescribed anti-depressants represented a "phenomenal increase".
"But there's no way of telling what was going on for people," she said. "What the conditions were, what the situation was, what the motivations of the prescribing doctor were."
Kavanagh was critical, however, of the treatment approaches for people with depression or mental health difficulties.
She said: "This is symptomatic of a very narrow view of mental health. We continuously talk about it – such as when someone is going through a tough time – as if it's a technical problem.
If we continue to talk about it that way, then we offer a technical solution. But this is not like a broken arm, or a broken leg. If we could strap on a cast for six weeks, why wouldn't we? That's part of the problem.
Kavanagh said that there were so many factors that could influence someone's mental health at different stages of their life.
"But we're giving everyone the same answer," she said. "We need to look at being creative, at what's going on in people's lives. See what we can offer outside of these things that just funnel them through a system."
She acknowledged that some people certainly do need anti-depressants but was wary of the lack of alternatives offered by the State.
Some people could be on a waiting list for months, or even over a year. We need to have a systematic change in how we approach people's mental health, of all ages.
"One of the most likely responses"
John Saunders is CEO of the charity Shine, which works with people with mental ill health and their families.
He told TheJournal.ie that the prescription of an anti-depressant is, in his experience, "one of the most likely responses" from a GP to a diagnosis of depression.
"There has been a trend over the last decade or so, in the case of mild depression or anxiety, not to prescribe but to provide counselling or psychotherapy," Saunders said.
But there's not always the availability of counselling or psychotherapy – unless you pay for it.
Saunders said that the CIPC service had been set up within the HSE in recent years and he believed that prescriptions of anti-depressants may have fallen as a result, but the figures do not bear this out.
He did point out, however, that a degree of cultural shifting around mental health issues may have led to more people seeking help for these problems.
"There is a realisation out there now that depression is very common," he said. "There are multiple factors as to why someone is depressed. It is not necessarily true that using medication should be the first resort.
Using medication doesn't solve underlying issues. When you look at the issues that cause depression, in some cases it may be required to provide medication to get through a very critical period.
In terms of the increase in medical card holders receiving prescriptions, he said that the fact that these cards are means-tested cannot be ignored.
"The HSE has developed some counselling services, but a common complaint is that they don't have enough resources or appointments," Saunders said.
Medical cards are, by definition, for people on more restricted incomes. Private counselling can cost an average of between €60 and €120 per session. A lot of people can't afford that. And then when they go to a doctor, an anti-depressant can be the first choice.
Anxiety
Both Rogan and Kavanagh highlighted the high levels of anxiety amongst the country's young people as a particular cause of concern in terms of wider trends in mental health issues.
"There's been quite a movement among children and young people in terms of an extraordinary amount of anxiety," Rogan said.
"Anxiety is not the same as depression, but it often co-exists with it. People being very hard on themselves, and putting themselves under severe pressure at an early age.
Young people in Ireland have a very mature attitude to mental health but it's not just as simple as taking anti-depressants. You have to do some serious lifting to address the lifestyle issues that causes these things to happen.
Kavanagh said that a lot of the young people that Reach Out comes into contact with would have similar issues.
"Anxiety has been increasingly been the most accessed content on our site," she said. "And it's the most common thing that people reach out to us for."
And what are the most common problems?
Loneliness, worrying about the future, feeling left behind, pressure to succeed – all of these things could add up in a unique way to cause someone problems, they said.
"We have to be creative," Kavanagh emphasised. "It's definitely not a case of one-size-fits-all, and we need to wake up to this quickly."
If you need to talk, contact:
Aware 1800 80 48 48 (depression, anxiety)
Samaritans 116 123 or email jo@samaritans.org
Pieta House 1800 247 247 or email mary@pieta.ie (suicide, self-harm)
Teen-Line Ireland 1800 833 634 (for ages 13 to 19)
Childline 1800 66 66 66 (for under 18s)