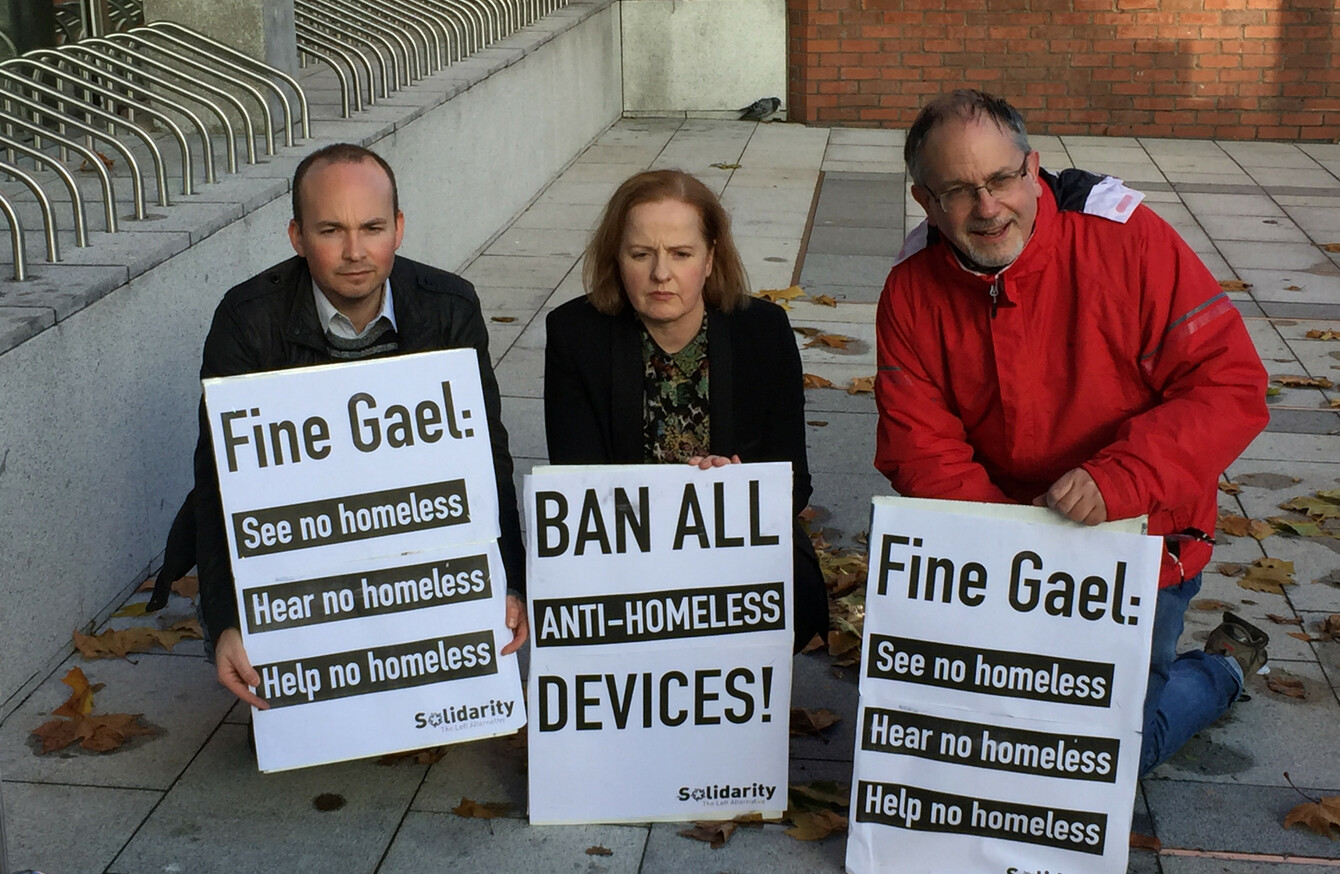 TDs Paul Murphy, Ruth Coppinger and Mick Barry at today's launch
Image: Dave Murphy
TDs Paul Murphy, Ruth Coppinger and Mick Barry at today's launch
Image: Dave Murphy
SOLIDARITY TDS HAVE launched a Bill that aims to prevent the installation of anti-homeless devices or so-called 'defensive architecture'.
In recent years some public buildings and companies have installed spikes, sprinklers, studs or bars which are intended to deter rough sleepers.
The Bill was launched outside Gandon House in Dublin, which houses Department of Social Protection offices, and has previously been highlighted as having such bars outside it. At the time, the Department said the bars were installed by the landlord.
Following this, Solidarity Councillor Michael O'Brien had a motion passed unopposed by Dublin City Council to ban these devices, but was told that legislation was needed to bring the changes into effect.
The Bill will mean that if members of the public notice the installation of bars, spikes or studs they believe are only there to prevent rough sleeping, they can lodge planning objections to them – effectively meaning the installation of further devices can be stopped. The Bill will be debated in the Dáil next week.
Speaking to TheJournal.ie after the launch, TD Paul Murphy said: "The government is not serious about tackling homelessness. The strategy now is to change the narrative around the housing crisis and homelessness crisis so we're not faced with the words 'emergency' and 'crisis' on a daily basis. They want people to think it's not that bad."
Murphy said comments made by Eileen Gleeson, the head of the Dublin Region Homeless Executive, earlier this week – where she said that for a person to become homeless "it takes years of bad behaviour probably, or behaviour that isn't the behaviour of you and me" – amounted to "victim blaming homeless people".
Gleeson later told Newstalk's Ciara Kelly, she "could have probably used better language".
Murphy said homeless people have told him anti-homeless devices are becoming more common, making it more difficult to find somewhere to sleep.
One guy was very angry, he thinks there's nothing happening and nothing changing (to help homeless people).
Murphy said the rise in these devices is "symptomatic of the government's approach to homeless: see no homeless, hear no homeless, help no homeless".
He noted that in some US cities police sweep through an area, getting homeless people to move on. "There's a real danger we're moving in that direction, trying to make homelessness invisible," he said.
'Inhumane and cruel'
Speaking at today's launch, TD Ruth Coppinger called such devices "disgusting, inhumane and cruel".
What exactly does the phrase 'defensive architecture' mean? It means installing devices such as sprinklers to saturate a homeless person if they have the audacity to seek shelter in the doorway of an empty building. They are defending nothing, they are anti-homeless devices.
TD Mick Barry added:"The public debate in the last week around homelessness shows why business owners think it is alright to install such devices. The signal has been given by the government and state bodies that people who sleep on the streets are there through their own fault. That they are a nuisance and problematic people."
Murphy told us he thinks "it'll be difficult for TDs to oppose [the Bill], to defend these devices – especially in the run up to Christmas, where there is an increased focus on homelessness".
Headlines 
Homelessness has been in the headlines in recent days after Taoiseach Leo Varadkar told TheJournal.ie: "We are actually a country by international standards compared with our peers that has a low level of homelessness.
"They're the stats and we can provide them for you and that of course is a good thing. It's a good thing that in Ireland, we've a low level of homelessness compared to our peer countries."
On Tuesday, Junior Housing Minister Damien English criticised the media for its coverage of the homelessness crisis.
He said it was "not good enough that more than 3,000 children are without permanent homes, that families are residing in hotels or that individuals are sleeping on the streets of our cities".
However, neither is it acceptable to hear commentators talking down our country. Over the past two years we have seen this narrative reflected in the national media. It has been claimed that homelessness in Ireland is at its worst since the Famine and that we have a crisis that is the worst in Europe.
Last night, our FactCheck found that Varadkar's claim couldn't be proven due to a lack of up-to-date figures and differences in how various countries measure homelessness.
'Absolutely committed'
When asked about homelessness in the Dáil yesterday, Varadkar said the government is "absolutely committed to increasing the provision of social housing in this State".
"Some 2,000 new homes will be built directly by local authorities and approved housing bodies this year, rising to just under 4,000 next year. We have invested in the local infrastructure housing activation fund, LIHAF (Local Infrastructure Housing Activation Fund), providing funds to local authorities to provide services to land, roads, utilities and so on, to enable those lands be released for housing and affordable housing.
We have increased the vacant site levy to punish land hoarders, so that land is brought into use. In the Finance Bill 2017, yesterday, we brought in an examination of whether we should tax vacant homes. It is difficult to know whether we can do that because the numbers for vacant homes are unreliable.
"We have changed the planning regulations to fast track planning making it much easier for builders to go for bigger developments and as well as that there are the building regulations which are being changed to reduce the cost of building housing. Across government there is an enormous commitment to getting to grips with the housing crisis," he stated.