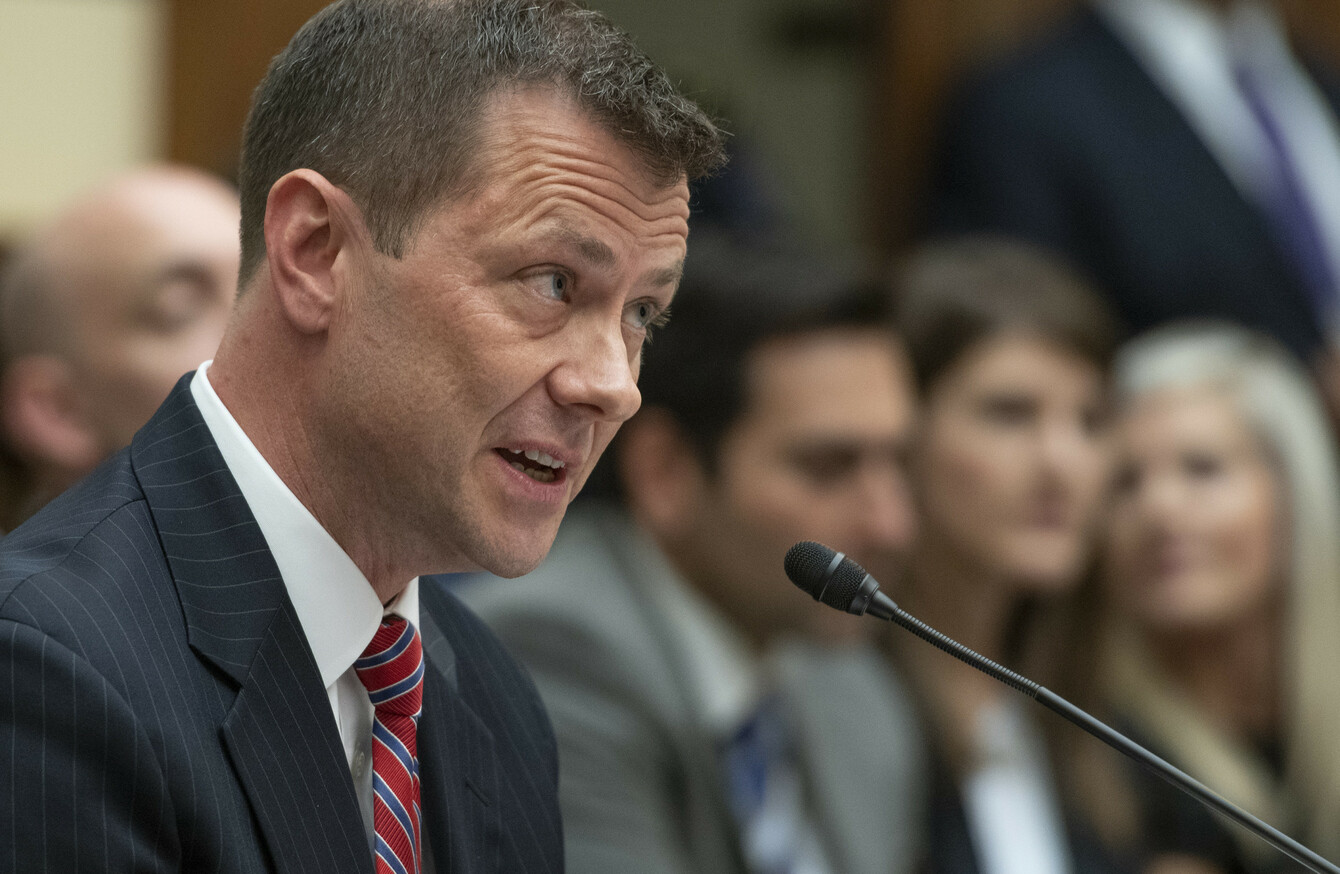 Peter Strzok
Image: SIPA USA/PA Images
Peter Strzok
Image: SIPA USA/PA Images
FBI SPECIAL AGENT Peter Strzok, who was removed from the probe into Russian interference in the 2016 presidential election after it was revealed he had exchanged anti-Trump text messages with his lover, has been fired, his lawyer said today.
Aitan Goelman, Strzok's attorney, said the dismissal of the embattled 21-year veteran of the Federal Bureau of Investigation was the result of "political pressure."
President Donald Trump immediately welcomed Strzok's firing and used the occasion to lash out once again at the investigation by Special Counsel Robert Mueller into whether there was any collusion between Russia and the Trump election campaign.
"Agent Peter Strzok was just fired from the FBI — finally," Trump tweeted.
"Based on the fact that Strzok was in charge of the Witch Hunt, will it be dropped?" he asked in a reference to the probe by Mueller, a former FBI director.
"It is a total Hoax. No Collusion, No Obstruction — I just fight back!" Trump said.
In addition to the Mueller probe, Strzok was also involved in the investigation of Hillary Clinton's use of a private email server while serving as secretary of state.
Goelman, Strzok's lawyer, said he was fired by FBI deputy director David Bowdich on Friday despite the fact that the agency's disciplinary office had decided he should face a demotion and a 60-day suspension.
"Deeply troubling"
Goelman described the move as "a departure from typical bureau practice."
"This decision should be deeply troubling to all Americans," he said in a statement.
"A lengthy investigation and multiple rounds of congressional testimony failed to produce a shred of evidence that Special Agent Strzok's personal views ever affected his work," Goelman said.
"In fact, in his decades of service, Special Agent Strzok has proved himself to be one of the country's top counterintelligence officers," Goelman said.
"The decision to terminate was taken in response to political pressure, and to punish Special Agent Strzok for political speech protected by the First Amendment, not on a fair and independent examination of the facts," he said.
"It is a decision that produces only one winner — those who seek to harm our country and weaken our democracy," he said.
Strzok and his lover, former FBI lawyer Lisa Page, exchanged text messages during the 2016 election campaign which were highly critical of Trump, the then-Republican nominee.
In one exchange, Page wrote Trump "is not ever going to become president, right?"
"No he won't," Strzok replied. "We'll stop it."